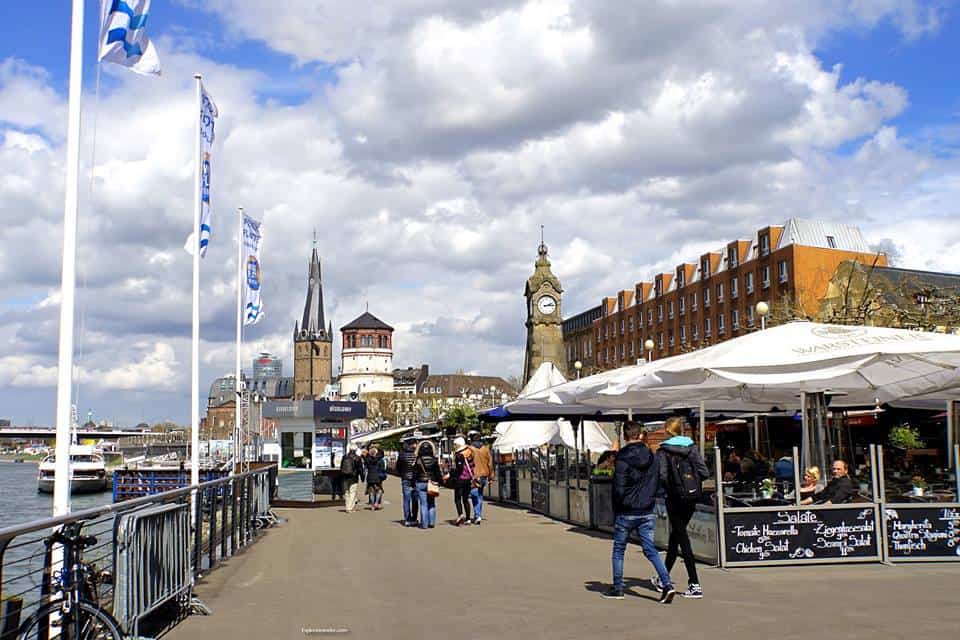 Along The Romantic Rhine River
Dusseldorf City ,along the Romantic Rhine River, is only one of the many surprises in Germany. Dusseldorf City straddles both banks of the Rhine River. It is an economic strong-arm in the North Rhine-Westphalia region of Germany. Dusseldorf City is the capital city of Rhine-Westphalia. It is home to one of the most amazing old towns. Altstadt, or Old Town, is alive with astonishing architecture and romantic hot-spots.  Not only is Altstadt an incredible old town, it is the hub of night life in the area. Altstadt is living history in the streets. It is home to spectacular museums, and a delightful and fun rivers edge. The banks of the Rhine River are alive with romance!
Altstadt is alive with intrigue and enchantment. It's shores are "an affair of the heart."  Museum Kunst Palast is an art collectors dream. Here you will find many quality and rare paintings. It has a main shopping street filled with many up-scale shops.  The street along the waterfront is filled with many creative and inspiring treasures. This is a treasure hunters delight. It is fun and romantic. The shopping district seems endless and the hidden alleys often hold a rare antique shop or an artistic boutique. Antiques are especially desired in Germany and Altstadt is filled with premium and spectacular antiques. If it is to be had, it is in Altstadt!
Dusseldorf City is the fashion capital of Germany. Shopping is a major past time in Germany. Not only do locals take to the streets, but visitors are intrigued with all the options. The fashion industry is alive with the newest fashions for the season. It is fun to see what treasures you will uncover.
Nestled among the other treasures of the Rhine River is the Pegeluhr. This is the stately clock that towers over the river front. This antique clock clicks off the minutes of the day. You will always know the time. But Pegeluhr is unique, in that it not only tells you the time, but the current water level of the Rhine River. What an intriguing treasure!
A short distance from the Pegeluhr is the St. Lambertus Basilika. The most unusual part of St. Lambertus is the winding tower. Said to have been reconstructed with wet arbors after it burnt in 1815, it stands quite twisted to this day. This tower, though quite twisted, is a well-loved landmark on the Rhine River. Though history may say it was reconstructed with wet arbors, the citizens of this city know better. A cherished story is that a bride came to the altar dressed in white, pretending to be a virgin. The tower was very much ashamed and humiliated. The tower turned to the side. The locals believe that it will straighten again when a real virgin comes to her altar. For now, the city waits, as the tower remains twisted.
Another charming treasure in this unique town are all the gas lamps. Only Berlin has more gas lamps in the country of Germany. The lamps are still in use today and shine forth as they always have. Be sure to stroll the water front under the unique glow of this antique lamps. They are a treasure from yesteryear!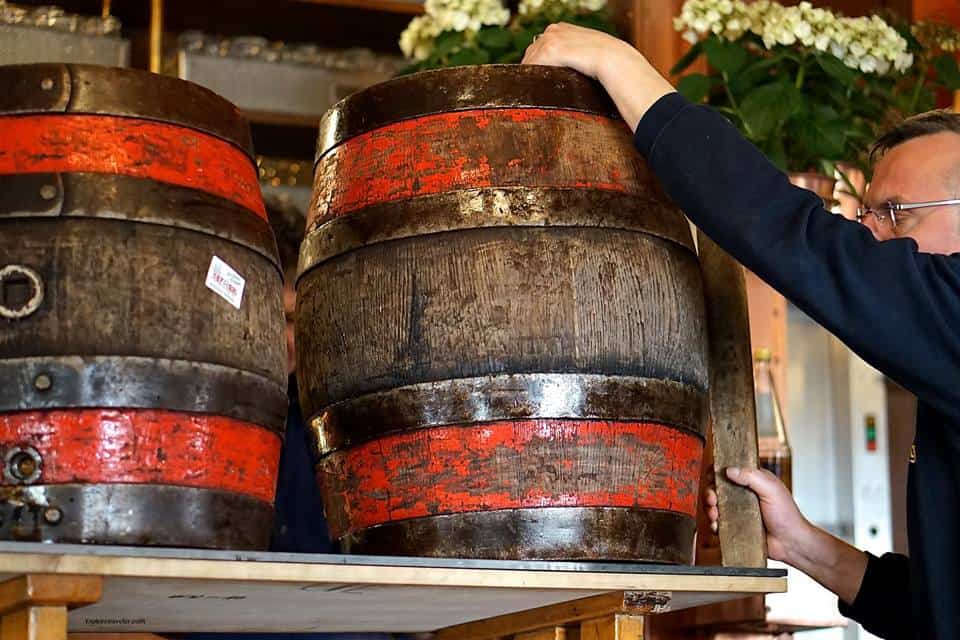 For The Love Of Beer
The Altstadt is affectionately known as Germany's longest bar. This may be true. Within the streets of Altstadt are an amazing number of pubs. As you walk through this impressive night playground, you will find pub after pub. This is one of the best places to get a good beer. If you  are after a night out and a good beer, this is one of the unparalleled  places in Europe. And what is the best altbiers (beer)?  One time you may hear Füchschen and the next it may be Uerige. But wait, as  Schlussel seems to be a legend. Most seem to agree that nothing surpasses  a Schlüssel.
If you a heading down to Altstadt in hopes of getting the best altbiers, you are in the right place. The pubs are endless and the varieties are amazing. Some of the best pubs in Europe can be found in Altstadt.
If you are having a good time and drink too much to drive, no worries. Just park the car and return in the morning. The car will be fine and Dusseldorf City has one of the best systems of public transportation in Germany. The transportation system is admirable with its above and below ground trams and trains. And of course you can always hail a cab.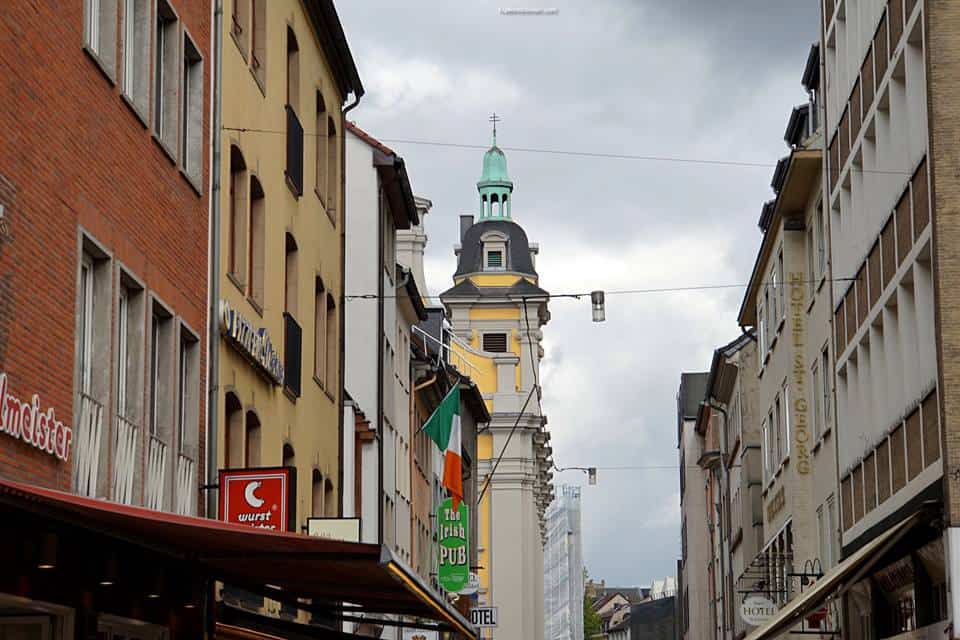 Sleepy Start To The Morning
No early start today in Dusseldorf City, Germany! The town is off to a sleepy start. Soon though, the streets will be busy and the day will begin. There is much to do and see in Dusseldorf City. There are many places to shop and most stores open by 9:00 am and close around 6:30 pm. Many stores will remain open later on Thursdays. It is also common for stores to close early on Saturday. Be sure to check the weather, as many of the shops are small outdoor shops that line both sides of the street. If you love to shop, you will love Dusseldorf City, as it is the shopping capital of Germany.
While shopping in Germany, please note, that there is a 19% (approximately) tax levied on purchases. If you are coming from outside the European Union and spend the current minimum amount, you can ask for a free tax receipt. Keep these and redeem before leaving Germany at the airport. When you enter the country, you can inquire to get the current minimum amount to qualify for the rebate.
Our first shopping destination is Altstadt or Old Town. This is an area alive with history and culture. It is also a major shopping district for young adults. Consequently you will find most of the name brands here in Altstadt. Another shopping delight are all the small shops and gift shops. Here you can find many unique and unusual gifts for those special people back home.
On Bolkerstrasse street, you will find a very small and quaint bookstore and café. This is a major meeting point for authors, poets, and writers of all types. This is only natural, as the building was the birthplace of Heinrich Heine, a German poet. Heinrich Heine was known worldwide, and many still read his poetry throughout the world. So if your desire is to meet up with other writers, then you will want to plan a visit to the bookstore on Bolkerstrasse Street.
Do you love chocolate? Then you will want to stop by Gut & Gerne Schokolade. They are on the main road of Burgplatz.  Gut & Gerne Schokolade are known for some of the best chocolates in all of Germany. If you desire to taste the best, then make your way on over to Gut & Gerne Schokolade. Enjoy your chocolate delights.
Gut & Gerne Schokolade
Burgpl. 3, 40213
Düsseldorf, Germany
4921186399696 (Phone)
Carlsplatz Market is another market that is a must see, if you want to mingle with the locals. The best way to mingle with the locals is to go to the market where they shop.  Be sure to have lunch at one of the local food stalls, where you will experience real German food. While you are there, enjoy the many fruits, pick up some small gifts, and maybe some flowers for your hotel room. Most hotels have vases for you to use. This market is only a short distance from Old Town and is one of the largest local markets.
Carlsplatz Market
Friedrichstrasse 133
40217 Dusseldorf
North Rhine-Westphalia, Germany
211 31110660 (Phone)
Are you getting tired from all the shopping? There is one more place that you will not want to miss. Dusseldorf Bilk Arcaden is only a short distance from Old Town and will provide you with a large variety of stores and small cafes to meet all your desires.
Dusseldorf Bilk Arcaden
Heinrich-Heine-Allee 1
40213 Dusseldorf
North Rhine-Westphalia
Germany
0211-83970 (Phone)
  Speciality Museums And Things To Do
Classic Remise Dusseldorf is a fascinating antique car museum. If you want to get away and just have fun, visit this classic car museum. This little show room is crammed with antiques, older cars, one of a kind, and many other historical cars. Next door is the classic bikes and mopeds. Upstairs is many other antiques and speciality items. There are even some for sale, if you so desire.
Classic Remise Dusseldorf
Harffstr. 110 a
40591 Dusseldorf
North Rhine-Westphalia
Germany
49 211 22950570 (Phone)
Kaiserswerth, one of Dusseldorfs oldest and poorest areas, is the perfect place for those who desire to see the magnificent older buildings. Kaiserswerth became a part of Dusseldorf in 1929.This is a delightful area, the houses date back several centuries. It is a picture perfect area, as it sits right on the beautiful Rhine River. The Church of St. Suitbertus is a very beautiful church dating back to the 13th Century. Even dating back further is the Kaiserpfalz or Barbarossa. This is the imperial stronghold of the Emperor Frederick I. The site is mostly ruins, but its massive size and layout make it an intriguing place to visit.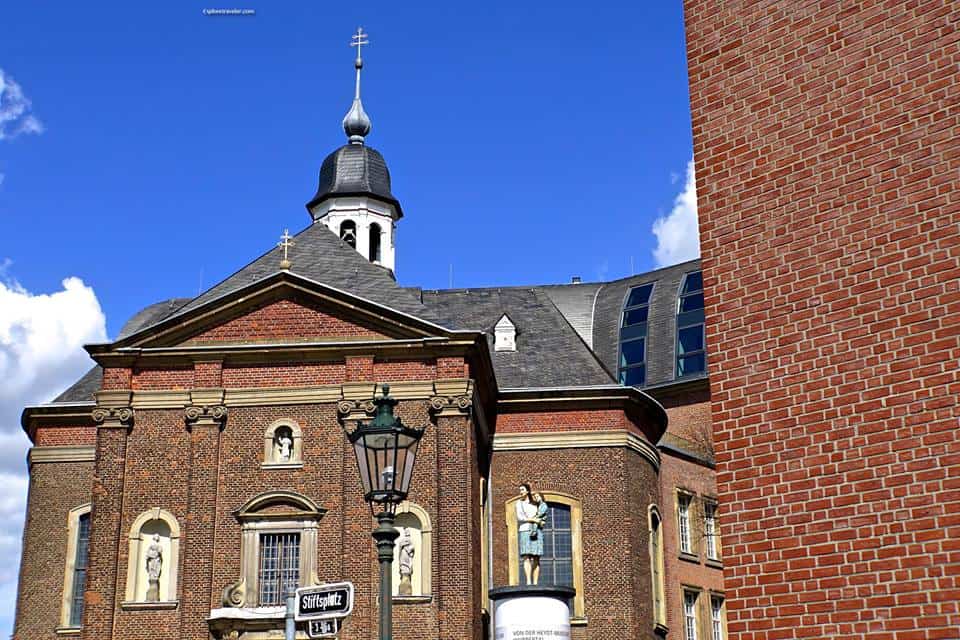 Faith In Germany
As you wander through Dusseldorf"s various neighborhoods, you will see many places of worship. There are churches dating back into the 13 century, such as The Church of St. Suitbertus, and others that were built during the 1800 and 1900's. Be sure to check out all the beautiful stained glass windows that most of the older churches have. They are magnificent! Most of these older churches are an active place of worship. Many allow you to walk through on days where there are no services. Still others, like the church of St. Suitbertus, is now a museum.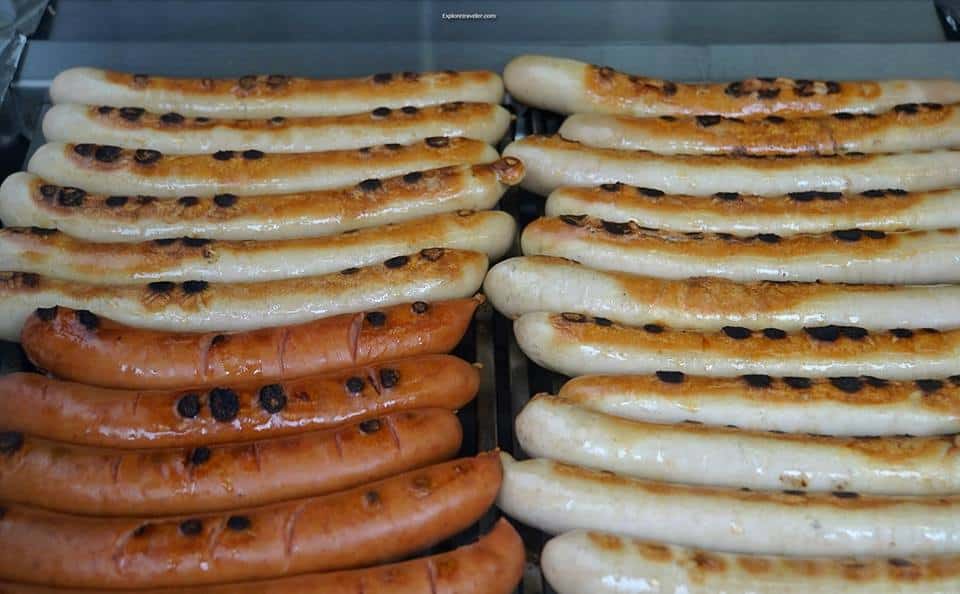 Bratwurst,Knockwurst or Bockwurst
Bratwurst, Knockwurst, or Bockwurst is a centuries old favorite in Germany. Many people in many countries can hardly wait each fall to join the Germans living in their country during October Fest. The real call is all these special sausages.They are special. They are delicious. They are German!
So what is Bockwurst?  These are fat, mild tasting, and more of a white sausage. They are made with finely ground pork or pork and veal. They have finely chopped leeks, chives, or green onions mixed in with the pork.
And then there is  Bratwurst!  Bratwurst means "farmers' sausage," according to Aidells. These flavorful sausages can be fresh or smoked. They are delicious straight out of the smoker.  They are usually made of all pork, but occasionally they may have some veal added.
But what about Knockwurst? These plump sausages remind me more of a giant hotdog. The coloring is the same, though it is much larger and very plump. They are made of a mixture of finely chopped ground beef and pork.
BRATWURST WITH APPLES, ONION, AND SAUERKRAUT
All of you out there that are heading to Germany for the best October Fest in the World will delight in the very German dish. The Germans love sauerkraut and here it is paired with cooked apples and onions. You will find it on a plate providing the perfect bed for your Bratwurst. It is delicious! If you are in Germany in October, be sure to try all the different delicacies of the German cooks. This is one of the best!
Places To Stay On The Rhine
Hyatt Regency Dusseldorf – Dusseldorf is a nice place to spend a few day. It is a little out of the Old Town area, but a short 15 minute walk along the Rhine River will get you back into Old Town. It is only a short 5 minute walk to many special restaurants and bars. Join in the activities at the Promenade  for a day of fun. This is perhaps one of the more affordable of the luxury hotels. At the Hyatt you will find all the amenities that you are accustomed to finding at a luxury hotel. If you desire to be on the Rhine, then the Hyatt Regency Dusseldorf-Dusseldorf is the place.
Hyatt Regency Dusseldorf-Dusseldorf
Speditionstrasse 19
 40221 Dusseldorf
North Rhine-Westphalia, Germany
011 49 211 91341234 (Phone)

Another nice luxury hotel is InterContinental Dusseldorf. It is slightly closer in than the Hyatt while still being on the amazing Rhine River. It is known for its comfort and extreme friendliness. It also has all the amenities of a luxury hotel. It is a short 5-10 minute walk to Old Town. Certainly this is another excellent choice for your stay in Dusseldorf.
InterContinental Dusseldorf
Koenigsallee 59
40215 Dusseldorf
North Rhine-Westphalia, Germany
1 877-859-5095 (Phone)

Anytime is the perfect time to plan your German adventure to Dusseldorf. If you enjoy the snow, then the winter is the perfect time. The springs are beautiful and you will find many spring discounts. The summers are pleasant and warm. Of course in the fall, you have October Fest, a fun time to be in Germany for sausage lovers. So plan your trip today and will see you on the Rhine!
This is also an authorized post on seemit under @exploretraveler at:https://steemit.com/treanding/@exploretraveler