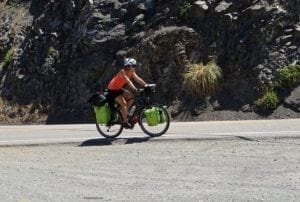 Mastering Mountain Biking At Pfeiffer Big Sur State Park
The art of Mountain Biking is a skill that enables you to take a very durable bike, built for cross country and/or trails, and ride off road over the roughest mountain terrain. It can be challenging, but is very rewarding. You can ride trails that are so rough that they are hardly trails. You can take off on your own with just a compass. You can climb mountains and see what most people can not even dream about. When you get off the beaten path or on trails that are barely trails, the vistas grow. What a way to see your world!
Enjoy the deep shade while biking along the trails among the California redwoods. These enormous old growth redwood trees provide a pleasant environment to enjoy mountain biking at it's best. Monteray County provides some good good riding. Here you will find something for every level of mountain biker. There are many extremly rugged challenges for the experienced mountain biker. One example of this skill level is the trails around Fort Ord Public Lands.  Here you will practice all your skills and them some. Beginners can ride the gentle paved trails of the Monterey Bay Coastal Recreation Trail. Whatever your skill level, there is a trail just for you in Monterey County.
The Fort Ord National Monument has bike paths for every age group from families with younger children, to those who are in tip top shape. There are paved trails and rough trails, there are flat trails and mountain terran. Whatever you are looking for, you will find it in the Fort Ord National Monument in Monteray County, California. It really is time to take to the hills.
Another popular ride is the ride at Pebble Beach. The trail goes all the way out to the Lone Cypress and back, One of the best part of the ride is that anyone can navigate it with ease. On your way out, keep the Ocean beaches on your right, and when you ride back they will be on your left.
A more traditional, and slightly more challenging bike route begins near Cannery Row on the Monterey Bay Coastal Bay Recreation Trail. You stay on the trail for a little more than a mile. The trail will then end. Then you can cycle through Pacific Grove and continue past Point Pinos. Then you will enter Sunset Drive just past Asilomar State Beach. It is here that you will see Pebble Beach for the first time and 17 Mile drive. Then you will continue on to Lone Cypress. What an amazing day!
Wherever you decide to go riding, you will find a good challenging ride for your skill level in Monteray County, California. Biking adventures are everywhere. Why not make this the year you discover the adventure of the California Redwoods.? What are you waiting for?  Grab your bag and head on out to your favorite trail head for an enjoyable day of riding in the California Sun.
https://exploretraveler.com/
Published on steemit.com@exploretraveler Feb. 28th, 2017 at:
https://steemit.com/travel/@exploretraveler/the-art-of-mountain-biking