Let's be honest: Tourism is increasing exponentially in Qatar. Whether you want to shop at the lively markets, experience a sand dune safari, or soak into the sunshine at a breezy beach, the country has it all.
If you are one who wants to immerse yourself in the buzzing nightlife, ultimate adventure, and blissful relaxation, we have got your back. Here we have come up with the highlights of the best places to visit in Doha, Qatar, in 2023.
Let's dive in
Fort Al Zubarah – a Must-See
The first and foremost on the list of the best place to visit in Qatar is Fort Al Zubarah. The site was privileged to get honored with the UNESCO World Heritage in the year 2013. It is considered an important site to preserve the rich history of early Qatari Culture. It is one of the iconic desert forts of Qatar, which you can't miss out on if you are planning to visit Qatar soon.
It usually takes an hour's drive outside Doha to reach this fort. You don't have to pay any fee to enter this fort and admire its beauty. Just pay a visit between 7:30 AM to 5:00 PM, and you will be good to go.
A Cultural Village Awaits you at Katara
Want to experience the artistic and cultural interchanges to spread the message of hope and peace? Dive into the beauty of the cultural village of Katara. It is one of the places to visit in Qatar, where you can find a blend of Oriental and European architectural styles with Qatari. Valley of Cultures is another name famous for this village. It comes under Qatar tourist attractions and is regarded as a phenomenal place for all the thespians out there. Art and architecture enthusiasts love to come here.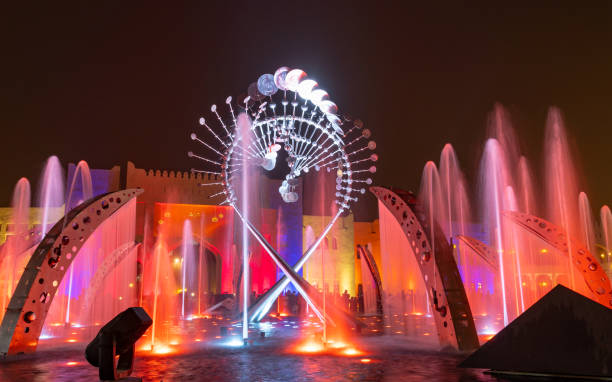 You would be surprised to see an opera house, art galleries, amphitheater, and heritage centers here. The village celebrates not only the Qatari culture but also other civilizations and customs.
Enjoy the traditional Qatari architecture right here at village Katara in addition to other activities like concerts and exhibitions.
The Blend of Taste and Tradition
Souq Waqif
Next on the list of Qatar tourist places is Souq Waqif. The word "Souq Waqif" means standing market. Here you will get the perfect blend of taste, smell, and tradition. The stunning architecture and incredible perfumes will make you go gaga over this place.
Bring out your inner shopaholic with the plenty of shops here dealing with handicrafts, clothes, and souvenirs. Souq Waqif is an ideal mix of traditional and modern Qatar culture. You can dine at the best restaurants to relish the taste of dishes famous in Qatar. It's not just about the food. Explore the local art galleries to make your visit successful.
Let Pearl Qatar awe you
Manmade island depicting the epitome of luxury, Pearl Qatar is yet another best place to visit in Qatar. It is located north of West Bay. Interested in finding out how wealthy people live there? You must add Pearl Qatar to your list. Remarkable yachts, gorgeous villas, and outstanding stores give you an in-depth understanding of the life of upper-class people here.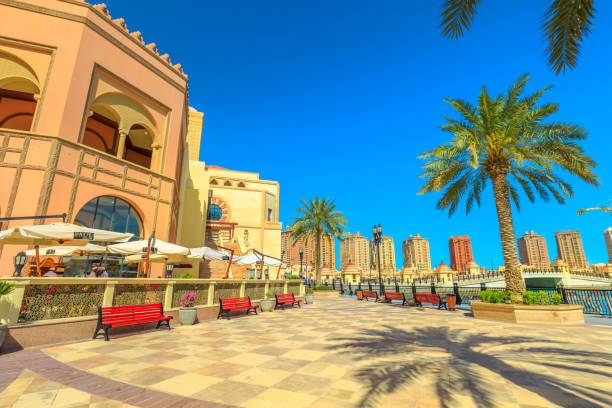 Famous Doha activities of Pearl Qatar include dining in the best restaurants and experiencing a cruise ride to Pearl island. Every year a large number of tourists come here to relish haute cuisine and witness the premium lifestyle and top-notch entertainment of Qatar.
The Doha Corniche with a Laid-Back Atmosphere
Wondering where to go in Qatar today? You don't need to. Enjoy the beautiful sights of Doha Bay at Doha Corniche on the West Bay. Take a leisurely stroll along the promenade, and don't forget to click your photograph there to keep it tucked under the memories. You can capture an amazing photo by standing close to the museum of Islamic art, which also gives you a panoramic view of the skyscrapers.
Are you a nature lover? If yes, the sunrise here is just splendid. And you definitely can't miss out on that. Qatar National Theatre is just halfway down the promenade, where you can see plays and concerts. Large Al Bidda park gives you a chance to do bird watching and let your kids have fun.
Barzan Towers – Don't Miss It
Located just 20 km north of Doha, Barzan Towers were built in the late 1800s and renovated in 1910. The credit goes to Sheikh Mohammed bin Jassim Al Thani who built this tower with great zeal to show the history of this place. The towers are used for inspecting new month during the holy month of Ramadan. If you want to know the nitty-gritty of the life of pearl drivers and the military in the bygone years, you must visit Barzan Towers.
Sheikh Mohammed built the Western tower on the site between 1910 to 1916. The wall surrounds the village and gardens well. Furthermore, the eastern tower was built after 1958, having an equal height as that of the western tower, which is 14 meters.
East-West/West-East is Worth Admiring
Richard Serra created a new sculpture in the middle of the Qatari desert called "East-West/West-East Artwork." It is the perfect example of showing the artistic side of Doha. The sculptures there are mesmerizing.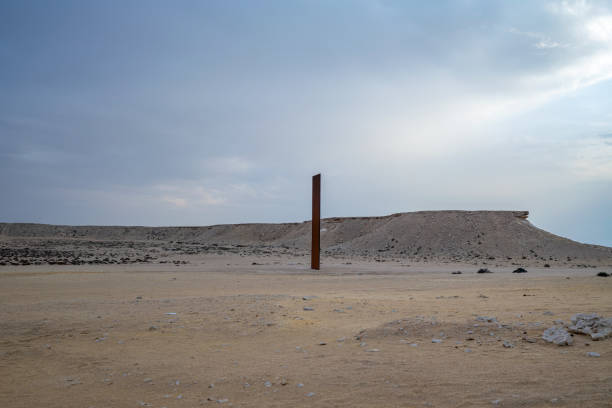 The four pillars change their colors from gray to orange to brown until they turn dark amber. Do you know that the hot temperature of the pillars goes to such an extent that you can cook scrambled eggs or even bake cookies? So, praise the beauty and artwork of East-West/West-East and let your Doha trip become fulfilling.
The Falcon Souq Teaches you About Falconry
An intriguing place located in the Souq Waqif, Falcon Souq is also one of the places to visit in Qatar that you will surely enjoy.
Fact check: Qatar is the richest country in the world per capita. And after visiting Falcon Souq, you will see innumerable expensive sports cars and world-class skyscrapers.
Having a Falcon is considered a status symbol in Qatar. You can find n number of shops here specializing in falcons. You can even see the monthly auction where people judge the physical abilities of the falcons. Isn't that something unique? Obviously, it is.
Shoppers Will Enjoy the Villaggio Mall
Mark shopping in Villaggio Mall as the thing to do in Qatar this weekend. The creative ambiance here makes you feel like you are somewhere in the city of Venice. The mall ranges from normal retail shops to high-end luxury products.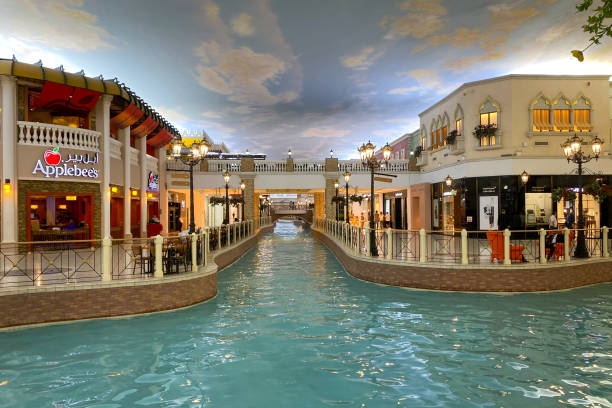 Located in the Aspire region, there are multiple options for clothing, jewelry, movies, and leisurely food. Thus, it is not wrong to say that it is a one-stop family destination.
Final Words
It's time to fall in love with Doha. Include the above-mentioned places in your itinerary of Doha and embark on a worthy journey of your life.