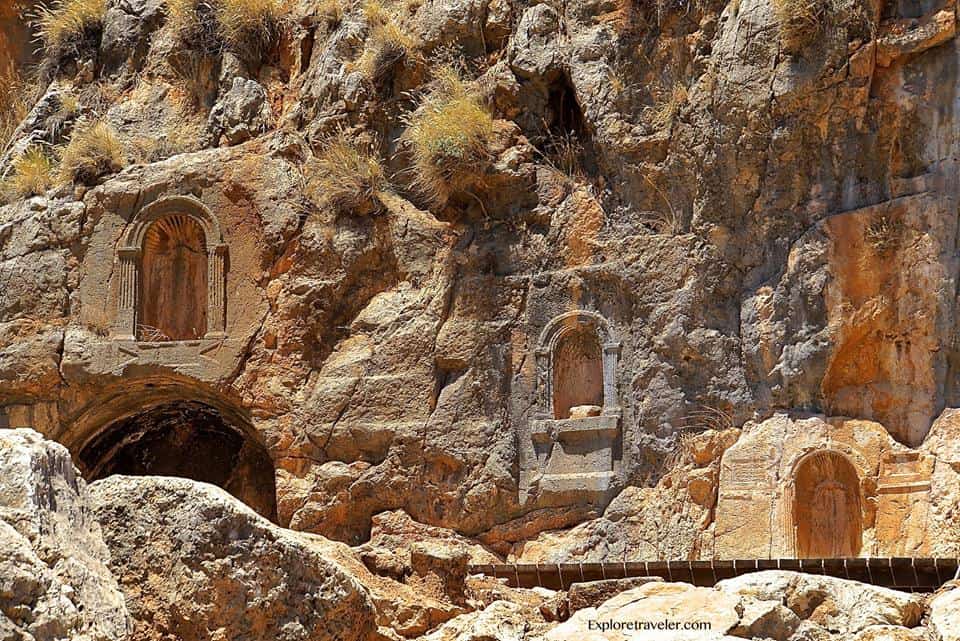 Caesarea Philippi…..City Of Foreign gods
Caesarea Philippi, known in modern times by it's  modern name of Banias, was a Greek city known for it's many gods. Banias Nature Reserve is complete with natural beauty, historic significance, a roaring waterfall, and some of the world's most fascinating ruins. A short walk takes one to the temple grounds, which is now reduced to ruins, from it's former state of glory. During the days of Greek and Roman worship, these nitches were filled with images of Greek gods. They are now a witness to the Greek and Roman devotion to their many gods. Caesarea Philippi must have been an architectural wonder in it's time.  The modern name of Banias comes from the Arabic word Panias or Paneus , which is pronounced with the sound of the letter b. Caesarea Philippi is one of the worlds most amazing sites. Just a short walk will transport you back thousands of years in time. It is all waiting in the Banias Nature Reserve, just 25 miles North of the Sea of Galilee at the base of Mount Hermon.
Caesarea Philippi is in an section of Israel that is called the Golan Heights. In Biblical times we see it was near the ancient city of Dan. It is also worth noting that all Synagogues, Church's, and Temples in Israel are built on hills. Caesarea Philippi sits at the foothills of Mount Hermon, which is actually in the country of Syria. The city of Caesarea Philippi was built on top of a massive rock cliff that measured over 500 feet wide and was 100 feet straight up from the Valley below. Mount Hermon is the largest and tallest mountain in the area. In the Arabic language, Mount Hermon is called "Jabal ash Shaykh." This translates "Mountain of the Chief." It was in this setting, in Caesarea Philippi, a city built to give glory to a pagan god, that Jesus made the proclamation that he would build HIS church, thus pointing to the One True Master and Lord, the One True God. It reads : "When Jesus came into the coasts of Caesarea Philippi, he asked his disciples, saying, Whom do men say that I the Son of man am? 14 And they said, Some say that thou art John the Baptist: some, Elias; and others, Jeremias, or one of the prophets. 15 He saith unto them, But whom say ye that I am? 16 And Simon Peter answered and said, Thou art the Christ, the Son of the living God. 17 And Jesus answered and said unto him, Blessed art thou, Simon Barjona: for flesh and blood hath not revealed it unto thee, but my Father which is in heaven. 18 And I say also unto thee, That thou art Peter, and upon this rock I will build my church; and the gates of hell shall not prevail against it.-Matthew 16:13-19."
Also at Caesarea Philippi, is Israel's largest waterfall. Banias Waterfall is located between the upper Golan and the Hula Valley. Here in this valley, is some of the most fertile land in all of the Middle East. As you travel down the path to this amazing waterfall, you pass many nitches among the Roman and Greek Ruins. This must be the greenest area in the Hula Valley. What lush mountain beauty! In the midst of all this profound beauty were Roman and Greek gods. These were gods such as the Greek god Pan, god of the forests and shepherds. The Romans and Greeks were known for having a god for everything. So much so, that Sha'ul (Saul) taught about the unknown Greek god in the New Testament Book of Acts in chapter 17 verse 23. It reads:  23 "For as I passed by, and beheld your devotions, I found an altar with this inscription, To The Unknown God. Whom therefore ye ignorantly worship, him declare I unto you."
The Springs park entrance is another entrance to this fabulous park.  It is slightly more commercial with a gift shop.  The entrance of Pan's Cave can be seen from the road. This helps to make it easy to identify.  Hermon stream, is just before the cave, and is calm and serene. The stream creates  a peaceful entrance to Pan's Cave. Just think, all these ruins were built by Agrippa II  to glorify their many gods.
The many cliffs above Pan's Cave  are ready for the active climber. Climb the ancient ruins, image living back in the Greek and Roman times! What would your life be like?  The ruins at Caesarea Philippi are amazing, even if not as complete as other sites. Take a walk back into history and discover the amazing life in the Temples at Caesarea Philippi.
Winter Hours: Sun – Sat: 8am-4pm, Friday: 8am-3pm
Summer Hours: Sun – Sat: 8am-5pm, Friday: 8am-4pm
Noah Tours Ltd.
http://www.noahtours.com
Tour guide:  Elinour Nitzani