Exploring The Oregon Coast
The Oregon Coast with its magnificent dunes, spectacular cliffs and wild surf is all the reason you need to come. People don't come to sunbathe, you can leave your swimsuit in the car. If you are fortunate you will see a little sun peaking through the clouds and trees of the old growth forests. This is a land where cliffs and magnificent rocks jet out into the wild surf. Here you put on your jacket and scale dunes as high as 500 feet. You will see people in sweaters walking the beach looking for treasures. This is a land of natural and unique  beauty.
The magnificent sand dunes stretch for more than forty miles. These massive dunes run all the way from Florence in the North to North Bend in the south. This is the largest expanse of coastal sand dunes in all of North America. Here you can take your dune buggies and sand bikes and explore to your heart's content. The dunes seem like tall mountains of sand. What fun it is to scale your mountain and zoom down again. If you are looking for excitement and unique landscapes, you will find it at the Oregon Coast.
Let The Adventure Begin
Gather at the Oregon Dunes National Recreation Area and let the fun begin. Adventure is waiting in a package of solitude as you embark on a journey through a land of blowing sand. Endless sand gives more than enough opportunity for those who love to ride and play in a world of sandy make-believe. Hours of exploration await on beautiful shifting sandy mountains. The wind seems endless and your play ground is uniquely different each day.
Those that prefer not to ride the dunes will find many other opportunities for excitement at the Oregon Dunes National Recreation Area. Here you will find areas open only to those on horseback and many fantastic trails. There are trails appropriate for all hiking abilities.  The novice as well as the experienced hiker will find hours of hiking opportunities. What a perfect place to explore. The bicycle  enthusiasts will find miles and miles of challenging bike trails. This unique playground has something for everyone. You will find tent and RV camping locations, as well as day use areas. There are cabins for rent in many locations.
One of the most outstanding viewpoints on the Oregon Dunes is  just south of Florence. It is located  at the Oregon Dunes Overlook Day Use Area on Highway 101. Enjoy wide panoramic views of the
se beautiful mega dunes. The sandy mountains seem to go on forever. There are several viewing platforms and more than a half-mile of paved walkways. If that weren't enough, you can enjoy one of several  picnic areas which overlook the landscape. All this, and a lovely view of the ocean in the distance, make this the perfect artist painting.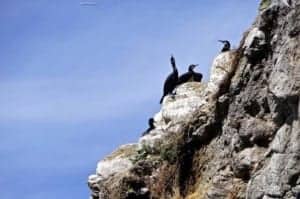 Those that prefer to follow the birds, will find many unique and beautiful birds. Life is exciting at the Oregon Dunes National Recreation Area! Brandt's Cormorants can be seen nesting on top of the steep ocean cliffs of Florence, Oregon. Florence, though mostly known for its sand dune adventures, is home to many beautiful birds. The unique and tall cliffs provide the perfect nesting location for these beautiful Cormorants.
As you drive along the Southern Oregon Coast, these beautiful blue birds can be seen nesting in the rocks. They are residents of these beautiful wave-washed rocks and wild surf. Often they can be seen with the sea lions that also can be found in large numbers in the area. These beautiful birds are always quite the social butterfly and can be seen feeding in large groups. They love to roost on the rocks near the water's edge. They feed in large flocks and can be seen socializing with other large sea birds. If you enjoy the bird watching, you will love the Oregon Dunes National Recreation Area.
For more information on the Oregon Dunes National Recreation Area contact:
Cape Perpetua Visitor

2400 Highway 101
Yachats, Oregon 97498
541-547-3289Oregon Dunes NRA Visitor Center
855 Highway Avenue
Reedsport, Oregon 97467
541-271-6000
Central Coast Ranger District
1130 Forestry Lane
Waldport, Oregon 97394
541-563-8400
Steller Sea Lions
Steller Sea Lions can be found resting along the rocky shores of Sea Lion Caves in Florence Oregon. Along with the Brandt's Cormorants, the Steller Sea Lions call the area around Florence, Oregon home. Nothing quite prepares you for America's largest sea cave. It is wild and unique. Sea Lion Caves is a fun and wild place.
Sea Lion Caves is a unique system of connected sea caves about 11 miles North of Florence, Oregon. These connected sea caves are also open to the mighty Pacific Ocean. People can access the caves through the/ gift shop. Scenic Highway 101 at this point borders about 300 miles of  a steep and undeveloped seascape, which is more than 300 feet above sea level,
Sea Lion Caves
91560 U.S. 101
Florence, OR 97439
(541) 547-3111
Sea Lion Caves is open 7 days a week from 9 am till 7 pm.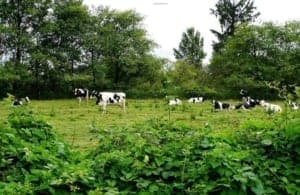 Happy Cows In Tillamook
Take a short drive inland and you will see meadows filled with happy cows. Tillamook Cows live in the lush green meadows surrounding Tillamook, Oregon. These beautiful milk cows thrive on the green grasses of the meadow. The cows are not given any chemicals or inoculations. They are not fed feed with additives. These are the dairy cows of Tillamook Cheese Factory. How amazing to watch these amazing happy cows.
The cows are milked morning and night and the fresh milk is taken to the factory and the cheese process begins. The farmers raise before dawn to do the morning milking and 12 hours latter they do the evening milking. All day long they tend to the farm, the farm that produces not only happy cows, but quality milk. A farmer's work is never done. Only the best milk can be used at the Tillamook Cheese Factory.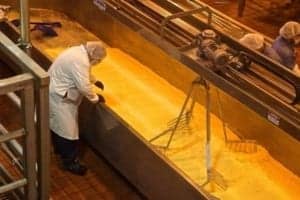 A Work Of Perfection
Cheese making at the Tillamook Cheese Factory is a work of perfection. This is a work of art! There is no margin for error, there is only perfection. It begins with the best milk. When you have the highest quality of milk, there is no need for additives. In less than 24 hours after the milk arrives from the farm, the cheese is completed. It takes 100 pounds of quality milk to make a ten pound block of Tillamook Cheese.
One of the fun experiences at the factory is being able to watch the cheese being made. Self guided tours allow you the flexibility to watch and move from observation station to observation station at your own pace. Each station has an explanation of the process that you are watching unfold below. A day at the Tillamook Cheese Factory is a cheesy adventure!
Cheese making is an art in it's own right. Each day 171,000 pounds of cheese is made. That is only the beginning. Each type of cheese must be aged for the correct amount of time. Cheeses age anywhere from 60 days for a mild cheese to over 3 years for a very sharp cheese.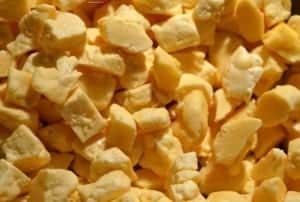 Squeaky Cheese
Squeaky Cheese are bite-size Cheese Curds that squeak! You have to try these awesome cheese curds. Cheese Curds are the freshest possible, as they are made fresh each day. The only way they could get fresher is if you were to sneak into the cheese vat as they are made. You can buy these squeaky treats in the store or online. Today is a perfect day for a squeaky treat.
 The Factory Store And Eateries
The factory store is filled with many different cheeses which you can sample first and then only buy what you really liked. It is a cheese tasting adventure! What a fun way to start the day! At the store you will find cheese of every kind, freshly made yogurt and ice creams, sour cream and other favorite fresh dairy specialities. What a fun place!
Did the tour start to give you a yearning for a snack? Come on over to the ice cream counter. The ice cream counter is a busy place, as people come from all over the world to taste this delicious ice cream. Waffle cones are made daily fresh over the grill. Have a cone, a dish , or an adventure…..you will find them all at the ice cream counter.
Don't forget to make a stop at the fudge counter. Chocolate, caramel, and nuts galore. So many choices at the fudge counter. With as many as 30 different flavors, be sure to taste a few and make the decision easier. You will find seasonal favorites throughout each special season. Some of the favorites are Pumpkin, Pumpkin Pecan, Pumpkin Chocolate, Eggnog, and Candy Cane. Be sure and stock up on your favorite before it is gone and the next season is ushered in.
When you are ready for a good solid breakfast, lunch, or dinner, don't forget the Creamery Cafe. Here you will find good food and often you will dine with the farmers. A breakfast favorite is the farmhouse Scramble.  This is a super hearty omelet filled with Tillamook Cheddar, eggs, potatoes, peppers, and onions. What a way to start the day!
One of the lunch favorites is a Centennial Grilled Cheese Sandwich. It is made with the finest Tillamook cheese and served on sourdough bread. Lunch and dinner at the Creamery Cafe is an adventure in good food.
The Tillamook Cheese Factory
4175 Highway 101 North
Tillamook, OR 97141
503-815-1300
800-542-7290
The factory is open daily year a round.
8 a.m. to 6 p.m. (Labor Day through mid-June)
8 a.m. to 8 p.m. (Mid-June through Labor Day)
It is closed on Thanksgiving and Christmas.
This is only a few of the adventures you will find on the Oregon Coast. Oregon is amazing and today is a great day to discover what is in your own back yard.
 ExploreTraveler has been creating travel articles, books, videos, and podcasts for several years now. It is our intention to bring our older material for others here to enjoy here on Steemit, and to create new material here as well. We invite you to click on our links to the original content, and to also follow us there as well.
   This was originally published on  exploretraveler.com August 14,2016 at:
https://exploretraveler.com/exploring-the-oregon-coast/?utm_source=sumome&utm_medium=facebook&utm_campaign=sumome_share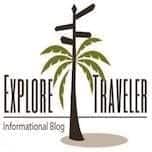 If you have come from our website, ExploreTraveler.com
Twitter Page, ExploreTraveler
Facebook Page, ExploreTraveler
Or any of our other social media channels, please consider getting your free account here, and make sure to follow all of us @exploretraveler @pilgrimtraveler @johngentry @vetvso @johngentryjr @karengentry @elijahgentry @floridagypsy and we will follow you back.
Helping bring the world together one friend at a time. So travel and discover that the world is full of wonderful people." – ExploreTraveler @exploretraveler
We have a travel tip audio book that you can purchase at Audible –> Here
Happy Travels,
© 2017 ExploreTraveler. All Rights Reserved