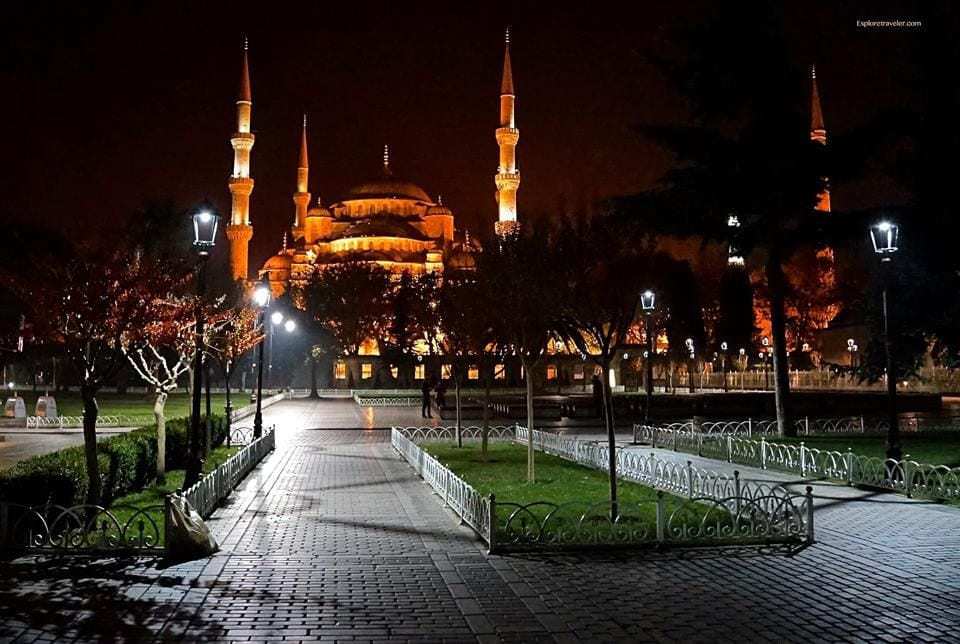 The Sultan Ahmed Mosque In Istanbul Turkey
The Sultan Ahmed Mosque is located in Istanbul, Turkey and was built between the years of 1609 and 1616 during the the rule of Ahmed I. Ahmed I was only 19 at the time he commissioned it's building. The young Sultan died just months after the finishing of this amazing mosque. He was gifted with the opportunity to pray in the new mosque before his death. Ahmed I was 27 when he died. His burial place is also within the grounds of this magnificent mosque.
The Ahmed Mosque was one of the last last classical Ottoman mosques to be built. It was built between the Hagia Sophia and the Hippodrome. It is also close to the living quarters of the royals. It stood complete with a hospice, hospital, school, burial tombs,markets, and other buildings. Many of these buildings were torn down in latter years.
The Sultan Ahmed Mosque is often refereed to as the Blue Mosque, At night, as darkness falls, blue lights engulf the mosque with it's 13 domes. and six minarets. These lights are fixed so as to surround and engulf the domes and minarets. This is in addition to the elaborate blue interior tiles.
Because of some sense of lack of reverence for the Mecca Mosque, which also had 6 minarets, there was one minaret added to the Mecca mosque.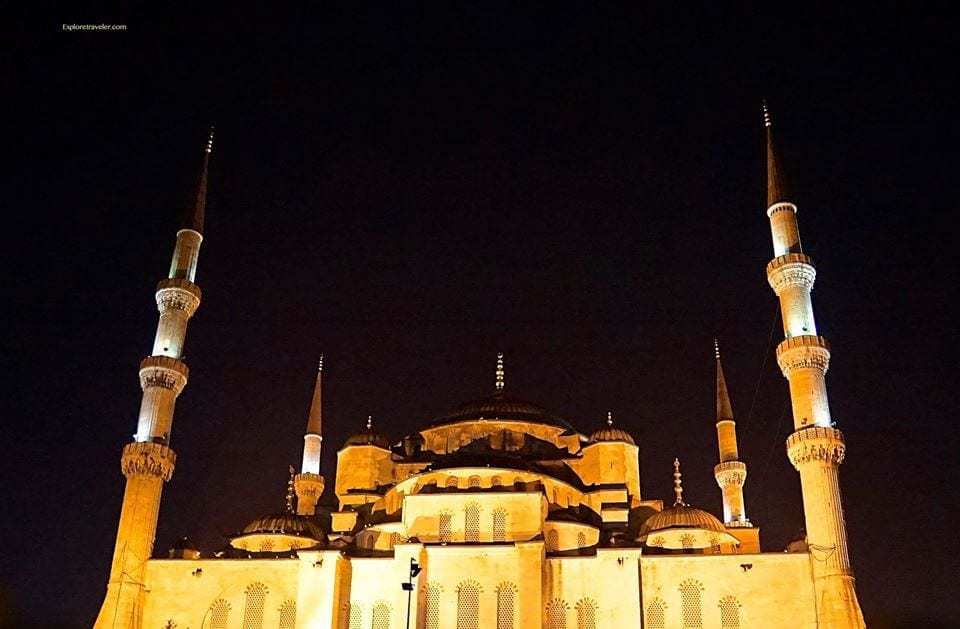 Close Up Of The 6 Minarets As Well As Many Of The Mosques 13 Domes
The mosque is complete with 260 windows that were filled at one time with stain glass from the 17th Century. It has 20,000 handmade blue tiles on the interior.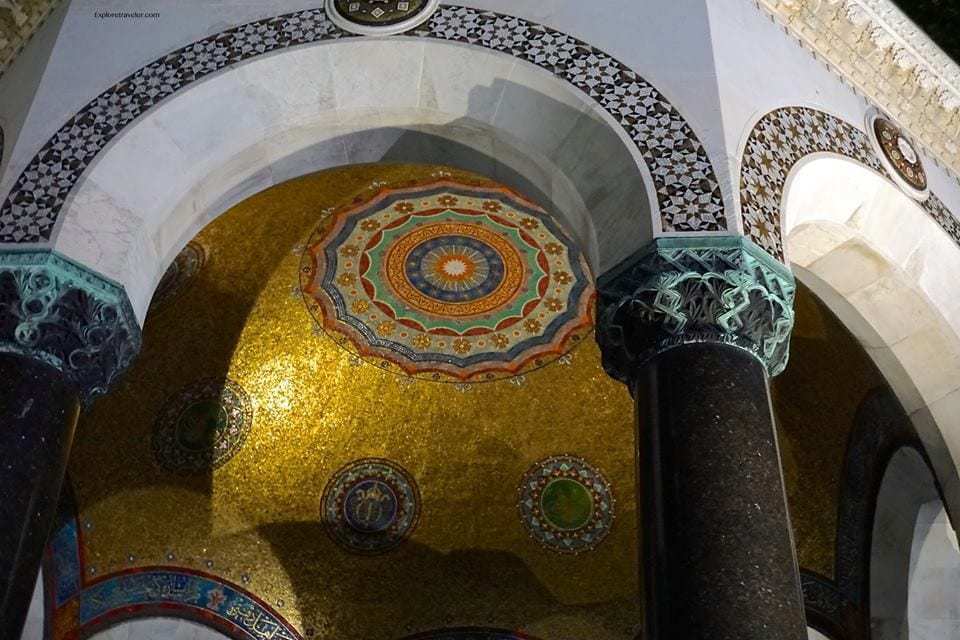 Colorful Fountains Are Found All over The Sultan Ahmed Mosque
Colorful fountains are found all over the mosque that are for refreshing your face, washing your hands and feet at the Dome of the Blue Mosque. Shown is the top of the inside dome at the Sultan Ahmed Mosque, also called the Blue Mosque. The mosque gained the nickname because of all the many shades of blue used in the inside tiles. Over 20,000 of these beautiful blue tiles adorn the walls of the mosque. These tiles are in over 50 different tulip designs, other flowers, and Cyprus trees.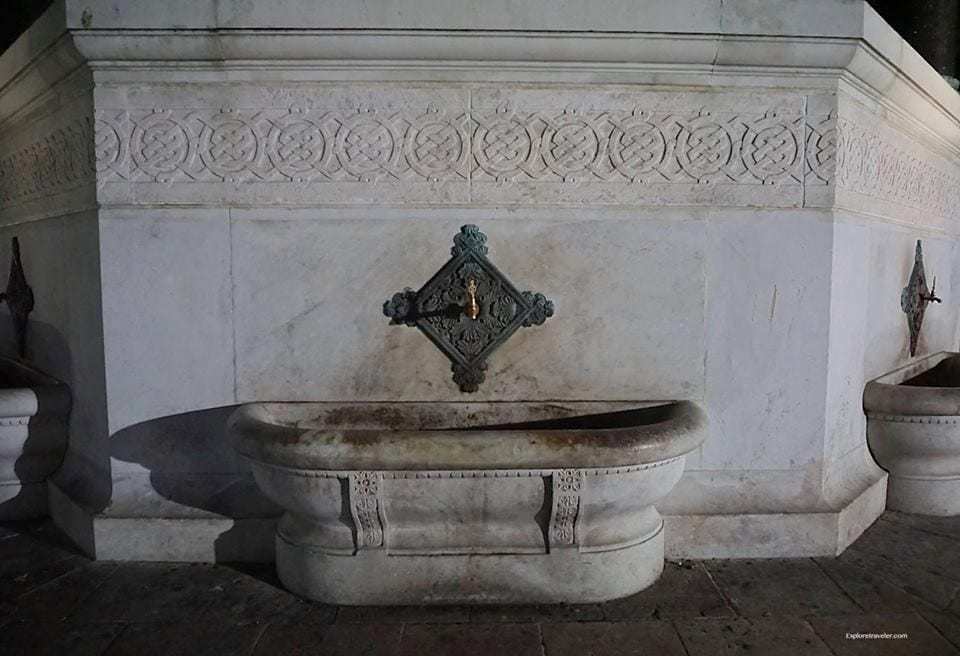 The Base Of Many Colorful Fountains For Washing At The Sultan Ahmed Mosque
These large tubs with running water make it easy to follow ritual cleansing rules while worshiping at the mosque.
The mosque is open to tourists to view and is also an active Muslim Mosque. Women are asked to be covered and to wear a scarf. Robes and scarves are provided at the entrance. Men are also asked to wear long pants and shirts. The mosque is an amazing place and should be on everyone's radar while in Turkey.
Twitter Page, ExploreTraveler
Facebook Page, ExploreTraveler
"Helping bring the world together one friend at a time. So travel
and discover that the world is full of wonderful people." – ExploreTraveler
We have a travel tip audio book that you can purchase at Audible –> Here
Happy Travels,
ExploreTraveler.com
© 2017 ExploreTraveler. All Rights Reserved