North To Alaska
Traveling the inside passage is ominous, and it all begins in Bellingham, Washington. We arrive in the this small scenic town just before our journey is to start. While in this fun getaway, we decide to do a little fishing and enjoy the magnificent scenery. In Bellingham, we find a culture filled with amazing experiences with many things to do in the great outdoors.  Not only is it the gateway to the Inside Passage and the great State of Alaska, but it is a recreational jewel in it's own right.
Fishing for sweet Dungeness Crab
As your vessel is being prepared, it is the perfect time to discover your host town of Bellingham, Washington. As you wander the docks, be sure to try your skill at bringing in the best and sweetest Dungeness Crab in the world. The fishing is fun! The day is amazing! The Crab is delicious!
Bellingham, Washington is more than the gateway to the Inside Passage. This quaint fishing town is a fun getaway filled with delightful shops, nature trails, and magnificent scenery. Bellingham has a splendid culture of outdoor recreation with quality lodging, outstanding restaurants, and a multitude of things to do. Why not come a day ahead? Spend the night and day before your departure in one of the most splendid beach towns in Washington.
On our Way
As we begin our fantastic journey through the Inside Passage, we also leave Washington behind and we enter the Coastal Waterways. A few hours takes us into British Columbia, Canada and the deep blue Salish Sea. The Salish Sea is a coastal maze of waterways that begins in the northwestern part of the State of Washington and goes as far North as the southern end of the Southwestern portion of Canada.  Nestled among it's waterways are several major bodies of water. You will pass through the northern part of Puget Sound, and to the west is the Straight of Juan de Fuca. As you travel north you will see the Strait of Georgia. For miles and miles you will see some of the bluest water, magnificent mountains, and amazing scenery.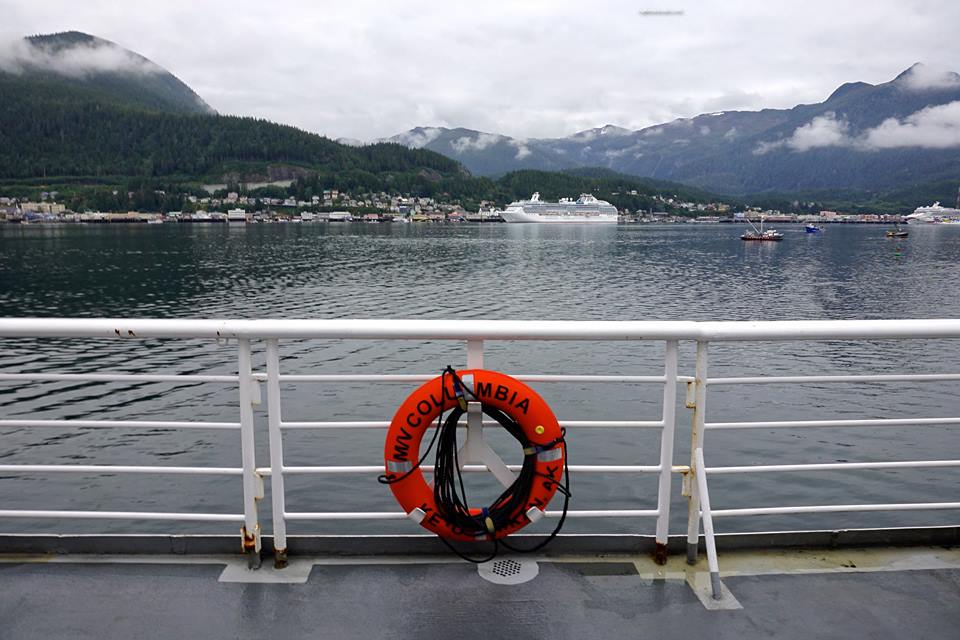 Feeling Safe On The Salish Sea
The spectacular Salish Sea is the coastal home to several Salish Tribes living in both Washington, USA and British Columbia, Canada. The calm waterways of the Salish Sea are important trade routes for the Coast Salish. They also remain a major source of food and other resources. This waterway is home to several indigenous peoples including the Coast Salish, Northern Wakashan, Kwakwaka'wakw, and the Southern Wakashan.
If you are observant as you travel, it is possible to see any of the 253 fish species that have been observed within the Salish Sea. When traveling closer to shore, it is possible to see larger animals on the shoreline near any of the little fishing villages as you enter their ports.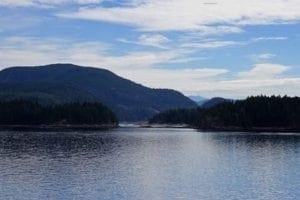 Johnstone Straight
As you continue your adventure northward in the Inside Passage you most likely will spend a pleasant evening or day on the Johnstone straight in British Columbia, Canada. Beautiful Johnstone Straight is a 68 mile long channel that follows the northeast coast of Vancouver Island, British Columbia. During the summer months it is home to many giant Orca Whales. Whale watching is a major activity while traveling through this section of the waterway.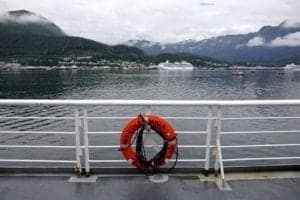 Approaching Ketchikan
As you approach the fishing village of Ketchikan, you will marvel at the backdrop of the spectacular snow capped mountains. Ketchikan is the first town that you will see as you enter the Alaska section of the waterway.
Ketchikan is home to the Tlingit Nation. Throughout the town you will see many Native American totem poles on display. Look up and you will be privileged to see nearby Misty Fiords National Monument. Misty Fiords is a glacier-carved wilderness and National Monument featuring beautiful snow capped mountains, crystal clear waterfalls and magnificent salmon that call nearby streams home. Ketchikan is home to many species of wildlife including black bears, wolves, and magnificent bald eagles.
Depending on the length of your stay, there are many tours of the surrounding area, including bike tours, boat tours, and helicopter tours. However much time you are able to spend in this First City will be rewarded with spectacular outdoor adventure.
The First City
Ketchikan is the first city as you travel north on the Inside Passage in Alaska. It is a delightful fishing village waiting to share it's heritage and splendor with you. No matter how long or short your layover in Ketchikan might be, it has many jewels waiting to be shared.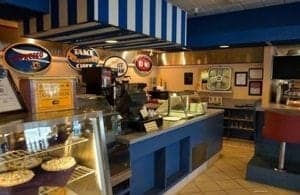 The Landing
Often Ketchikan only affords a short layover. So where do you go with a short layover when you are  really hungry in Ketchikan? The Landing Restaurant is the place to go for fast service and excellent food. They have an enormous  selection of both dine in and dine out specialties. Salmon Chowder, Crab omelets, and local Alaskan beer are house delicacies.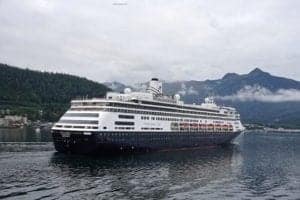 Leaving Pictureque Ketchikan
Leaving pictureque First City you continue on  a northern journey into the Last Frontier. Alaska, the Land of the Midnight Sun beckons.  Sit back and enjoy viewing tidewater glaciers, and ancient snow capped mountains. The glaciers sparkle in the sun, as they welcome you to this amazing northern wonderland. Enjoy sea lions, seals,  and possibly even Ocra whales. Look up to see puffins, and majestic eagles in the sky. This is a land like no other and no two days will ever be the same.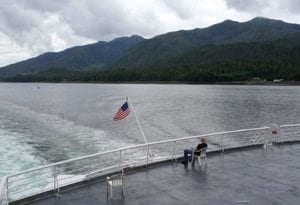 Relaxing On The Inside Passage
Sit back and relax as you travel through the beautiful Inside Passage in Alaska. Here in the Land Of The Midnight Sun, the summer days are long and nights pass quickly. Rest and enjoy the scenery, as you get ready for the next stop. Adventure is around every coroner.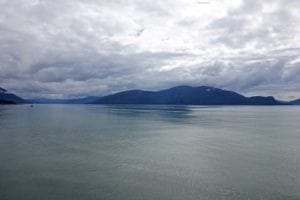 Nearing Wrangell Island
The calm waters of the Inside Passage near Wrangel Island in Alaska welcomes you as you pass by the island.Wrangel Island is in the midst of the Arctic Ocean nestled between the Chukchi Sea and the East Siberian Sea. The breezes are gentle and these protected waters are calm as you cruise past the island. Sit back, relax, and absorb the beauty!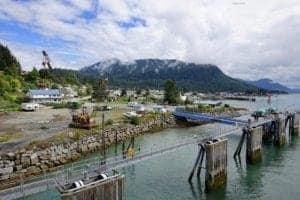 Wrangell, Alaska
Spectacular natural beauty and wildlife surrounds the fishing village of Wrangell. The majestic mountains, numerous  islands,and amazing rainforest provide adventure at every coroner. Experience it all in Wrangell, where you can explore glaciers, view wildlife, and participate in outdoor activities and fun.
Wrangell is an historic town with an amazing wealth of living history and culture. This is the only town in Alaska to have been under the rule of four countries. Adventure is waiting in Wrangell.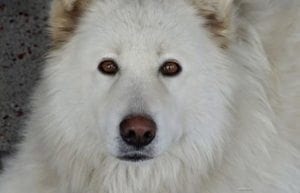 White Alaskan Malamute Keeping Watch
While enjoying the beautiful garnet crystal laced sidewalks of Wrangel, take note of the many majestic White Alaskan Malamutes. You will see them throughout the State of Alaska, these spectacular animals of the far north, are on a mission. You will see many of these magnificent white Malamutes keeping watch. These are only one of the many amazing animals you will see while cruising through the Inside Passage.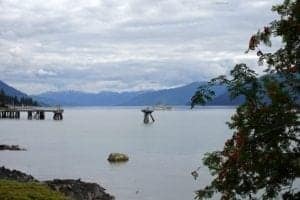 Glaciers,Islands, And Bays
As you are leaving Wrangle, look out at all the majestic glaciers, mountain peaks, numerous islands and bays. Watch the waters for those special moments where you will see nature in their natural habitat. As you cruise near the islands, perhaps you will see black bears fishing, or seals at play. As you cruise by these tall mountains, enjoy the blue tinted glaciers that sparkle in the sun. This is the Land Of The Midnight Sun, and adventure is at every coroner, on every island, and in every town.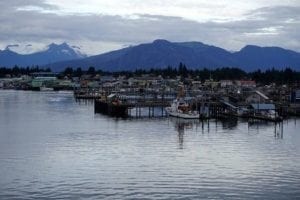 Little Norway
Petersburg, Alaska's Little Norway, is a quaint fishing village that still makes its living from the sea. Alaska's Little Norway was first built up by Norwegian fishermen over 100 years ago. The town was named for a Norwegian immigrant, Peter Buschmann, who was one of the first homesteaders in the area and founder of the cannery and saw mill. He also built the first dock around 1900 sometime.   The cannery has operated continuously since its completion. Petersburg is one of Alaska's most important fishing communities. Much of Alaska's cannery production is done in Petersburg.
Enjoy one of the most breathtaking wilderness areas in Alaska. Petersburg is surrounded by nature. Do you enjoy hiking? You will find many of Alaska's trails is in the wilderness area surrounding Petersburg. There are many flight tours that will delight you as you fly over beautiful glaciers and wilderness areas of pure beauty. There are many charter boats for whale watching during the yearly migration. Whether you enjoy birding, sports fishing, or sightseeing, you will find adventure in little Norway.  Whether your interest is hiking our many beautiful trails, flightseeing over the glaciers, chartering a boat for whale watching or a glacier trip, birding, sports fishing or sightseeing, Petersburg has it!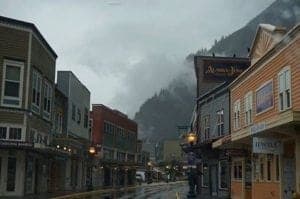 Juneau,Alaska
Juneau, Alaska is surrounded by beautiful glaciers, outstanding seafood, and spectacular history. This historical town echos the days of the gold rush. History is alive and well in Juneau. In Juneau, you will discover one of the countries remotest capitals, reachable only by boat and seaplane. This rare historical town sits at the base of Mt. Roberts, a 3,819 foot mountain with suburb hiking trails, beautiful wildflowers, and amazing views of Gastineau channel.
Juneau has a remarkable tram which climbs the mountain with visitors to the 1,800 foot level. Here you will not only find trails, wildflowers, and views, but one of the most amazing raptor centers. Juneau Raptor Center is dedicated to the many local birds and magnificent raptors that call Southeast Alaska home.
Juneau is a major cruise ship stop as you travel the Inside Passage. Whether you are in port a few hours or a couple of days, there is plenty of excitement in Juneau.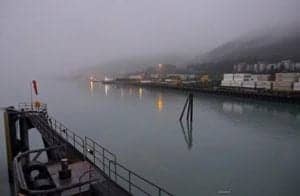 Whittier, Alaska
Each summer, many cruise ships and the Alaskan Ferry bring visitors and Alaskan residents alike to Whittier's harbor on the west side of Prince William Sound. Those who depart the ferry, must leave Whittier and drive through a one-lane tunnel to Anchorage.  This trip is the end of a beautiful voyage up the Inside Passage. But it is not the end, as it is only the beginning of amazing adventure. Whittier is the door to Alaska. It is now time to explore the great interior of this far northern state.
Whittier is a popular summer destination of cruise ships,  charter boats, and commercial fishing vessels of all sizes. In winter, though, it is extremely  isolated and often gets over 250 inches of snow. Most of the towns 200 residents live under one roof in a 14 story former Army barracks. Here you find a health clinic, police station , and most needed services. This is a unique town that you will only find in the Land of the Midnight Sun!
Adventure Is Waiting
What are you waiting for? Alaska has untouched areas waiting to be explored. The scenery is unbelievable, and adventure is unlimited. Today is an excellent day to discover the Inside Passage and all the quaint small towns that dot the panhandle of Alaska.
This is also an authorized post on seemit under @exploretraveler at: https://steemit.com/treanding/@exploretraveler