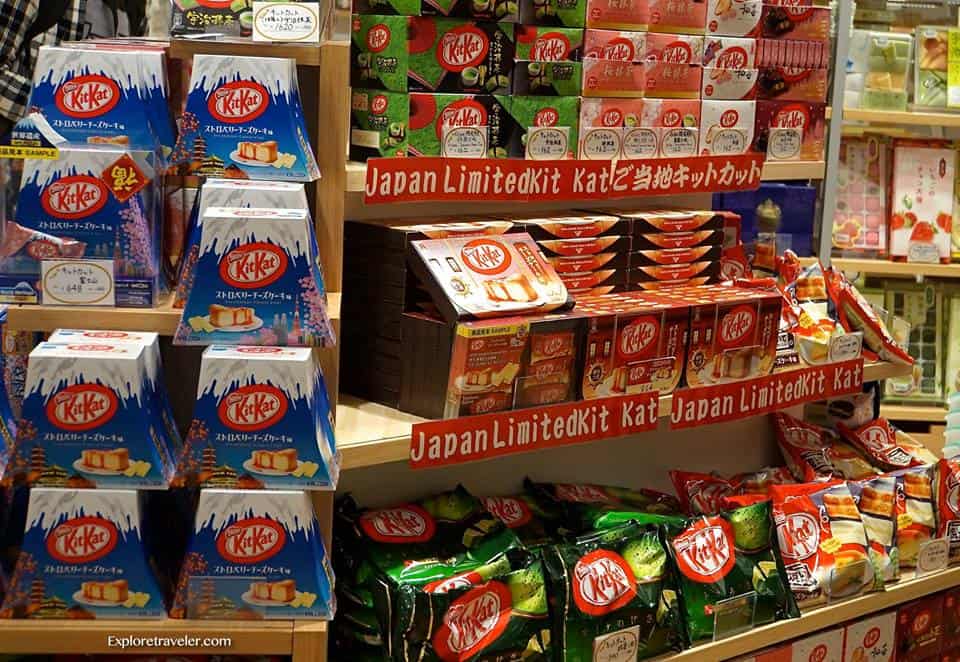 Japanese Chocolate Goodness
Japanese Kit Kats are unique! What an adventure in the world of Chocolate! They are wachy! They are weird! They are amazing! The Japanese love their Kit Kat, with over 200 different flavors having graced their shores. Welcome to the world of the Japanese Kit Kat!
When it comes to fruits, the Japanese are astonishing! Dive into a Strawberry Kit Kat, and you have just arrived at the strawberry field. The aroma is magnificent! The taste is sweet and delicious! What makes the strawberry so special in Japan? For the Japanese, it is the symbol of sweetness and innocence. When you unwrap a Strawberry Kit Kat, you have just arrived at the orchard.
Have you ever imagined arriving at a citrus orchard, when the fruit is heavy and the aroma is in the air? Bite into the Citrus Golden Blend and you have just arrived in paradise. It is wild! The taste is cool! It is refreshing! It is Japanese! You have more fruit in your Kit Kat, than in your morning glass of juice. You smell the scent as it fills the air. The taste is tantalizing! You have just experienced a Citrus Golden Blend Kit Kat!
Then there is the tantalizing Pear Kit Kat. The taste is subtle! Imagine dancing in a field of pears. The sensation is abrupt! The flavor is so concentrated that to consume it seems like a sin. You savor the tang. You relish each bite. The white chocolate base is the wrapping for this Kit Kat from the pear kingdom. You taste the hint of pear, and then it is gone. It was there for a fleeting moment. You reach out for more. You just got to have it!  You have just experienced a Pear Kit Kat!
Do you love apples? There are baked apples, that fill the house with a tantalizing aroma as they bake in the oven. There are fresh apples, so crisp and alluring. There are apples made with cinnamon and others covered in caramel. The Shinshu Apple Kit Kat tastes exactly like all of them wrapped together. It is a reminder of the Apple  Hair Spray that was so popular in the 1980's. It has a dark chocolate base. You either really like it or you don't.
A rather  weird, wacky, and wild Kit Kat belongs to the vegetable kingdom. Come on in! Sit down! You are about to enjoy the Edamame Soy Kit Kat! This one, though popular in the Japanese Kit Kat world, would never make it in North America. It has an immature nutty flavor. Like you picked the edamame beans way too early. The color is a strange shade of green. But when all is said and done, it is one of the Kit Kat Stars of the Japanese world. Eat your veggies, the Japanese way!
Have you ever eaten a purple sweet potato? It is one of the rarer of the sweet potato varieties. If you can not find one to taste, have no worries.  You can eat your potato the Japanese way. Another veggie star on the Kit Kat band wagon has arrived. Welcome, the Purple Sweet Potato Kit Kat! It is a taste that is almost too sweet! It lasts and lingers in your mouth for the longest time. It is one way to eat your vegetables. It is wacky beyond belief! It is a Japanese Kit Kat.
A Kit Kat that is amazing,is the Hot Japanese Chili Kit Kat. Yes, you heard me right, a chili Kit Kat! Hot peppers and chocolate are a combination from paradise. It is absolutely exquisite! It has an exciting burn, but not too brutal. You will know you have just reached for a chili. There is no need for a glass of milk. The dark chocolate pairs with the chili like a well fitting glove does your hand. It is a chili taste mellowed out with the sweetness of the dark chocolate. Wacky but good! It is Japanese!
Perhaps my personal favorite is the Cinnamon Cookie Kit Kat. If you are on a diet, this one is extremely unfair. Wrapped in white chocolate, it's flavor is intoxicating.  The Cinnamon Cookie Kit Kat takes comfort food to the next level. It is lingering goodness! It comforts you on a bad day. It makes a good day, even better.
Do you enjoy a good cheese cake? If so, you will enjoy the Strawberry Cheesecake Kit Kat. The taste is refreshing! Discover strawberries in a bed of white chocolate.This one is almost like cheating, it is so delicious. It is captivating! Be careful, you may not be able to eat just one.
Welcome to the humble  blueberry of the Kit Kat world. Discover the lasting goodness of the Blueberry Cheesecake Kit Kat. Nestle has outdone itself on this one. It is just the right amount of blueberry goodness. It is sweet, but not too sweet. It sends you a fruity punch, while leaving the door ajar for more. It is the Blueberry Kit Kat!
I do not know about you, but I must have my morning cup of tea. Can a Kit Kat fill that need? Give a special welcome to the Matcha-Green Tea Kit Kat. In America tea is for drinking! Unless of course, you want to protest your unfair taxation. We do not tend to use tea to flavor our ice cream, cookies, or make our candy bars. Never-the-less, move over and welcome the Matcha Green-Tea Kit Kat. It is unique among Kit Kats! It is a close facsimile to a cup of Matcha Green-Tea from Starbucks.  It is delicious! It is one of a kind, but I do not think it can replace my morning cup of tea.
The next superstar of the Japanese Kit Kat world, is the Hojicha Roasted Tea Kit Kat. Wow, now that is a mouth full! But how does it taste? Will it replace my morning cup of tea? It tastes like a cup of black tea that has been roasted and blended into that perfect cup. It really is the perfect tasty bar with my morning cup of black tea!
The last of my favorite Japanese Kit Kats is the Wasabi Kit Kat! If you like wasabi nuts, you will love this outstanding Japanese chocolate miracle. It is a generous gift of chocolate goodness, with the burn and bite of wasabi. Nestle performed a little magic in this amazing Kit Kat.  It is delicious!
My Japanese exploration into the world of the Japanese Kit Kat Bar has ran its course, but there are many more to try. The flavors are always changing. Nestle seems to always out due themselves with a new kid on the Kit Kat block. Welcome to Japan, and be sure to have a Kit Kat!
https://www.pinterest.com/exploretraveler/i-love-japan/