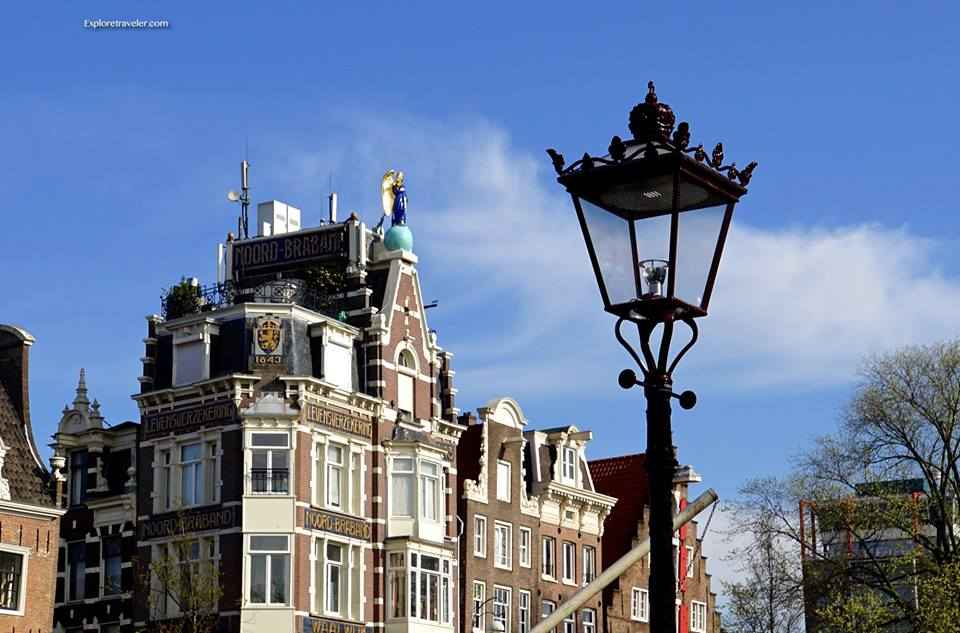 Nineteenth Century House In Haarlemmerstraat Amsterdam Netherlands
Built-in the Mid-nineteenth Century, this impressive building with the very elaborate and striking angel on the top, was the former home of the Noord Braband Waalwijk. The Noord Braband Waalwijk was one of several life insurance companies in Amsterdam. This magnificent architectural wonder sits on the corner of Singel and Haarlemmerstraat and faces the beautiful Amsterdam Central Station.
This stunning building was destroyed in part by those who saw no value in her workmanship. She has been painted over and restored at least twice. With all this history of abuse, she has once again been restored to her former glory. She stands tall to this day, eager to share the amazing history behind her restorations. If you enjoy the craftsmanship of yesterday, then spend some time in Amsterdam enjoying these buildings of generations past.
Amsterdam is a city of amazing architecture from the Eighteenth and Nineteenth Century. Everywhere you go are beautiful buildings, masterpieces of a time when buildings were ornate and unique. Many of these stunning masterpieces of yesterday are now unique museums telling their special story in the history of this tiny nation. While traveling throughout The Netherlands, take time to enjoy her ornate past. It is everywhere throughout the nation but especially in Amsterdam.
Exploring this picturesque city is an adventure you do not want to miss. Amsterdam has astonishing canals and extraordinary buildings. The canals and historic district are filled with breathtaking and amazing architecture. The houses are artistic, elaborate, and quaint. There are stunning commercial buildings and churches. Most of these buildings have magnificent gabled facades. Like this treasure of the Nineteenth Century with it's beautiful angel high above the building, so many have different symbols and spirals soaring high into the skyline. If you enjoy the quality and uniqueness of yesterday, then make time for a special season of exploration. Adventure is calling from the tiny nation of The Netherlands.