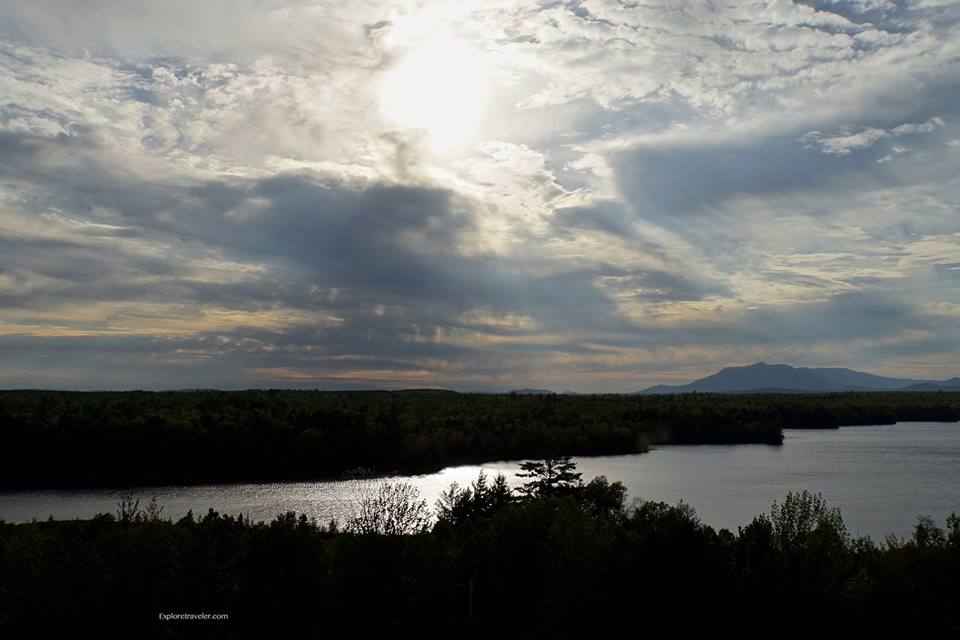 Magnificent Sunset Above Mount Katahdin In Maine 
This beautiful and remote mountain wilderness surrounds the tallest mountain in Maine. Here you can see it looming over the clear and beautiful lake below. It's name, Katahdin, came from the Penobscot Indians. In the English language, it means, "The Greatest Mountain." This great mountain forms the center of Baxter State Park in Northeast Piscaquis County, Maine. This is sheer beauty in the wilderness. This picturesque mountain stands tall (5,267 feet) at the Northern end of the Appalachian Trail.
Percival Proctor, a famous writer, describes Katahdin this way: "Buildings crumble, monuments decay, wealth vanishes. But Katahdin, in all its glory, forever shall remain the mountain of the people of Maine."
The Mount Katahdin Loop is a major hiking destination in New England. The trail is steep and difficult and is a highly desired Alpine hiking adventure. For those who began hiking the famous Appalachian Trail in Georgia, it is the ending place of their major hike.
Mount Katahdin stands like a centerpiece in the 235,000 acres Baxter State Park. It draws hikers and adventurers from all over the world to rural Maine. Snuggled among the lush forests, in a rural wilderness, Mount Katahdin has stood tall for more than 400 million years. She has been molded by magnificent glaciers and sanded by the wind. Mount Katahdin is one of the major New England hiking destinations. If you are an experienced hiker, then you will love these trails that are steep and difficult, yet amazing. This is the number one East Coast hiking adventure!
There are several lakes in the Mount Katahdin wilderness, but Moosehead Lake is a favorite by those who love to explore nature by water. In the summer Kayaks take to the water, and in the winter snowmobiles comb the wilderness. Your chances are high that you will spot black bears, deer, and the State Animal, the moose. Be sure and bring binoculars and a good camera.
If you like to shop, then you will love Bangor, with it's 60 acre mall. There are also scattered antique shops, gift shops, and art galleries. Bangor is also home to one of the largest children's museums on the East Coast. There is a lot to do in Bangor, including lots of nightlife for the adults.
Accommodations range from simple campsites, historical inns, to luxury motels. There are lots of restaurants, cafes, and numerous cultural experiences are waiting throughout the area. Whatever you desire to do in the Highland's of Maine, you will most likely find. This is an area that seems to have everything. So what are you waiting for? It's time for a Mount Katahdin adventure!