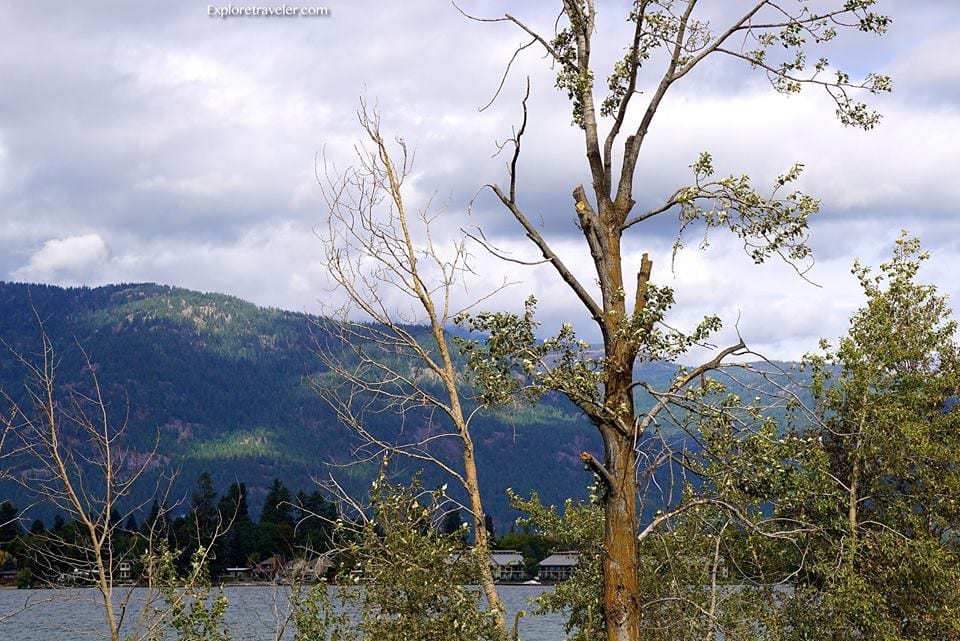 Mountain Breezes On Lake Pend Oreille
Mountain breezes blow across the beautiful Lake Pend Oreille. This beautiful lake was formed years ago by huge magnificent glaciers that melted. The water then flowed toward the Pacific Ocean. Some of the water pooled at the bottom of these spectacular mountains. and Lake Pend Oreille, Idaho's largest lake, came into being. These glaciers provide the source of many of the breezes that come down off the mountain. They form cooling mountain breezes for the shores of Lake Pend Oreille and surrounding Sand Point, Idaho. Summers on the lake are pleasant and hardly a day passes without mountain breezes.
Sandpoint is a charming small town on the shores of Lake Pend Oreille. It is known for its art festivals, and summers are a buzz of activity on the lake. There are many places to camp along the shores. Boaters and Kayakers love to explore its coves. Hikers enjoy the three mountains that keep Sandpoint nestled among their hills. The summers are hot, but you are rewarded most days with cool mountain breezes. Water skiing, Biking, horseback riding, and boating, are just a few of the summer sports enjoyed in Sandpoint.
http://www.sandpoint.com/Recreation/summeractivities.asp  (Summer Activities)
Outdoor enthusiasts enjoy the hunting and fishing in the area. Golfers are rewarded with an excellent golf course. Rent a car and take a long scenic drive. The surrounding area is extremely beautiful and there are many other lakes and rivers to enjoy. For those that desire to see the area by air, there are many flight packages available in the area. While there are many extreme sports in both summer and winter, the town itself is amazing. Be sure to check out the fantastic farmers market. Sandpoint stores are awesome! The farmers market is amazing!
http://visitnorthidaho.com/activity-category/fishing-hunting/  (Hunting and Fishing for visitors)
http://www.sandpointonline.com/rec/golf.html    (Area Golf Courses)
Winters are a playground on the lake and in the nearby mountains and towns that dot its shores. The shallow parts of the lake freeze over and fishermen can ice fish during the heart of winter. Warm clothes are a top priority! Dressing in layers is the best way to assure that you will be warm. Heavy soled waterproof boots, good insulated heavy overalls, gloves, a wide scarf, and hats are all a must when ice fishing. These cool mountain breezes blow all year, making the lake a winter playground. Winters in Idaho are usually cold, with lots of activities available in the ice and snow.
Ice fishing is one of those special treats for winter fun. Some of the most common fish found in the winter are Perch and Trout. Bluegill, Kokanee and Crappie are also in the realm of possibilities. Be sure to check the ice depth before going out on the lake. An average man of 175 pounds needs at least 3-4 inches of solid ice. A snow machine needs at least 8 inches of solid ice. Never go out on the lake alone. The buddy system works great for safety. Plan ahead and be safe! An excellent website for determining what equipment you might need is https://idfg.idaho.gov/fish/ice-fishing (ice fishing guidelines)
Skiing and Snowboarding are special events for Idaho. There are two major Resorts in the State that provide excellent skiing and snowboarding, as well as sloops for sledding and tubing. Sun Valley is in the Southern part of the state, but Schweitzer Mountain is just 11 miles up the mountain from Sandpoint. Bring the family for a day of adventure! It is fun for all ages! There are even pickup places in Sandpoint if you prefer to ride the Schweitzer Bus. Year around fun is at it's best at Schweitzer Mountain. As with all winter activities, dress warmly and be prepared for the mountain breezes that often blow.
Schweitzer Mountain Ski Resort
10,000 Schweitzer Mountain Road
Sandpoint, Idaho 83864
208-263-9555
1-800-831-8810
http://www.schweitzer.com/
Selkirk Lodge provides luxury accommodations on the mountain slopes. There are more than 80 first class rooms at reasonable rates. There are several excellent restaurants and a retail mall. White Pine Lodge has 50 condominiums for rent. There are also over 450 Mountain Homes for rent around the mountain.
http://www.schweitzer.com/plan-your-vacation/lodging-options/selkirk-lodge/
http://www.schweitzer.com/plan-your-vacation/lodging-options/white-pine-lodge/
Schweitzer Mountain Chapel has both Non-denominational Services and Catholic Services during the ski season. The Chapel is also available for retreats and has built-in Dormitory style rooms.
Come enjoy the cool mountain breezes blowing over the lake on a hot summer day!  Immerse yourself in winter fun at Schweitzer! Ice fish on the Lake Pend Oreille! The options are endless and adventure is all around. Lake Pend Oreille has something for everyone, year around. Come join us as we explore Lake Pend Oreille and the surrounding area.
https://exploretraveler.com/