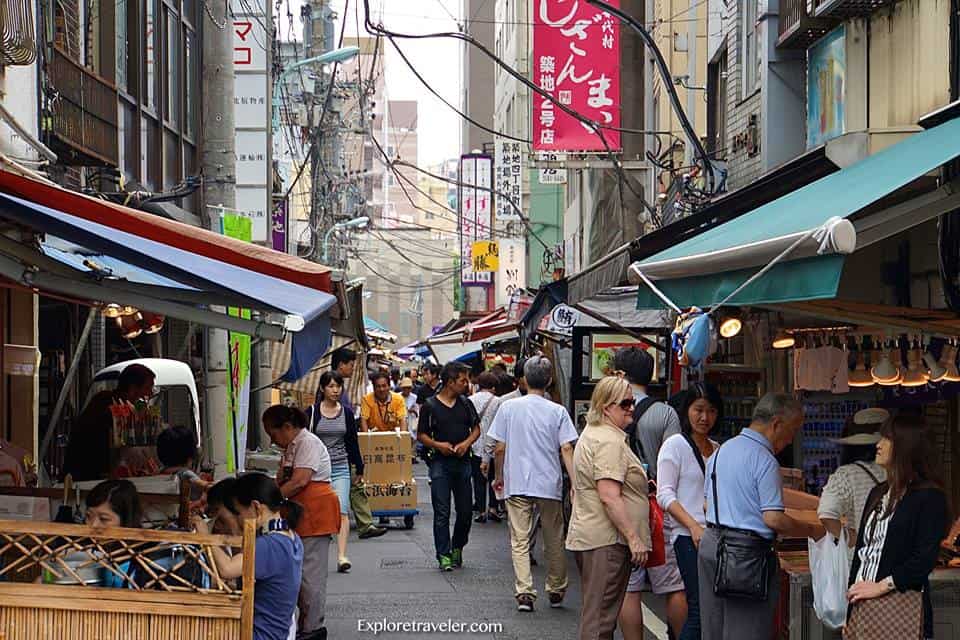 Shopping Tsukiji Market (築地市場)
Shopping Tsukiji Market (築地市場) is exciting and on unique experience. The market is actually two markets. The inner market is a fish wholesale market which is closed to the general public. Tourists are allowed in to watch the fish auction after 9 am. Only 120 visitors are allowed in a day. Perspective visitors begin lining up before 5 am and only the first 120 are allowed to enter. It is wise to come early! There is an observation area for tourists where you will get a panoramic view of the fish auction. You will see fish as small as 4 pounds at the auction. But you will also see Blue Fin Tuna that can weigh over 1,000 pounds. Watching wholesalers shopping Tsukiji Market  (築地市場) is exciting! Those fish are humongous!
There are some special guidelines for watching the wholesale shopping at the Tsukiji Market. Please, do not wear high heels or sandals. They will not allow you to enter for safety reasons. They also allow no large bags or luggage of any kind. They ask that you stay in the observation area and not in the aisles. They do not want anyone hurt or the market hindered. Keeping the guidelines in mind, shoppingvTsukiji Market (築地市場) can be fun to watch. You will see all the business owners bidding on the Tuna. These Tuna are gigantic! This is where the action is! Another impressive event in the wholesale market is when they bring in the tons of frozen tuna. This is a unique experience! There is nothing else quite like it.
The Tsukiji Outer Market is an amazing retail area. Here you will find every traditional food of Japan. The market consists of hundreds of small stalls and tiny shops selling much more than fish. You may find anything from a good knife to household items for the home. Every new trending craze in the world of Japanese food, begins at the Tsukiji Market. Shopping Tsukiji Market (築地市場) is like taking an International Food Tour! It all begins at the market.
The Tsukiji Outer Market is known by locals as the Jogai Shijo.  This is Japan's Food Court where you will encounter all the traditional foods of Japan. A visit at the Outer Market is like an international tour. You will be able to taste and buy all the traditional foods and even the borrowed foods of the world. This is a true Japanese Market for all things Japanese. Shopping Tsukiji Market (築地市場) is an intercultural experience.
There are many small restaurants mingled among the shops in Tsukiji Market (築地市場). You will find them very small with limited seating. Much of the time there is a line to be able to come in. This is true especially during peak times, like the lunch hour. The Japanese eat fast, so the wait should not be long. You may have to learn to eat fast also. Others will be waiting!  Shopping Tsukiji Market (築地市場) is only complete with tasting our delicacies made fresh each day.
Take a walk around the market and enjoy the taste of Japan! The market is located in  Tsukiji in central Tokyo. You will find it between the Sumida River and the Ginza Shopping area.
Hours
Outer Market: varies by shop, typically 5:00 to 14:00
Wholesale Area: open to visitors after 9:00am
Tuna Auction: open to visitors from 5:25am to 6:15am (restricted to 120 visitors/day)
The inner market is closed Sundays, holidays and some Wednesdays. It is also closed from December 1, till mid January. This is the busiest time of the year. Japan is preparing for New Years at this time.
Japan invites you to enjoy your day shopping Tsukiji Market (築地市場). It is a unique experience.