Hungry And Happy In Mexico
Our first stop is Mexico, and we are looking for tasty temptations. We visit an authentic Mexican restaurant for a delightful South of the Border speciality. Authentic Mexican Beef  Arrachera with Guacamole is the perfect dinner after a day of exploring. Arrachera beef is a savory Mexican specialty made from flank steak. The flank steak comes from the diaphragm of the cow. This meat is quite thick and can be a little bit tougher than other cuts, if not prepared correctly. It has a very strong flavor and is quite juicy. The secret of a delightful arrachera is in the marinade.
Beef Arrachera is never served alone on the plate. It will always be served with one or more garnishes. A favorite and maybe the most common is Guacamole. It is also served with grilled spring onions, roasted nopal, mixed salad, quesadillas, refried beans, Mexican rice, or fought chilies. Often onions and chilies are mixed in with the beef and the Guacamole is served on the side.
Throughout Mexico, Beef Arrachera is a favorite to throw on the grill when gathering together with family and friends. On your next trip to Mexico, be sure to sample an authentic and sumptuous  Beef Arrachera. It is delicious!  It will be one of the highlights of any trip, South of the Border.
            Crab Cakes On The Beach
Traveling north, we find ourselves on the beaches of Southern California.  Almost every fish shack has the most tempting Crab Cakes. Some even serve Kosher Crab Cakes  made from from artificial Crab. These delicious Cakes are made from  fresh fish and certified Kosher. If you eat nothing else from the fish shacks,  you must try the crab cakes.  Once you've tried the crab cakes you will want to keep coming back for more. San Diego Crab Cakes are pretty much the most famous in the world. San Diego is notorious  for its crab. These terrific Crab Cakes more than live up to all of their publicity. They are an international favorite. They are fresh. These tasty temptations are delicious!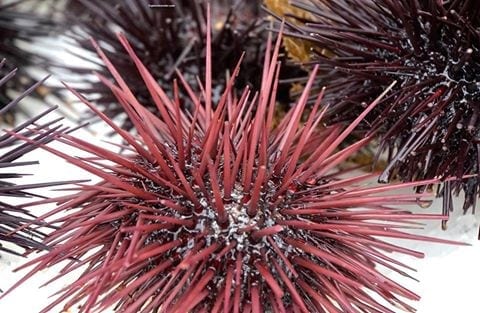 San Diego's Sea Urchin
Sea Urchins are generally  served fresh and raw on the shell.   They are freshly caught and still moving! They  taste almost like a buttery custard, Most importantly, they are extremely fresh. Visually, this beautiful Sea Urchin can look a bit overwhelming for a novice. It is worth the effort to try this San Diego delicacy.  The flavor is unlike anything else you have ever tasted. It's nutty, buttery, and salty, all at once. The divers go out each morning to find the very best Sea Urchin. People come from all over the world, to eat the Sea Urchin when in season.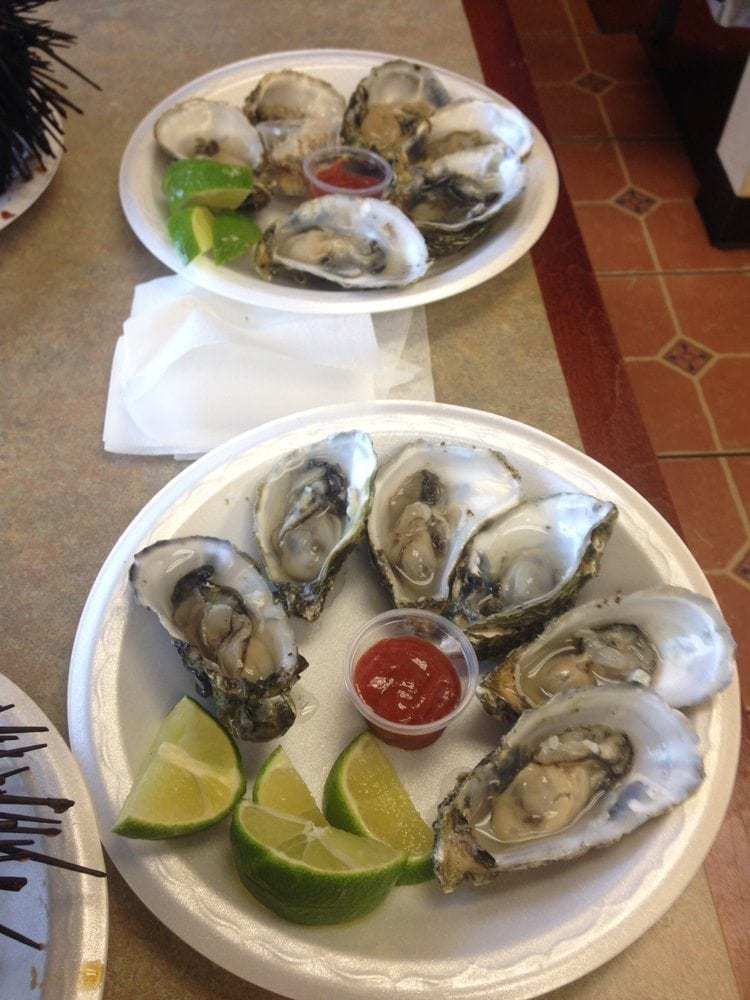 Oysters On The Half Shell
Whether you are at a fish shack on the beach, at the Fish Market, or at a Farmers Market, Oysters are a favorite West Coast delicacy. From the Southern California beaches all the way to Canada, Oysters are a sea food treasure. They are often served raw and to the novice appear a little slimy, but they taste delicious.  If you are  looking for fresh Pacific sea food, oysters are at the head of the line.
By far the raw oysters that are served on the half shell are the greatest all stars. But oysters are served several different ways. Oyster chowder is another star of the menu, especially in the Northwest. It can be called Oyster Stew or Oyster Chowder, but it is delightful on a cold windy day.
Another way to enjoy this fresh Pacific treasure is fried. Fried Oysters served with fresh lemon are another favorite Pacific Northwest treat. Often this is paired with cole slaw and fresh baked french bread.(photos/poppas-fresh-fish-company-san-diego)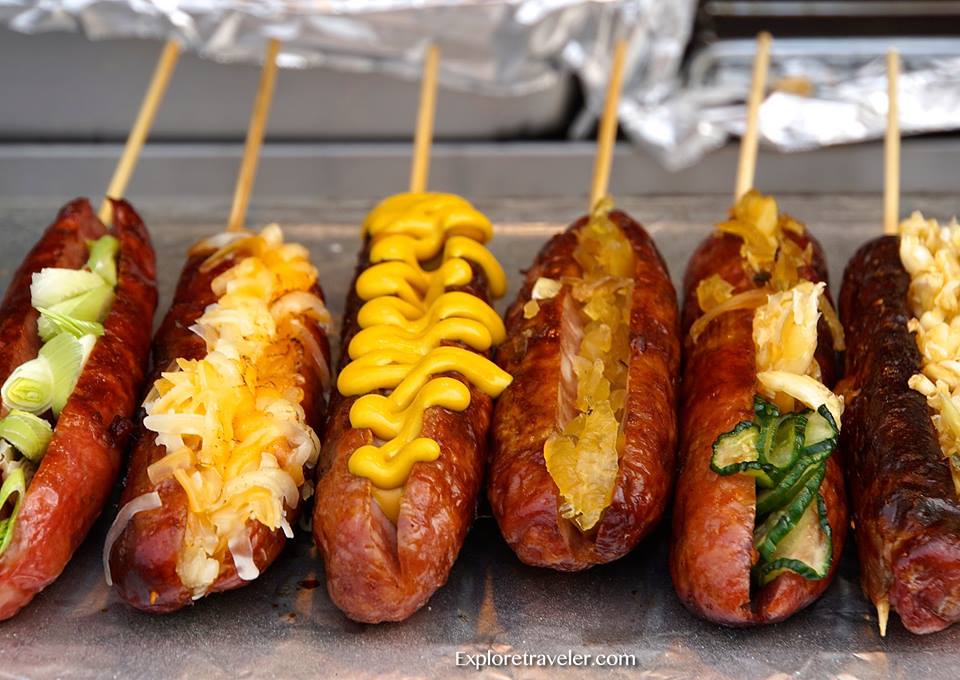 Time For BBQ
BBQ is an all time favorite on the West Coast USA. Any reason is good enough to dig out the grill. There is never a wrong time to grill hot dogs with different relishes. Some serve them on a stick and others in a bun, but everyone loves a good grilled hotdog.  Major holidays, like the Fourth of July, are all time favorites for grilling some burgers and hotdogs. Usually they are served with chips, baked beans, and potato salad. Any day is a grilling day on the West Coast USA.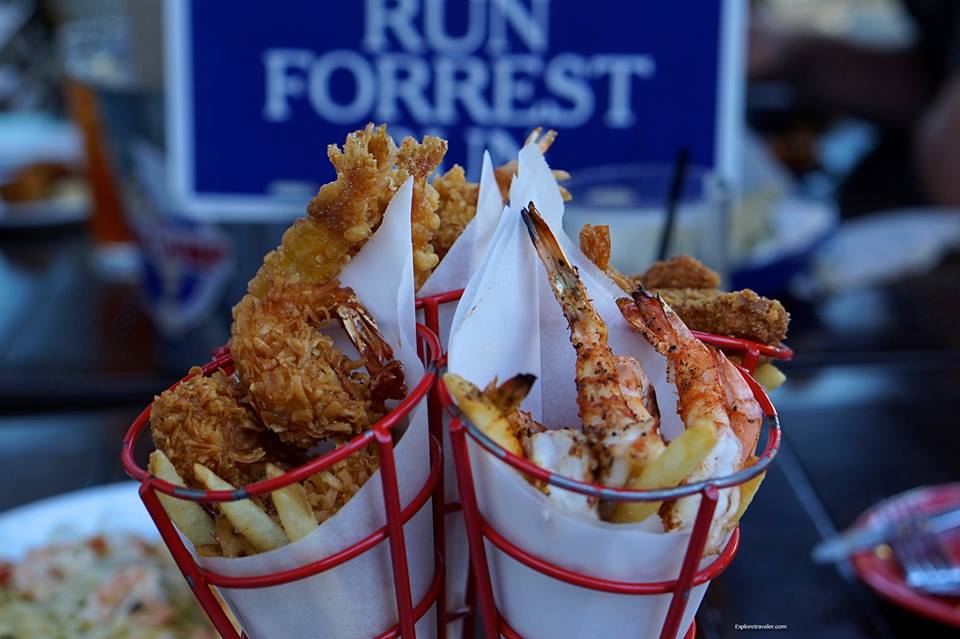 Grilled Shrimp In Monterey
On the Monterey Peninsula it is all about shrimp. You will find fried shrimp, grilled shrimp, and even coconut shrimp. They love their shrimp in Monterey!
The first Bubba Gump Restaurant opened in Monterey, California. It was the year 1996, just after the successful movie came out titled "Forest Gump."  The Bubba Gump restaurant is named after the film's characters  Bubba and Forrest. In the film, Bubba desired to get into the shrimping business.  Forrest carried out his dream after Bubba's death.
The Bubba Gump Restaurant is a fun place to have lunch or dinner. Taste and see how many different ways you can cook this tasty temptation!
   The Monterey Peninsula
As you travel on North to Oregon and Washington, the weather has changed. Nine months a year can bring cool and rainy days and the nights are quite brisk. Here in the Northwest the need to warm up, makes chowder the star of the menu.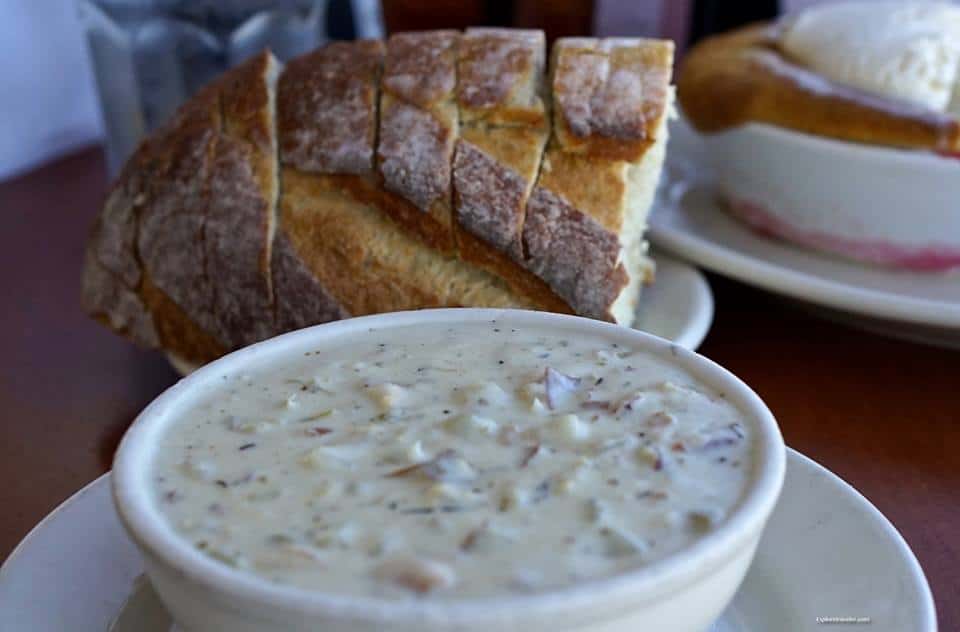 Chowder And Sour Dough Bread
The farther north you go, the more varieties of chowder that appear on the menu. By the time you get to Seattle, you will see them all. Some of the favorites are Clam Chowder, Salmon Chowder, Corn Chowder, and Potato Chowder. On a cold rainy Northwest day, nothing beats a good bowl of Chowder.
A favorite destination in Seattle is Pikes Place Market. Within the market are fish markets, farmers markets , and lots of chowder cafes. Whether you come to the market to get your own makings for your favorite chowder, or drop by for a bowl, you will love the chowder houses throughout the market.
If you are looking for adventure, you need look no farther than your own back door. The coastal communities of the Pacific welcome you to join them for a regional favorite. So grab the family and head for the closest beach. Your lunch is waiting!
This is also an authorized post on seemit under @exploretraveler at:https://steemit.com/treanding/@exploretraveler/exploring-more-of-the-backroads-of-washington