The cold winds of November had just begun and we could tell that the winter is arriving, by the peculiar fragrance that it brings along in North India. On one such cold, November morning in 2019, we began our journey to Goa via flight from Delhi. Already dazzled by the thought of going to Goa, the dream destination for almost everyone, I had been packing the bags for months and impatiently waiting for the day when I arrive in Goa. I had planned this trip for almost half a year then wanted to roam all around. My trip experience might layout a fantastic insight into the possibilities and a Greater impression of what exactly you will experience if you're planning a holiday to Goa. Hoping to capture some Goa sunshine, culture, and character.
I had heard so much about the place that as soon as we arrived there after a 4-hour journey, overwhelmed with the beauty, we forgot all the tiredness and fatigue. We already had booked out an apartment via Airbnb in Arpora, located in north Goa. You will have plenty of options to stay in Goa, you can stay in a luxurious 5-star resort, as well as easily find vibrant Hostel stays starting from just INR 500 per person. We choose Arpora to stay, as it is located centrally, from which we could easily explore the surrounding beaches of Baga and Calangute. Additionally, The Inland village of Arpora, also gives you the luxury to be able to head back to your rural retreat at the end of a busy day.
Transportation in Goa
Getting around Goa is not much of an issue. There are various transportation options available while you roam about in the city. There are privately operated buses connecting major towns of Goa and rural areas. If you're landing onto the airport, you can easily hire a private taxi at a reasonable price. While roaming about in the city, the most preferred mode of transport here is self-driven bikes. These bikes are easily available on rent everywhere at as cheap as INR 300 for a day. These scooter bikes allow you to explore local places swiftly through narrow roads of Goa.
The Beaches in Goa
Goa's popularity lies in its beaches; it is what Goa is famous for. They are the famous top spots in Goa. Tourists from all over the world travel all the way to Goa just to rejuvenate, reconnect, and enjoy. So like everybody else, we first hit the beach and spent almost a day there at the Calangute beach. Goa is popular for many other beaches such as the Baga beach, whose creek merges with the Arabian Sea. Baga beach has beach shacks and other side eateries which serve exquisite seafood, something that shouldn't be miss in Goa. The Colva beach is just another gorgeous beach in Goa, which is covered with white sand. Then comes the Vagator beach, Anjuna beach, and several other beaches, for which Goa is known for across the globe. And Special mentions for my favorite, Arambol Beach. It's probably the cleanest and Silent beach, located furthermost north to all beaches in Goa. The best time to be on Arambol beach is the Evening time, where you can experience the euphonious music beats by drum circle, which will make your soul dance and celebrate Goa's majestic twilight.
Water Sports in Goa
In Goa you will find ample opportunities for adventure enthusiasts to explore the waters in as many ways possible as you want. As Adventure lovers, we too thought of getting the best of this exciting land! We opted for a water sport package which included boat ride to Grande Island, Parasailing, Scuba diving, Banana Tube Boat Ride, and Jet Skiing. The experience I had while doing each activity was worth each penny spent. The Boat ride to Grande Island is in itself a worthwhile experience. Making a way through tides you will see merchant's bungalow, Aguada fort, central jail, and mesmerizing beach views from the mid-sea. Not to forget if you're lucky, you can also experience dolphins twirling in the way.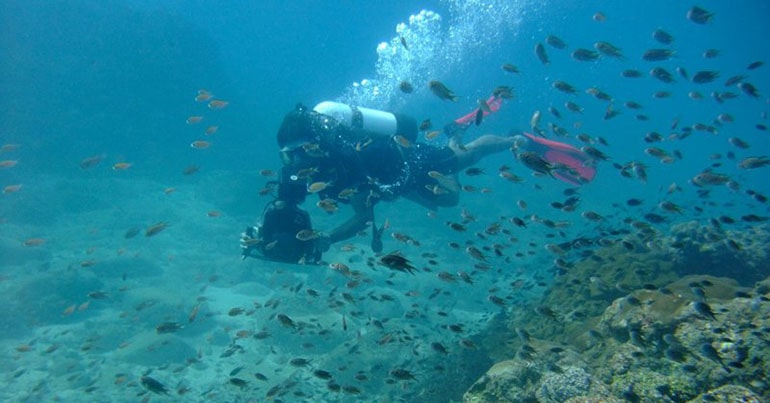 As we reached the Grande Island, It was time to have some adrenaline rush and enter the marine territory by much-awaited scuba diving. Here water depth ranges from 7-20 meters and you'll find fishes, sea turtles, shellfish, and other exotic and colorful corals. Prior to the dive, you'll be given a 20 minutes training session explaining all the dos and don'ts while we go underwater. A scuba instructor takes you inside the water to have an experience worth a lifetime. The shallow clear water conditions make this place ideal for diving for beginners as well as for expert divers.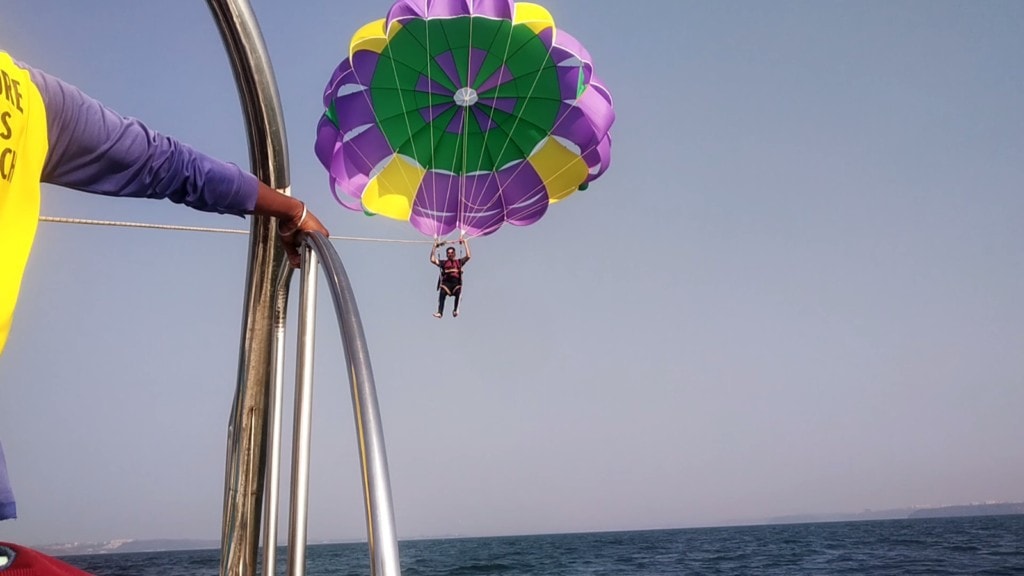 Other water sport activities too are fun to experience, which can be done at most of the beaches in Goa. You can enjoy the thrill of flying in the sky and mesmerize the blue water of the Arabian Sea from high up by parasailing as well experience riding Water scooter through the splashing water tides, a complete combination of speed and thrill. If you're with friends, don't forget to experience a banana boat ride. The banana-shaped yellow boat is connected to a speedboat, which runs at a lightning speed and is made to flung off the passengers in the sea, and passengers have to start again by making to the boat again, which is an insane fun!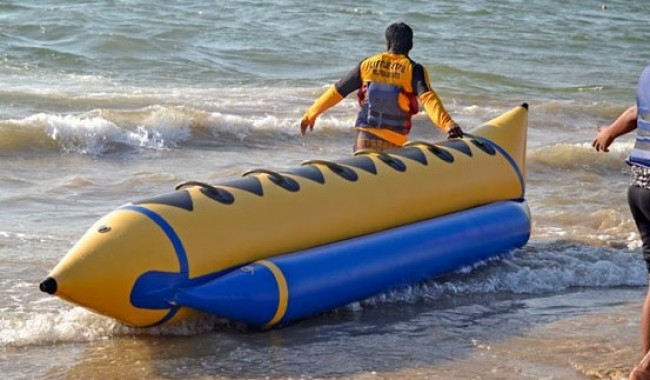 Nightlife in Goa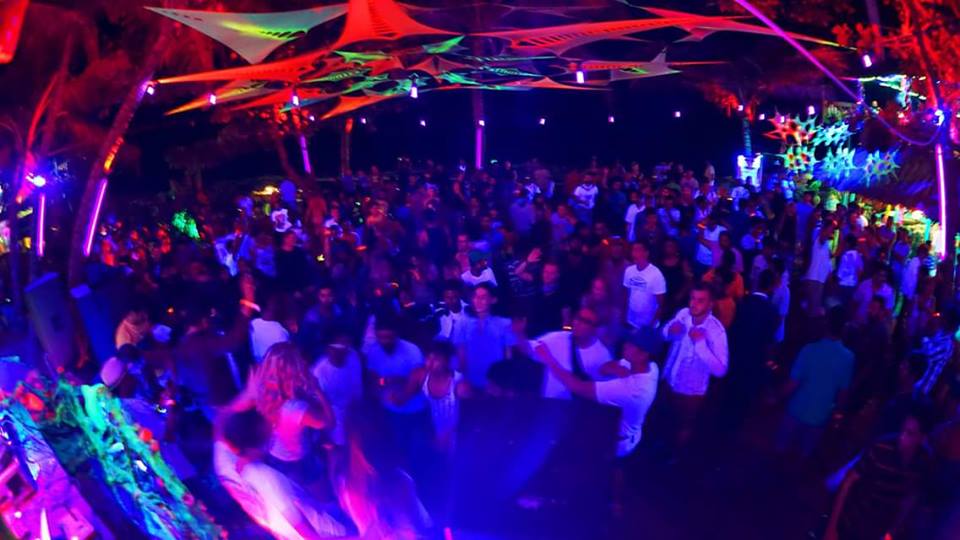 Goa can be said to be India's Party Capital. As the sun goes down, you can experience groovy foot-tapping music at the beach. This happens at most of the beaches in Goa which makes Goa a hot spot for party animals. Whether you want to go crazy in glamorous nightclubs or want to sway with the music on wild beach shacks, Goa is the place to be! If you're looking for good nightclubs, Tito's Pub, LPK, SinQ and Club Cabana are the pick of them all and if you wish to have a party while adoring soothing sea view, Curlies Beach Shack is oldest yet the best option, located besides Anjuna Beach. Besides all days are party nights at Curlies, it has special night party events on Mondays as a Techno party and on Thursday as a Trance music party. Other than these, you have numerous party options spread over Tito's lane offering all types of music from retro to hip hop, Trance to Techno, or from live bands to exploding Live Dj's.
It's just not about the party that makes Goa's nightlife magnetic, if you're a shopping freak, you can explore the shops around Tito's Lane, which are open all night. Saturday night flea market is yet another buzzing marketplace located in Arpora. This place is not just a great option for shopping but it also offers great Goa culture ambiance. In this hippie market you can enjoy live music, get a taste of delicious local food, shop for clothes, bags, antique jewelry, and much more. There are many party zones within the market for revelers to go crazy. So all in all, this market offers an exciting mix of shopping in a party atmosphere.
 Chopara Fort, Goa
Chopara Fort, is the yet another famous destination amongst tourists visiting Goa. It is also known as "Dil Chahta Hai Fort" named after a famous Bollywood movie which was shot there. It has a historical importance as well. Present structure of the fort was built back in 1717, which was acquired by various rulers for varied periods of time. It is located from 10kms from Mapusa & rise up over the river Chopara. This location offers a scenic view from the Top and is an instagrammable place to capture beautiful photographs. One thing to remember if you're going there, carry along water bottle with you, as it's located at an height and you have to climb numerous large stairs to reach to the top of the fort.
Parra Road, Goa
This is yet another most famous Instagrammable place in Goa. A narrow road, lined up by palm trees on both sides makes this a perfect picturesque road in Goa. This road can also be spotted in various famous Bollywood movie shots. A road trip through these lush coconut trees is a must and you will not be able to resist yourself for stopping by and witnessing nature at its peak beauty. The exquisite lanes of Parra village also lead to the famous Church of St. Anne, you can visit that too.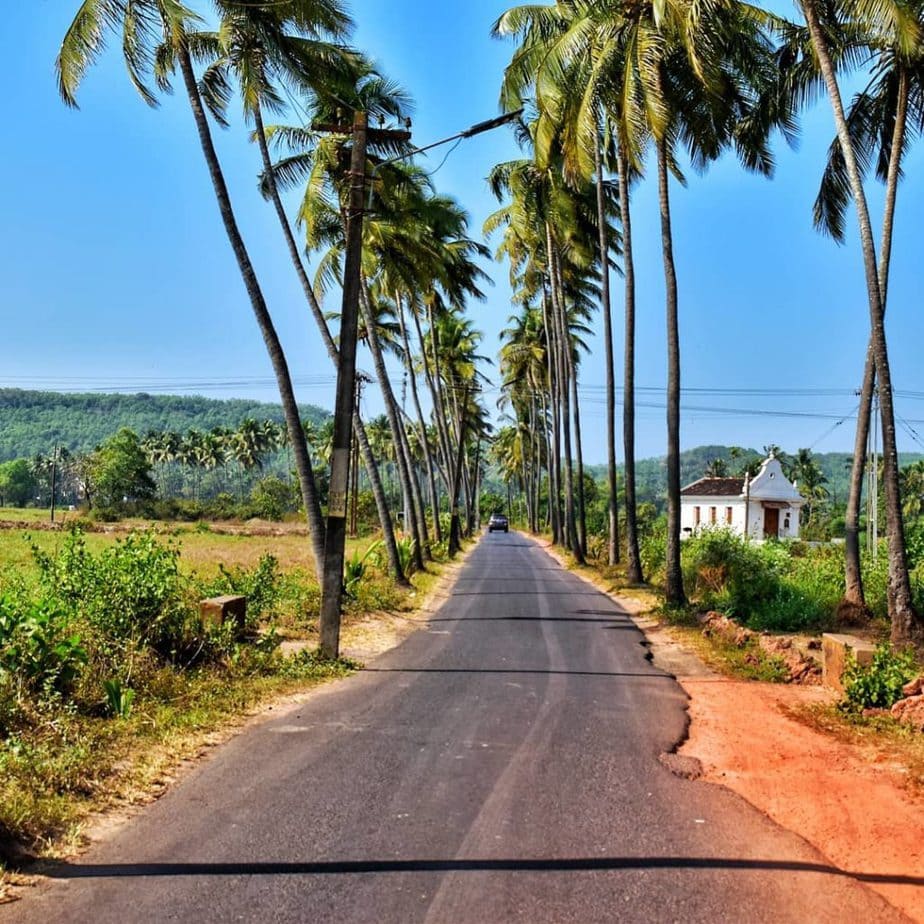 The Lipsmacking Goan Cuisine
Three things people come to Goa for are its beaches, party, and seafood and I so badly wanted to try Goan cuisines. We went to a restaurant near our apartment, where the live orchestra was going on. Goa is home to some of the most exquisite dishes, of which I vividly remember having the chicken xacuti, which consists of poppy seeds and Kashmiri red chilies. The dish is influenced by Portuguese and has chicken, potatoes, onions, coconut, and chilies. We found out that this is one of the most famous dishes of Goa and one should definitely try it out while holidaying here.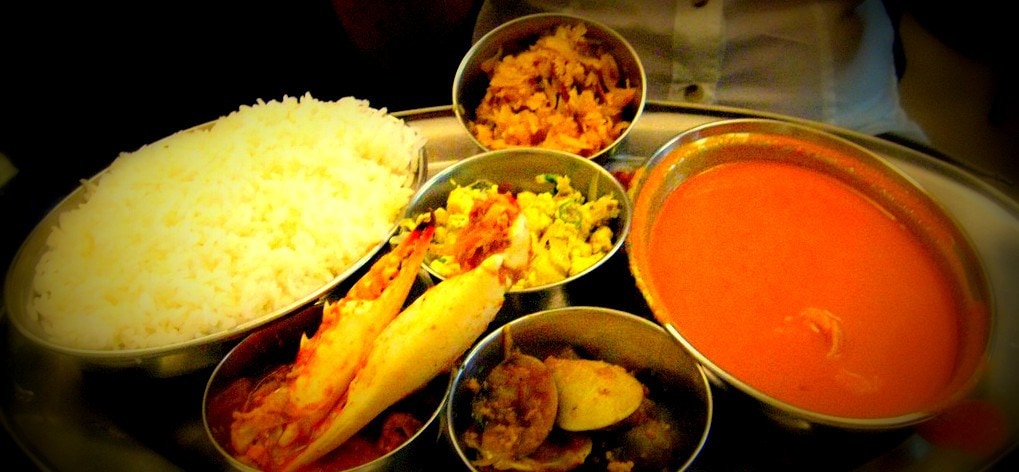 The sorak that we had with the chicken xacuti is yet another most demanded dish in Goa. It is a simple vegetarian curry made out of spices, onions, and tomatoes. This curry is eaten with rice or dry fish.
The smarachi kodi is a dry prawn curry which we had for all seven days that we stayed in Goa and it was just heavenly.
The bebinca is a popular and most loved desert of Goa. It is made out of coconut oil, flour, sugar, and eggs. Made into a layered cake and served with ice cream. I can never forget the taste of this desert ever.
 The Churches in Goa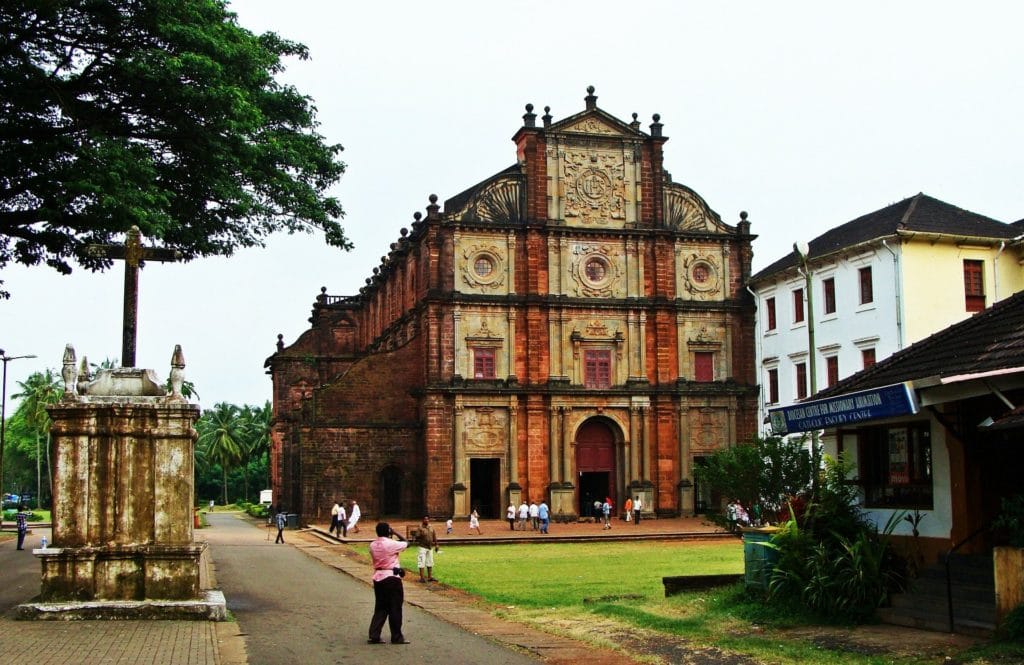 Churches in Goa are visited by people all over the world. The Portuguese rulers have left behind some of the most beautiful, majestic, and enigmatic churches in history which are simply architectural marvels and whose designs are as grand as the culture of Goa.
The is a UNESCO site and by far the most famous church in Goa. It was built in the 16th century and contains the mortal remains of St. Francis Xaviers. It is also believed that one can find lost things by praying at this church and as difficult as it might be for some to believe, we surprisingly had positive results.
Se Cathedral is another magnificent church in Goa and is the largest of all with immense religious importance.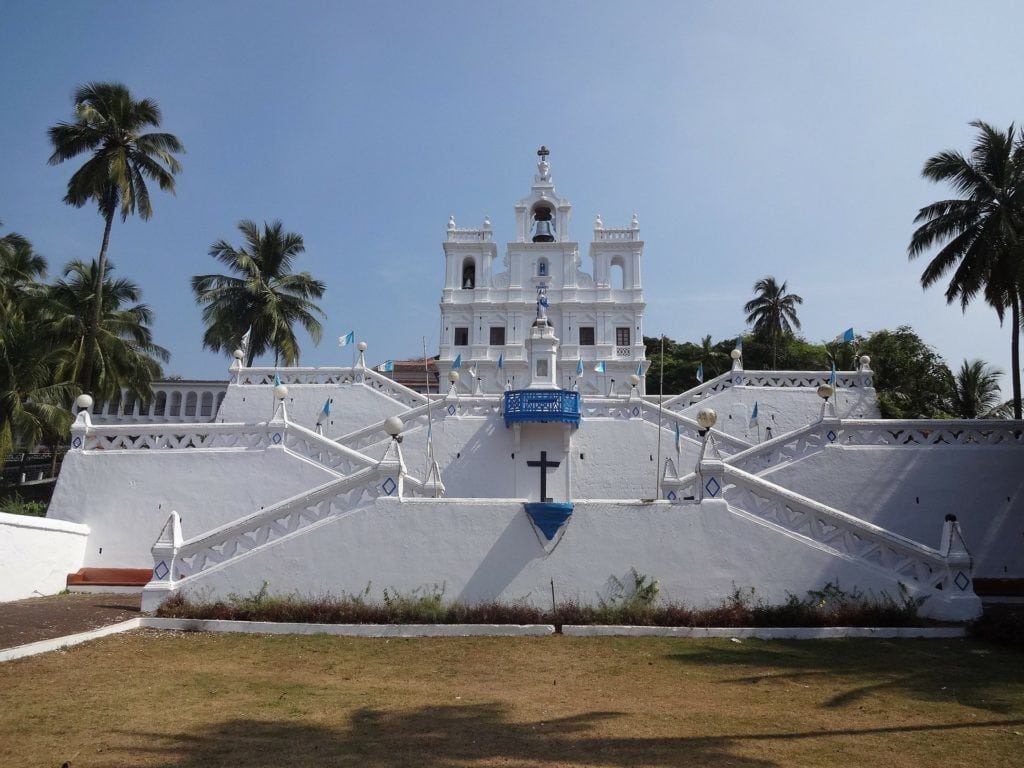 St. Cajetan church is another beautiful monument in Velha Goa and is a captivating reminder of the Portuguese rule in India.
The blend of Tuscan, Baroque, and Corinthian architecture is what makes the church of St. Francis Asisi a significant monument.
The Culture of Goa
People living in Goa are called Goans, with Goa being a perfect blend of Indian and western cultures. People of several religions can be found here. Goa has been under the western influence for so many years which is why people here are more open-minded and secular and though the size of the state is smaller as compared to other states of India, its culture is as rich as that of any other state. We found fishing as the most popular occupation here along with the cashew, coconut, and jackfruit farming.
Apart from this, of course, tourism is the most sought occupation in Goa for obvious reasons. Besides, we found some categorically stunning jewellery and showpieces for home decor. Goans are fond of performing arts which is why Goff talgadi and Shigmo, Dekhni dance are some of the popular dances of Goa. The infamous Pano Bhaju that we came across in Goa which is a 9-yard saree is what Goa is popular for. The attire for tribals in Goa, which is known as kashti is something we found when we met the tribals in Goa
Conclusion
A place that offers peace and serenity, beaches that soothe your eyes, food that satisfies your soul, churches which display the talent of architects and the culture everything in Goa makes you experience a whole new world. Adventure sports, unique culture, rich history, magnificent architecture, moderate weather, scenic beauty of beaches richly adorned with sunrise and sunsets attract tourists from all over the world. For More Places to Travel in Asia, Read more articles here.