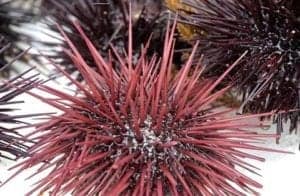 Treasures Of The Sea
The San Diego Area is blessed with many unique and spectacular treasures from the sea. One of the most spectacular is the Sea Urchin. It is magnificent! This majestic pink variety is one of the showest urchins in the warm waters of California. This beautiful pink Sea Urchin is the longest living creature on the planet. They often live to be more than 200 years old.
There are many varieties of the Sea Urchin in the San Diego area, and the color range is spectacular. They come in a full range of colors from sand colored to bright pinks and dark purples. Here, in Southern California, you will see the lovely pink to red urchins all the way to the spectacular  Purple Sea Urchin or Strongylocentrotus. This striking deep purple Sea Urchin inhabits the eastern edge of the Pacific Ocean from Ensenada, Mexico to British Columbia, Canada. What an amazing treasure of the sea! What priceless beauty.
The Sea urchin is an exciting delicacy in many cultures around the world. Their row or eggs are in huge demand. In the San Diego area, Sea Urchins are hunted by divers to satisfy the local hunger for this amazing delicacy. People from all over the world come to these warm ocean waters to sample one of the world's best-loved sea creatures. The row is a unique taste. It is delicious. It is totally different!
    San Diego Tuna Harbor Fish Market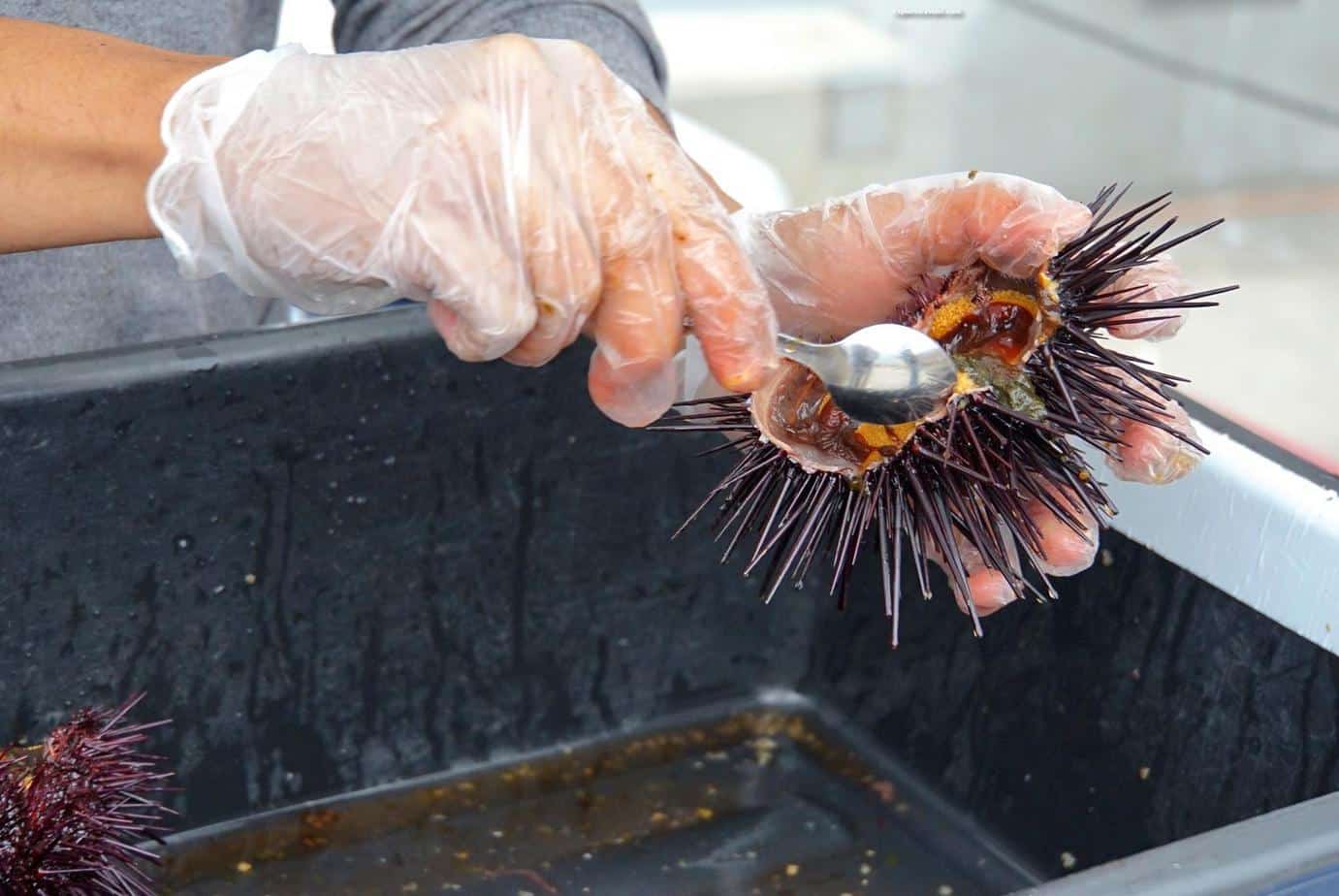 The San Diego Tuna Harbor Dockside Fish Market is bustling with activity come 8 am on Saturday morning. This is the best Fish Market in San Diego. Local business owners are waiting in the long line to get the best of the morning catch. Since San Diego is well-known for its Sea Urchins, adventure travelers are also on the scene to get their first taste of this coveted delicacy. Join us as one adventure traveler tastes his first urchin.
What all will you see at this famous dockside market? You will get glimpses of many beautiful and spectacular fish of the San Diego area. Today the market was blessed with the sandstone and pink sea urchin. At other times of the year  you can also see the outstanding purple Sea Urchin. The purple Sea Urchin does not live as long as the pink Sea Urchin. For what it lacks in longevity, it has in beauty. (This beauty was photographed by: By Kirt L. Onthank, CC BY 3.0, https://commons.wikimedia.org/w/index.php?curid=3424504)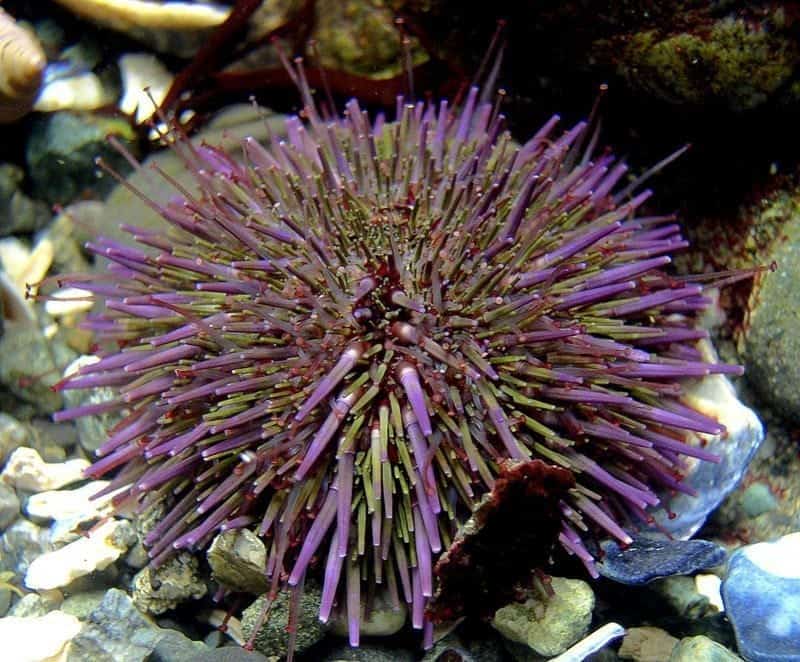 Besides the beautiful Sea Urchins, you will see many spectacular locally caught fish at the market. There are also vendors that share these freshly prepared treasures from the sea. The fish that is  offered for sale vary from fishing season to fishing season. On this particular week, there were beautiful Rock Cod and also a vendor that sold Rock Cod fish sandwiches and Rock Cod tacos. They were delicious. You could also get fresh shark sandwiches and Shark tacos. Another fantastic lunch choice. Then there was the vender that prepared the roe of the Sea Urchin, which is not cooked. This was the spotlighted vender with many locals and adventures waiting for their own private delicacy.
Among the fresh fish sold, were tuna, shark, rock cod, sea urchin,  crab, lobster,  and many other tasty species. The website for the San Diego Dockside Fish Market shows how the fish are caught and why different methods are used. Fisherman work together to protect our treasures from the sea.
http://thdocksidemarket.com/new/
Customers are able to buy a whole fish and have it cut for them free of charge. A tip is appreciated.
          San Diego's Fish Restaurants
One of the top restaurants in the San Diego Harbor is The Fish Market. Here you will find carefully prepared ocean delights. If you are looking for one of the best, you will find it here. They also have other restaurants throughout the area, however the original and most famous is on Harbor Drive. Fresh fish is sold to take home. You can even order your fish online. This restaurant is spectacular! Their crab cakes are sumptuous. The sushi is the best! Those fish chowders are amazing! Samples of their ever-changing menu can be found on their website.
The Fish Market
750 N Harbor Dr.
San Diego, CA 92101
(619) 232-3474 (Phone)
They are open Sunday through Thursday from 11 am till 9:30 pm. Friday and Saturday they are open from 11 am till 10 pm. 
https://www.thefishmarket.com/
Another delightful fish restaurant on the harbor is Anthony's Fish Grotto. This is a local family friendly restaurant. Some of the most fantastic chowder is paired with the catch of the day. The catch of the day only complements the spectacular harbor views. This fish grotto has served San Diego for over 70 years.
Anthony's Fish Grotto
1360 N Harbor Dr.
San Diego, CA 92101
(619) 232-5103 (Phone)
They are open Monday through Thursday from 11 am till 9:30 pm. Friday and Saturday from 11 am till 10 pm. Closed on Sunday.
http://www.anthonysfishgrotto.com/index.html
Another harbor favorite is the Harbor House Restaurant. The magnificent views are my favorite. The huge windows provide you  with a complete view of the park on the water front as well as the boats that are coming and going. The food at the Harbor House is fantastic, with many seafood specialities. The local oysters are a real favorite! Located in the Seaside Village, it is right in the midst of all the action.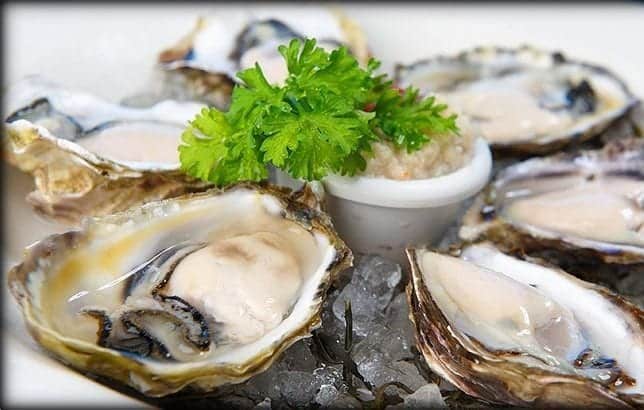 Oyster Dinner
Harbor House Restaurant
Seaport Village
831 W Harbor Dr
San Diego, CA 92101
(619) 232-1141 (Phone)
The Harbor House is open seven days a week from 11 am till 10 pm.
If you want adventure and lunch, then Tom Ham's Lighthouse eatery. A local favorite in one of our landmark buildings. Have lunch or dinner in a  functioning lighthouse with lots of seafood on the menu. And while you are there enjoy all those epic views. You can see for miles.
                    Dinner And A View
Tom Ham's Lighthouse Restaurant
2150 Harbor Island Dr
San Diego, CA 92101
619-291-9110
http://www.tomhamslighthouse.com/ 
     Preparing The Catch Of The Day
San Diego Tuna Harbor Dockside Market knew there would be questions on how to prepare these ocean treasures, so on their website they shared several of San Diego's favorite recipes. I am sharing just a few of my favorites from there.
You have scored your fresh Crab, Shrimp, Rockfish, Halibut, and even some Sea Urchin Roe. You look at it feeling good, but then you wonder…..how should I prepare it. Here are some suggestions from the San Diego Harbor Dockside Market. Enjoy!
Ingredients
12 California Rock Crab Claws (Cooked & Cleaned)
1 Everything Bagel, Shredded
2 Eggs, Beaten
Onion, Chopped
Garlic Salt
Louisiana Fish Fry
Instructions
Mix all ingredients in a bowl, except Louisiana Fish Fry. Shape into patties, then top with Louisiana Fish Fry. (Make sure you have about a 50/50 ratio of crab and bagel.) Fry in hot oil until golden brown.
Rosalia's Barbequed Halibut
Ingredients
Breadcrumbs
Parmesan Cheese
Salt
Pepper
Dried Oregano
Olive Oil
California Halibut
Instructions
First make breadcrumb mixture. Breadcrumbs, Parmesan cheese, to taste. Mix in your desired to taste, salt, pepper and dried oregano. Mix in bowl and set aside. Take your desired piece of California Halibut and roll in olive oil and then pat on both sides into the breadcrumb mixture. Ready to put on the barbecue. Brown nicely on both sides. Does not need a long time of cooking or will make fish very dry.
Ingredients
Sake
¾ Cup Mirin
2 Cups White Miso Paste
1 ¼ Cups Granulated Sugar
¼ Chopped Scallions (or More)
1 Tbs Fresh Grated Ginger (or More)
Four Black Cod Fillets
Instructions
Bring the sake and the mirin to a boil in a saucepan for about 20-30 seconds to boil off the alcohol.
Turn the heat down to low and add miso paste, mixing with a wooden spoon. After the miso has dissolved completely, turn the heat up to high again and add the sugar, stirring constantly with the wooden spoon to ensure that the bottom of the pan doesn't burn. Remove from heat once the sugar is fully dissolved. Cool to room temperature. Add scallions and ginger
Pat fillets thoroughly dry with paper towels. But filets in gallon size zip lock bag and cover with marinade. Place in refrigerator for 24-72 hrs flipping bag over occasionally.
Preheat oven to 400°F. Preheat a grill or broiler. Lightly wipe off any excess miso clinging to the fillets but don't rinse it off. Place the fish on the grill, or in a broiler pan, and grill or broil until the surface of the fish turns brown. Then bake for 10 to 15 minutes.
Teriyaki Ridgeback Shrimp
Ingredients
1 lb Fresh California Ridgeback Shrimp
½ Cup Pineapple Juice (small individual cans work well)
4 tbs Soy Sauce
½ Cup Vegetable Oil
A bit of Fresh Grated Ginger Root
Instructions
Mix pineapple juice, soy sauce, vegetable oil and ginger in bowl. Shell and devein raw ridgeback shrimp. Marinate shrimp about 15 minutes. Shrimp doesn't take a long time. Drain shrimp and grill. Shrimp are done when they turn from opaque to white, usually takes a couple of minutes.
       Preparing Your Exotic Treasures
For the lucky few who were able to purchase one of the Octopus's, here is a recipe from the Greek community. You will find more recipes at https://food.com
INGREDIENTS
1kg baby octopus
300ml water
60g chopped garlic
1 teaspoon baking powder
150g butter
50ml cream
1 tablespoon Worcestershire Sauce
1 tablespoon lemon juice
2 shallots
Cognac, to taste

For the marinade

300ml Olive Oil
1 lime
1 lemon
Salt
Pepper
 DIRECTIONS
Place the octopus and garlic in a pot with water and bring to boil.
Add baking powder and simmer for 40 minutes.
To prepare the marinade;.
In a bowl add 300ml of olive oil, juice of one lemon and lime, salt.
and pepper.
When the octopus is tender rinse it in cold water.
Place in the.
marinade and leave overnight.
The following day, grill on a hot plate until lightly coloured.
Flambé cognac in a fry pan, add the butter and slowly melt, whisking.
constantly.
Add a touch of cream and worcestershire sauce and whisk.
till they are all combined.
Finish with shallots.
Serve on a bed of rice with the cognac sauce poured all over.
For those who came away from the market with a generous supply of Sea Urchin Roe, you will not be left out. Here are a couple favorite recipes. The first one comes from the Tuna Harbor Dockside Market. The second recipe come from the Santa Barbara Seafood Market.
Ricci del Mar Linguini
(Linguini with California Sea Urchin Roe)
Ingredients
Linguini
Garlic
5 pieces of Sea Urchin Roe
Red Pepper
Olive Oil
Instructions
Prepare pasta and in a large frying pan mix 5 pieces of sea urchin roe, olive oil, garlic pieces. Toss with pasta place back in a cleaned sea urchin test and add red pepper to taste. Serves 4.
Sea Urchin Ceviche
1 flat of uni (sea urchin)
2 vine ripened tomatoes
1/4 small red onion cut into 1/8″ cubes
1/4 small jicama cut into 1/8″ cubes
1 serrano chili minced with seeds
2oz sea beans
6 green shiso leaves minced
1/4 C lime juice
1 Tbs olive oil
1 tsp kosher salt
black pepper
To prepare the tomatoes, quarter them and use your fingers to scrape out the seeds into a bowl and set aside. Cut the tomatoes into 1/4″ cubes and add them to a non-reactive bowl along with the red onion, jicama, chili, sea beans and shiso. Refrigerate until ready to serve.
To serve just whisk the lime juice, olive oil, salt and pepper together and pour over the vegetables. Toss gently to coat then plate individual servings, topping with a generous helping of sea urchin and the reserved tomato seeds.
                  Dinner Cocktails From The Sea
Squid Cocktail
Boil until cooked. Rinse them off and serve with olive oil, balsamic, celery and onions, salt and pepper (any other additions you might like). Serve cold.
Crab Dip Recipe
3/4 cup mayonnaise
1 Tablespoon dry mustard
2 teaspoons Worcestershire sauce
1 teaspoon Dill (fresh or dried)
2 tablespoons light cream
Salt to taste
Place mustard and mayonnaise in a mixing bowl and gently beat for about 1 minute. Add the worchestire, dill, cream, and a pinch of salt and beat until well blended and creamy. Chill the sauce before serving.
The above recipes came from the Tuna Harbor Dockside Market Website.
For those adventurers who came to the market, you now know a few secrets of how to prepare the catch of the day. If you are still thinking of coming on down to the dock, what are you waiting for? This Saturday and every Saturday the market opens promptly at 8 am. San Diego has cool beautiful mornings. So come early, leave happy! The earlybird gets the worm!