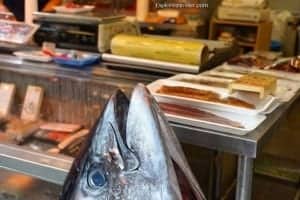 Tsukiji Fish Market 築地市場 Tsukiji Shijō
Tsukiji Fish Market is Tokyo's most famous market. It is the largest wholesale fish market in the world. It is huge! In fact, it is one of  the largest wholesale markets in the world. Tsukiji Fish Market is the King of fish markets! Whatever you need, you will find it at the market! The Tsukiji Fish Market is located in Tsukiji. Tsukiji is a small community in central Tokyo, Japan. It is an area located between the Sumida River and Ginza, a shopping district. What a beautiful area! The market is really two markets under one roof. The inner market (jōnai-shijō)  is a wholesale only area. Visitors are not able to access this area. The vibrant outer market (jōgai-shijō) is mostly retail with many shops and restaurants. The outer market has many fish retail shops, vegetable stands, and a wide variety of fresh fruit daily. It is filled with quality restaurants and many kitchen supply stores. Color abounds at the outer market!  The market is a major tourist attraction for local residents and overseas visitors alike. Grab your basket, it is time to shop!
The Japanese love their Sushi! There are an abundance of Sushi restaurants throughout the outer market.  The outer market (jōgai-shijō) is a blend of  small shops that sell fish, vegetables, fruit, kitchen tools, and groceries.  Most of these small businesses close by early afternoon.
The inner market closes much earlier in the day. It is good to shop early! The early bird gets the fish!The inner market  (jōnai-shijō) is a licensed  Japanese wholesale market. There are over 900 licensed wholesale dealers who run small stalls in the inner market. Auctions take place each morning and much fish processing is done daily. Life is busy at the inner market. Grab your license and join us at the morning auction. The pace is fast! The quality is fantastic! The freshness is amazing!
Another highlight of this amazing fish market is the Tuna Auction. A total of 120 visitors are allowed to visit the Tuna Auction daily. Visitors hoping to arrange passage must present themselves at the Osakana Fukyu Center at 5.00 AM each morning. Visitors are selected on a first come, first served basis. The action is fun to watch! It is fast paced. It is amazing!
Planning on visiting the market? Start your day the Japanese way! A fresh Sushi breakfast will get your day off to a good start. A Sushi lunch will end it in style. There are a wide variety of restaurants throughout the market. The day at the market usually begins around 5 each morning. Restaurants open early to serve breakfast to sellers and buyers before the auction.  They usually close right after the lunch rush around noon. Want Sush?  Come early!
The auction is usually over by [7:00] AM. The fish are then moved to the many small shops by scooter or prepared for shipping to locations outside the market. Life is alive at the fish market. It is vibrant! It is active! So grab your list and let's go shopping! Our shopping adventure is ready to begin!
ExploreTraveler has been creating travel articles, books, videos, and podcasts for several years now. It is our intention to bring our older material for others here to enjoy here, and to create new material here as well. We invite you to click on our links to the original content, and to also follow us there as well.
 This was originally published on  exploretraveler.com August 18,2015 at:
https://exploretraveler.com/tsukiji-fish-market-%E7%AF%89%E5%9C%B0%E5%B8%82%E5%A0%B4-tsukiji-
shij%C5%8D/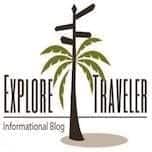 If you have come from our website, ExploreTraveler.com
Twitter Page, ExploreTraveler
Facebook Page, ExploreTraveler
Or any of our other social media channels, please consider getting your free account here, and make sure to follow all of us @exploretraveler @pilgrimtraveler @johngentry @vetvso   @johngentryjr @karengentry @elijahgentry @floridagypsy and we will follow you back.
   Helping bring the world together one friend at a time. So travel and discover that the world is full of wonderful people." – ExploreTraveler @exploretraveler
 We have a travel tip audio book that you can purchase at Audible –> Here
Happy Travels,
© 2017 ExploreTraveler. All Rights Reserved