If you're new in the camping world, or you haven't really tried backpacking and camping in the wild, you might find yourself, well, not that prepared. And when you're in the wild, the last thing you want to be is unprepared. You'll need answers to a lot of questions. Do you need a permit? Where should you go? What kind of gear to bring? 
Well, we're here to help, by answering those questions, and then some. Backpacking in the wild should be an activity you enjoy, not one you're afraid of, so let's take a look at a few tips that will make that adventure easier, and more fun. 
Bring the Right Gear
One of the worst mistakes you can make when you're going out on a backpacking trip is to bring the wrong gear. Should you take a sleeping bag for hammock, or one that's supposed to be laid down on the ground? What type of tent will make your trip enjoyable instead of a nightmare? It's not easy to choose and pack the right gear but it is essential for a great trip so let's take a look at some advice on preparing. 
A packing list is essential here, and you should start with the obvious – a properly fitting backpack. This means that weight distribution will be even, you'll have no issues with comfort, and you will get plenty of pockets and compartments for all your things. Then, you should consider the right tent. It does depend on what kind of environment you're going to camp in, but whichever one you go for, make sure it's lightweight, durable, weather-resistant, and easy to put up and pack. Last but not least, the right sleeping pad and bag are usually chosen according to the weather you're camping in, but if you can afford it, don't skimp here. 
While we're talking gear, another essential is a headlamp. Put it in an accessible place of your backpack, and try to find one with variable dimming and an adjustable band. A backpacking stove and fuel for it is an easy way to prepare food, so consider this, too. 
A thing to keep in mind with packing is that it's always smart to begin doing it early. This will give you enough time to buy the things you don't have, or find a person to borrow them from. If you've got plenty of time for planning, you can even wait for a sale and get the things you need at a more affordable price! 
Be Physically Prepared
There is no way around it, backpacking is a physically intense activity. Similar to hiking, you need to cover a certain distance and still be able to set things up when you get to your destination. And for this reason, the first thing to note is that you shouldn't pick a trail that's too challenging for you. Of course, nobody knows how well-prepared you are except for you, but it's better to underestimate yourself than overestimate yourself, and your body. 
If you already have a workout routine, try to implement some gentle stretches and simple mobility exercises into it. This will allow your body to not feel like you're out of shape the moment you set foot on the trails. One thing to keep in mind here is that you should listen to your body carefully, and keep track of any pain. This will be an indicator that you're pushing too hard, or that you should actually call it a day. In any case, it's good to stay mobile – anything that gets you moving is a good start. 
Another common thing that might happen is you feeling out of breath rather early, This has to do with your lung capacity, or how much air your lungs can hold. Over time, that will decrease as you age, and it might surprise you when you're backpacking. If you want to deal with this, it's a good idea to do breathing exercises that will help you improve your lung capacity. 
Plan Your Backpacking Trip
The last thing you want to do before you actually head out on your trip is to plan it out properly. You should do this early on, and take your time with it. The reason is simple – having enough time will allow you to choose the right destination, pick suitable dates, and still have enough time to get the right gear and prepare yourself physically. 
Pick your dates, first. Choosing a date will "limit you", but in a good way, because it's going to narrow down the options of where you can go, due to the weather. When you're starting out, you shouldn't go for more than one or two nights. This will allow you to get a bit of experience before you do anything serious. When you've chosen a date that works for you, see whether or not the places you want to visit are actually good during those dates. Something to keep in mind is that backpacking during cold months is something best done if you're experienced. And also, early summer might mean that the trails aren't cleared completely from the winter storms, so make sure you check the trail conditions. While we're at it … 
Pick the trail you want to go for example like colorado backpacking. As we mentioned, it's better to underestimate yourself, than pick a trail that's too difficult. A good rule of thumb would be to go for a shorter trail, so no more than five to six miles of hiking per day, and one that's close to home. Things you should avoid include a lot of elevation gain, technical obstacles you need to cross, and trails that aren't well marked. When picking the trail, you definitely want to play things safe. Go for one that's well marked, that has fairly flat surfaces, and of course, good places to set up camp.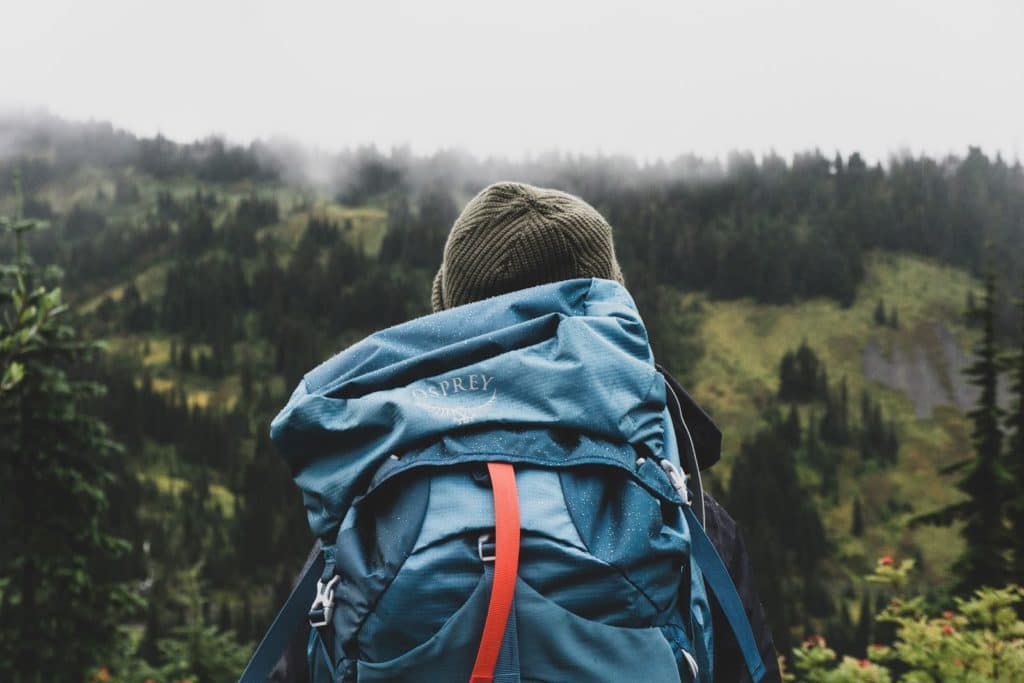 When you're choosing the trail, you should keep in mind that some areas, such as national parks or popular trails, might require you to get a permit. It's something that many backpackers seem to overlook, experienced or not, but you should definitely get one. Note that some trails might require you to reserve a permit, months in advance, which means that you should have a backup location in mind, just in case you don't get a chance to get a permit. 
The last part of planning is, of course, your transportation. There are a few factors that impact this, for example, the type of trail you'll be doing, whether you're going solo or with a group, and where the trailhead is. If you're a beginner, for example, and you're going on a loop trail, or an out-and-back backpacking trip, you won't need an extra person. But if you're going to hike from one point to another, you should either leave a car at the end of your trail or have someone pick you up when you're done. Or, if that's a possibility, you could consider a shuttle, too. 
Wrapping Things Up- Is it a Good Idea? 
Well, to be honest, even if you haven't done it before, backpacking in the wild is definitely a good idea for people who feel adventurous and want to explore the wilderness. Sure, at first, it might seem a bit scary. You might even feel like you're biting off more than you can chew. But that's why we've got all these tips for you. 
As we mentioned, having a good idea of what kind of gear to bring, being physically prepared for the trip, and planning things out well are the main things you should cover. And if you do a good job with them, trust us, your backpacking adventure will be a lot easier and smoother than you think, even if it's your first time. All you have to do is take things slow, prepare well, and don't take on challenges you aren't sure about.