"Chasing angels or fleeing demons, go to the mountains."
If you are one of the wanderlust driven people who believe that hiking is the thing that makes the most of your travel, then you must put Colorado on your Bucket list. Why? With a staggering number of 41 Colorado State Parks, 12 National parks, and a massive 54 mountains that are of 14,000 feet and 1,000 of them of 12,000 feet; Colorado indeed is a heaven for every hiker, trekker, and the nature lovers. Part of the south-western region of the United States of America, Colorado is one of the Mountain States. It is well known for its attractive landscapes, streams, lakes, waterfalls, forests, and a diverse group of flora and fauna!
There are thousands of options for a hiker to choose, yes, the menu is vast- short, easy, hard, long, family-friendly, panoramic, adventurous…Colorado has it all! There are epochal trails which are quite famous in Colorado, which every backpacker must visit. With a plethora of options, you can just close your eyes and choose any destination. Believe me, none will disappoint you! A whole treasure of natural beauty, Colorado is a gem.
So here are the best of all the backpacking trails in Colorado that you must experience once in your life:
1. Emerald Lake
Distance: 3 miles in total
Level: Easy/ Beginner
Located in Estes Park, in the Rocky Mountains, Emerald Lake has the best-known scenery in the whole of Colorado. If you are a beginner at hiking, or you have your family accompanying you, this is the best outing you can have. Having an ascent of 201 m and a descent of 198 m, the riparian vegetation includes willows, mountain alder, water birch, dark-colored bark just to name a few. An abode to nature lovers, Emerald Lake is breathtaking with its picturesque mountains, whose reflections are as beautiful during a clear day. You will notice blue spruce growing up a few streams and quite a few lakes to admire. You are bound to get serene and peaceful vibes from the surroundings that will stir within you the feelings of self-love. Being a family-friendly trail, it is advisable to carry along sufficient backpacking food with you.
2. Maxwell Falls Lower Trail
Distance: 4.2 miles
Level: Moderate/ Intermediate
Who doesn't love to visit a waterfall? Peaceful and simply beautiful, this trail is quite well-known and tends to be very busy all through the year, especially, in the month of March. Being a heavily thronged loop trail, it has got many fun activities on the way, such as horseback riding, mountain biking, etc. Being a bit on the rocky terrain, it is an excellent spot for bringing out the adventurer in you. You can also bring your dog(s) but make sure they are kept on leash for the safer side.
3. Conundrum Hot Springs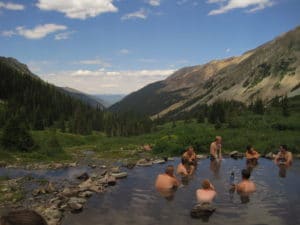 Distance: 17 miles
Level: Moderate
Just as the name suggests, this backpacking Colorado trail is not less of any mystery! Situated at Maroon Bells Wilderness Area, it shows off sights of the Conundrum, Castle, and Cathedral Peaks. After an arduous two-day trek, you will feel a sense of triumph when you reach the hot springs, unwind in the 102-degree water and exult in it. Located near the heart of Aspen, this Colorado trail is in good shape, neat, and enveloped with evergreen forests. Make sure you have planned this trip, as its overcrowding is quite possible. You might have to share the clothing-optional pools with fellow backpackers, but it won't be much of a problem. This is a place which the wanderlust yearns for. If you want to combine the adventurer and the romantic in you, a hiking date at Conundrum Hot Springs is impeccable! And, quite worth it!
4. Monarch Lake to Crater Lake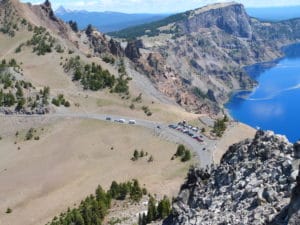 Distance: 14.9 miles, to and fro
Level: Intermediate
Offering a stupefying destination, the Colorado backpacking trails from Monarch Lake to Crater Lake is a treat to the eyes! Best for an overnight backpacking trail, you will love stargazing in the Crater Lake. Summer is the best time to venture here. Abundant with wildflowers, the trails have plenty of flora and fauna to see. Also, it has a lot of large waterfalls to marvel at, with Cascade Falls topping the list for being the most stunning multitiered waterfall that you can experience. Sometimes, you may have difficulty in climbing the rocky and occasionally steep terrain, but the cool and calm setting won't tire you. Make sure, you have a permit and a lot of snacks for enjoying this hike.
5. Notch Mountain Trail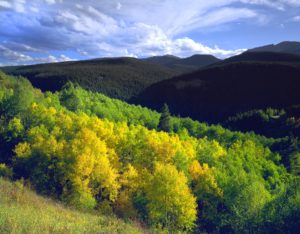 Distance: 9 in total
Level: Difficult
Passing the Holy Cross Wilderness, the Notch Mountain Trail had been a yearly pilgrimage by hundreds of people visiting the Mountain of the Holy Cross.  Stop by at the Notch Mountain Shelter, which was built in 1924! The sanctity and the divinity of the area are experienced in the atmosphere, sparking up something in you.  Although camping is not allowed near the Holy Cross region, it is recommended to halt there for a while. While hiking here, it is necessary to follow the trail as it is without cutting for switchbacks.
6. Sunshine Lion's Lair Loop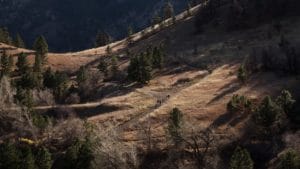 Distance: 8.5 kilometers
Level: Difficult
If you want an isolated hiking trip that challenges you to test your potential, this Loop is the one you should definitely go for. Not for the family-oriented hiking, Sunshine Lion's Liar Loop is nothing short of a self-discovery trip. Being on the northern side of the hill, it is the last place to lose its icy coating. You must begin with the Centennial Trailhead and will notice the setting getting more and more spectacular as you reach the end of your destination. The Sunshine Canyon Trail is well-known for its easy terrain and fir forest. The main attraction of this area is the Mount Sanitas Trail, which is a steep and daunting descent. But, the best part is that you will find sights that you can never experience elsewhere, thus a backpacking trip to Colorado could be a treat for the soul.
7. Longs Peak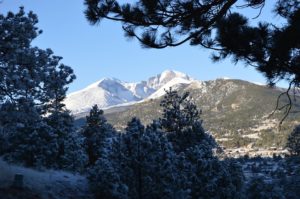 Distance: 22.8 kilometers in total
Level: Difficult
This is the highest mountain in Rocky Mountains National Park, which is 14,259 feet! Although there are multiple trails to reach there, the "Keyhole" trail is the easiest and the most recommended. This is one of the most difficult treks in Colorado, so brace yourself for some action. Make sure you have an experienced guide, as a trip or fall can prove to be calamitous. Also, lightning can be an issue, so it is better to prepare in advance. A good freeze dried backpacking food must be prepped up with litres of water since this can be a challenging and an extremely long hike. All these must be kept in mind, but the good part is that, the harder the trek is, the greater is the reward when you reach the summit.
8. Chicago Basin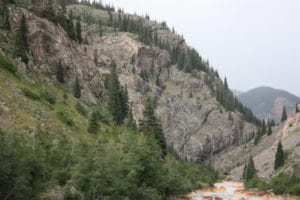 Distance: 14 miles depending on the trail you choose
Level: Easy
Hop on sharp at the 8 a.m. train on the Durango-Silverton Narrow Gauge Railroad if you want to experience unparalleled hikes. For, there is nothing better than Colorado backpacking trails! Once you get on the Needleton stop, your hike begins! With multiple routes on the go, you can just pick and choose from the plethora of options, giving you a unique experience that is truly one of its kinds. This region is a very good option for camping for days together, making it an ideal picnic spot for your family or friends. Do hike up the steep terrains to the Twin Lakes and enjoy the beauty of Nature!
9. Hanging Lake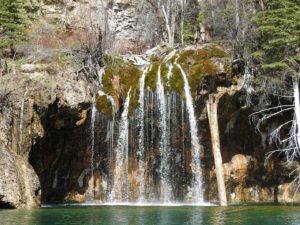 Distance: 4.2 kilometers
Level: Difficult
One of the most prominent and popular backpacking trails in Colorado, Hanging Lake is the epitome of magnificence. Surely, you would wonder that Mother Nature spent a great deal of time creating this beautiful place! The water flowing to this lake comes from the Bridal Veil Falls. Being the most famous hiking spot, you will observe the buzzing of people during the peak season, that is, from May to October, and will still find adventurers during the non-peak season of November to April. It is necessary to follow the rules and regulations throughout the trip since the travertine lake is extremely sensitive. A part of this trail can be rocky and steep, but the rest is manageable.
10. Cub Lake Loop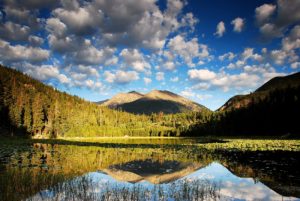 Distance: 9.7 kilometers
Level: Difficult
The ideal place for the romantics, the poets, the writers, and the nature lovers, Cub Lake Loop is a perfect blend of picturesque lands, lakes, mountain views, and meadows. With an ascent and descent of 193 meters, this trail is gradual and smooth, except for a few steep spots. It is family-friendly and a great picnic spot for all. Depending on the seasons, one can spot elks and mule deer in the meadows which are a treat to the eyes! The whole peaceful and serene atmosphere, with a number of mystifying streams, makes it a good camping spot. Do carry bug sprays in case, and a good amount of snacks for the trip.
11. Ouzel Falls and Back
Distance: 8.5 kilometers to and fro
Level: Intermediary
With the 281 m ascent, the main attraction, as the name suggests, is the waterfall. If the sound of the rippling water excites you, make sure you put this in your Bucket List. Situated at the southeast side of the Rocky Mountains, the peak season to visit here is summer, when all the snow is melted and flowing out on the creeks.  It is very well- maintained and there is just one route, that is, the Wild Basin Trail. The Calypso Cascades is just a ringing bell of how stunning the Ouzel Falls are going to be. Soak in and enjoy the crystal clear water, the zen-like music of the ripples, and the scenic beauty of this area.
With all this as your next travel plan, don't forget to abide by these safety tips for hiking
One should not forget to carry a map along and not rely totally on the GPS which could run out of battery.
Knowing the area before you go there is another significant aspect. Traveling to a new place without knowing the area means you are putting yourself and your partners in danger as you don't know the type of animals and poisonous leaves or plants there.
Carrying with yourself a hiking gear is perhaps the most significant thing to do. Your hiking gear must most notably contain a first aid kit, water, fire starter, a torch, and sufficient backpacking food.
Conclusion
There are innumerable hiking spots and backpacking trails in Colorado. Indeed, it is blessed in terms of nature. Every Hiking is fun and exciting, peaceful, and a big success only if you follow the safety tips carefully and diligently. Always look out for the weather and never leave without an itinerary. Carry litres of water and good backpacking travel food lest you feel hungry or dehydrated. Visiting Colorado for its backpacking trails is something every traveler must do in his or her lifetime. Even if you focus only on the trails of Colorado, you will spend your whole life experiencing its jaw-dropping beauties and its diverse environmental settings. Prepping in backpacking food is a task you are bound to enjoy. Just make sure you have enough of it for that hunger-packed adventure experience.
Hiking and trekking bless us with knowledge of a lifetime; it teaches you lessons on life in your own language. It is not just a fun trip with your friends or family or an isolated trip; it is something that you will inscribe with livid colors in your wanderlust memories, forever.
So just travel, explore, and cherish the experiences of the lifetime-for it fills you up with a fresh lease of life, a whole lot of positivity, and zeal to travel more!
Just keep traveling!