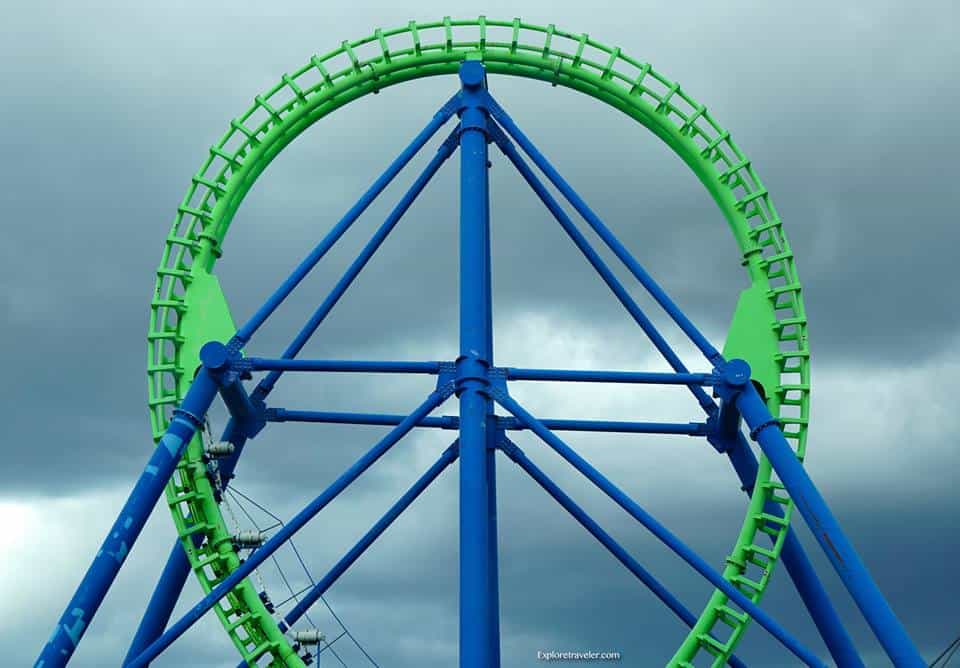 Aftershock At Silverwood Theme Park
The Aftershock ride and Silverwood Theme Park are nestled in the mountains of north Idaho.  Silverwood Theme Park has managed to build a great family adventure with all of the wonderful fun experiences you would get from a world-class theme park. It is nestled in the mountains near the town of Coeur d'Alene, approximately 47 miles from Spokane, Washington on U.S. Route 95. The owner Gary Norton opened this park in 1988. Originally, when the park stared, it included a small assortment of carnival rides, a "main street" with shops and eateries, and an authentic steam train that traveled in a 30-minute loop around the owner's property. From 1973 to 1988, the land, along with a fully functioning airstrip, was operated as the Henley Aerodrome, named after the family whom Norton bought it from in 1981.

Over the years, Silverwood has grown in both size and popularity, transforming from a small local amusement park to a regional theme park destination. In 2003, an adjacent water park named Boulder Beach Water Park was opened. Entrance to Boulder Beach is included with admission to Silverwood Theme Park. In 2009, Silverwood began an annual Halloween event called Scarywood, held during the month of October of each year.
Boulder Beach Water Park is the most outstanding water park in the West. There are pools and water slides for the entire family. Sit back and relax as you watch the little ones cooling down on a hot summers day. Grab the family and float down the lazy river in ultimate relaxation. Catch a thrill ride through Rumble Falls. You will twist and turn as you make your way down the falls to the river below. Enjoy the Avalanche Mountain Raft Slide for a genuine water experience. The options are endless at the Boulder Beach Water Park.
If you arrive in October, be sure to check out Scarywood Halloween Adventure. Everything that you thought you knew about the park is all for naught. You will find haunted attractions and roaming monsters. Ghosts fill the air and haunted houses are everywhere. The thrill rides that you love in the day, will be a nightmare in the night. Hopefully, you will survive the night of terror. Get ready and stay alert, if you want to make it out alive. This is the scariest event of the year.
Enjoy the magic of the world of make-believe come alive at the Silverwood Theme Park. The park has cartoon characters Garfield and Odie as the official mascots of the park. The park provides children of all ages family friendly characters to enjoy. From 11 am till 5pm, children will be able to meet their favorite characters. Garfield and Odie will be the thrilling climax to any Silverwood adventure for the little ones.

Today, Silverwood is the largest theme and water park in the American Northwest on 413-acres (1,670,000 m2) and boasting more than 65 rides, slides, shows and attractions. Enjoy the largest and scariest theme park in the west. The thrills are here, but can you handle them….that is the question?
Even with the smaller footprint, this particular location has great parking and is easy to get too. The facilities for food, coffee, and handicap options make this a good stop along the way for your North Idaho vacation. Silverwood Theme Park is a perfect family destination anytime of the year.

Aftershock rush consumes you as you take to the skies in the roller coaster of coasters. Meet the Aftershock, a metal monster that has dominion of the skies over Silverwood Theme Park, in Northern Idaho. What a thrill as you soar to a height of 191 feet in the sky. All this, as you do a forward Cobra roll and then an inverted loop. In fact there are three inversions.  Forwards you go, and backwards too. Experience speeds of up to 65 miles an hour. For sure, this is the freeway of the skies! As you roll and invert, you will also drop as far as 177 feet. Hold onto your stomach,  as it is sure to do a little churning as it tries to catch up. What an amazing experience!
After boarding this metal monster, you will begin to slowly back up the tower where it all begins. Then as you are looking at the ground below, you will plunge straight down. All this happens at speeds of as much as 65 miles an hour. You will twist and roll, making outrages rolls all the way to the second tower. Then as you stare at the sky, you will be pulled up to 191 feet. Just when you are relaxing for a brief second, you will be sent at break neck speeds backwards all over again. What a shocking experience. This is the beginning of a Silverwood Adventure!
There is no other roller coaster quite like the Aftershock Silverwood.  This astounding roller coaster was voted as the number one Hanging Coaster in 2012 by the Travel Channel. It is a thrilling monster! It is a jumbo beast. What a breathtaking adventure is waiting in Idaho. Silverwood Theme Park  is home to some outstanding roller coaster rides. Here you will find the Corkscrew, the Log Flume, and the Panic Plunge.
Among the outstanding roller coasters, meet the Corkscrew. Originally, the Corkscrew had its debut in 1975 at the Knott's Berry Farm in Southern California. It quickly became a favorite, as it was the first inverting roller coaster in modern times. In 1990, the Corkscrew arrived at its new home in the beautiful Silverwood Theme Park. It is a thrilling piece of history as it takes you 70 feet into the air, makes a quick dip, and plunges straight down, whips around and then pulls you upside down through the double Corkscrew and finally back to the platform. What an amazing corkscrew adventure!
After the wild and stomach chasing corkscrew, it is time for calmer roller coaster. Hop aboard the Log Flume. Sit back and relax as you enjoy the Log Flume. Don't throw the towel away! You will stay calm and dry right up to the end. Then, when you least expect it, you experience a drop while going through the water. I am sure you will need that towel!

In 2006, the Panic Plunge arrived in Silverwood. Enjoy the power of this mighty tower. You will ascend into the heavens and just as you are resting your nerves, out of no where, you begin to plunge straight down to the earth. Just before your inevitable collision with earth, you defy gravity as you slow down and make a first class gentle landing. You have just experienced the thrill, of the Panic Plunge.
Silverwood Theme Parks has nine thrill rides that are sure to test your stomach. The Panic Plunge, the Sky Diver, and the Spin Cycle are sure to test your endurance skills. What are you made of? Can you do all nine?
Have you  ever enjoyed the gentle ride of the Ferris Wheel? The Sky Diver is a Ferris Wheel gone wild. As you gently go round and round, you will begin to spin and twist in every imaginable way. There is nothing gentle about this Ferris Wheel gone wild! Did you know you could twist so many different directions?
Join us,  for a one of a kind world adventure as we board the SpinCYCLE. You will climb aboard a cylindrical-shaped vehicle with room for 24 adventure seekers. Quickly you will soar 104 feet in the air. You are facing out with your feet dangling in the air and nothing to protect you except your safety harness. The SpinCYCLE rotates 360 degrees, while making 13 revolutions per minute. Swing upside down while you defy gravity at more than three times the normal gravitational  pull. Are you up to the SpinCYCLE? Can you make the grade?
Another unique and wild adventure is Thunder Canyon. Get ready for a whitewater rafting experience. Don't even consider staying dry…..the failure rate is 100 per cent. You will float, twisting and turning, in every direction, down the whitewater river. If you enjoy the wild and fury of the whitewater, you will fall in love with Thunder Canyon. Can you handle the thrill and excitement of Thunder Canyon? If so, we will see you in the canyon.
In 1991 Timber Terror opened in Silverwood and life has never been the same. This roller coaster is known as an air coaster. I am sure you will see plenty of air. As you leave the platform you will climb straight up 85 feet to the top of the first hill. This is only the beginning of the hills you will ascend and descend. Just as you think the ride is finished, you will make a 360 degree turn and enter another set of hills. With heights of 85 feet and speeds of up to 55 miles an hour, this ride is certain to thrill you to the bone. Can you handle the thrill of Timber Trail?
The last of the thrilling roller coaster rides is Tremors, one of the greatest wooden roller coasters in the country. With heights of up to a hundred feet, and speeds of 65 miles an hour, this is a first class roller coaster. You will soar to 100 feet in the air, then drop over a hundred feet into one of the four underground tunnels. You will twist, turn, and drop. The tunnels just keep coming. This is the world of the Tremors. Are you brave enough for this ultimate wooden thrill adventure?
You will find the Aftershock and all its thrilling cousins at the Silverwood Theme Park, just minutes from Coeur d'Alene, Idaho. Out of Coeur d'Alene  take Highway 95 North. It is just a short 30 minute drive. As an added bonus you will be able to indulge your eyes in the magnificent scenery. Northern Idaho is beautiful. No matter which season you come, there is fantastic scenery in the Panhandle of Idaho. The Pan Handle is nestled between Washington State, Montana, and Canada. Just a few minutes to a couple of hours and you can be at Silverwood. It is the hub of entertainment for Northern Idaho, Washington, and Montana. Even the Canadians have discovered the incredible Aftershock at the Silverwood Theme Park.

What is keeping you at home? The kids are out of school. You have two weeks vacation and it is time to get out of dodge. Board the dog, grab the family and make an Aftershock Adventure at Silverwood Theme Park. Come on now, it's time for a road trip! Silverwood theme park has something for the whole family. During the summer, it has an outstanding Water Park. It is one of the best in the West!
There are over 66 possible accommodations within a 45 minute drive or less from the theme park. Most of the local Spokane and Coeur d'Alene motels and resorts have Theme park packages. Here in the Idaho Panhandle, you will find everything you need for a relaxing and fun vacation. If you arrive with your RV, there are several RV campgrounds near by. Wherever you decide to stay, there will be access to nearby restaurants and even shopping.  Don't forget the camera, as photo ops are everywhere. A couple of the nearby Motels are included here:

Best Western Plus Coeur d'Alene, Idaho
Location: 506 W Appleway Avenue
Coeur d'Alene, Idaho, 83814-9510, US
Contact Info: Email: info@cdainn.com
Direct: (208) 765-3200 • Toll Free: (800) 251-7829
Guests staying at the Best Western Hotel will be close to many outdoor activities. Enjoy horseback riding, lake and river fishing, boating, hiking, and biking. Silverwood Theme park packages available. For a small additional fee, Guests of the Best Western can also take advantage of added amenities at The Coeur d'Alene Resort. Some of these additional amenities include a beautiful pool, private beach, complete fitness center, golf course, and tennis courts.
Oxford Suites Spokane Valley Washington Hotel
15015 E. Indiana Avenue • Spokane Valley, Washington 99216
Phone:
509.847.1000 • Fax: 509.847.1001
Toll Free: 866.668.7848
You will find several packages available. Some of the standard amenities for the Oxford Suites are:
Full Hot Breakfast Buffet
Evening Reception featuring appetizers and your choice of wine, beer or soft drinks
High Speed Wireless Internet Access
Premium Bedding
Parking
Indoor Pool, Spa, Sauna & Steam Room
Fitness Center
The time for a Silverwood Adventure is today. See you in the Idaho Panhandle. Adventure will be waiting!

Happy Travels,
You may also want to visit our other site with travel bloggers posting from around the world.