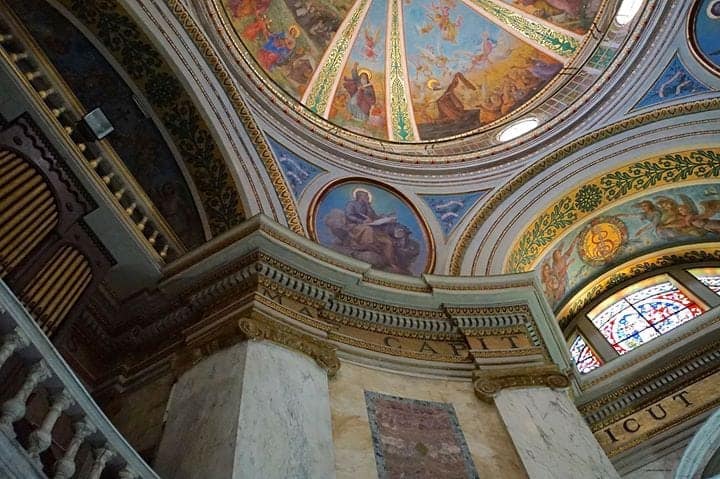 The Dome Of The Stella Maris Monastery
The Stella Maris (Star of the Sea) Monastery of Israel מנזר סטלה מאריס is mostly known by the name of The Monastery of Our Lady of Mount Carmel. This monastery was established in the 19th century and is for Carmelite Monks. The monks go back to the 12th Century when they were hermits in the region. Later, they built this monastery calling themselves the Order of the Brothers of Our Lady of Mount Carmel. This is the center of Carmelite spirituality throughout the world. Further up the Mount Carmel is another monastery, Monastère Notre-Dame-du-Mont-Carmel, built especially for the nuns.
There are several outstanding features within this beautiful monastery. Perhaps the most beautiful of all is the magnificent dome that is found towering above the main church. The church is in the shape of a cross with this amazing dome above. On the dome are colorful paintings done on motifs of major events of the Old and New Testament. Marvel as you gaze up at the motif of the Prophet Elijah rising into the heavens, or David as he softly plays his harp. There are other motifs of the evangelists, scenes of the Holy Family, and several motifs of the other prophets.  The writing that appears around the dome is scriptures written out in Latin.
Another very beautiful feature in the church is the raised altar that stands above Elijah's Cave. The cave can be reached by a set of stairs that descends from a second altar with a statue of Elijah the prophet and Mary, the mother of Jesus with the infant Jesus in her lap. The Virgin Mary is referred to as "Our Mistress The Carmel."
These many elaborate churches and altars have been used as a way of protecting the Holy Sites from harm over the years. The windows in this church are quite small openings with bars, and the walls are very thick. This was due to the violence against the monks as they were building the monastery and church. The current church was dedicated in 1836 but was occupied by several military units until the 20th century. Pope Gregory XVI bestowed the title of Minor Basilica in 1839 upon this beautiful sanctuary.
While traveling throughout the Land of Israel, take time to visit the many different Holy Sites that have been kept and protected all these years by different churches and Basilicas. The architecture is amazing and most are filled with spectacular paintings and artifacts. Almost always, you will find the Holy Site down below the church which is its protector. Dome of Stella Maris Carmelite Monastery official Wikipedia site for your reference.
Published on steemit.com@exploretraveler March 27,2017 at:
https://steemit.com/travel/@exploretraveler/dome-of-stella-maris-carmelite-monastery-in-haifa-israel
Dome of Stella Maris Carmelite Monastery Copyright Reserved @2021