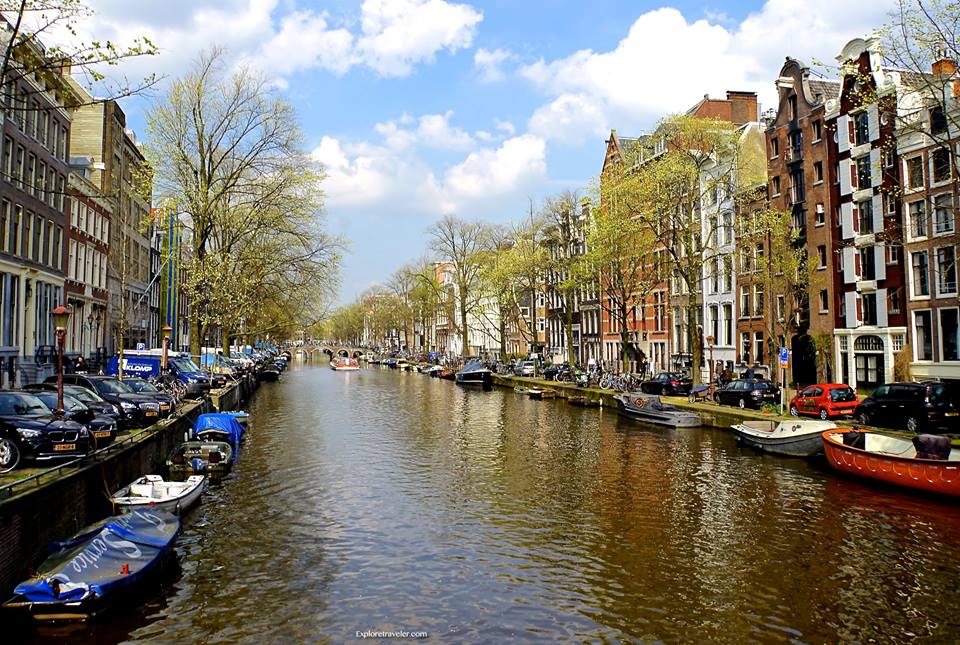 Exploring Picturesque Amsterdam
Exploring picturesque Amsterdam with its astonishing canals and incredible buildings is a breathtaking experience. Amsterdam is artistic with elaborate canals and quaint narrow houses. These stunning and colorful houses are magnificent with beautiful gabled facades. Notice the fronts of the buildings or the facades. How beautiful!
Take a ride through the canals on one of the many boats that cruise the waterways. Embark on a cruise and glide effortlessly through the old city of Amsterdam. See quaint houses, elegant mansions, and historical churches. Get a bird's-eye view of the golden age of Amsterdam.
Enjoy Amsterdam in a relaxed tour with multilingual guides or audio. These Audio guides are usually available in Spanish, English, French and German languages. Some tours have an audio experience in other major languages of Europe.  Take advantage of the opportunity to take pictures of all the picturesque canals, bridges, and buildings. This is the best way to see the old city of Amsterdam, and then you will know where you want to focus the other part of the day. Amsterdam is a beautiful city and one that is totally different from any other in the world.
There are several main tour guides for seeing the city from the water. There are several types of cruises available. There are packages where you can hop on and off at will, and others where you follow the itinerary. This is a unique way to really see the town at will. Other packages include the home of Anne Frank and still others include major museums. There are lunch cruises and dinner cruises. Wherever you want to go, or whatever you want to see is possible in a cruise. River cruises are the way to start your Amsterdam adventure.
Multilingual Canal Cruise in Amsterdam
Damrak Pier 5
1012 LG Amsterdam
Basic river cruises begin at just 19.00 and go up. The more you add-on, the higher the price. Included is a personal audio experience in 19 languages. There are toilet facilities on board each boat. Not included are food, drinks and other offered amenities.
Audio is available in the following languages: "1. Dutch 2. English 3. French 4. German 5. Italian 6. Spanish 7. Portuguese 8. Polish 9. Turkish 10. Russian 11. Japanese 12. Mandarin 13. Cantonese 14. Arabic 15. Korean 16. Indonesian 17. Thai 18. Hindi 19. Hebrew"
Cruises are available daily from 10:00 am to 9:00 pm. During the months of November through January, they run from 10:00 am till 4:00 pm.
Amsterdam Canal Cruises
Stadhouderskade 78
1072 AE Amsterdam, Netherlands
Phone:+31206265636
Cruises run most days from 10:00 am till 6:00 pm.
Amsterdam's Canals and the many boats that cruise these waterways offer a unique and pleasant introduction to the city.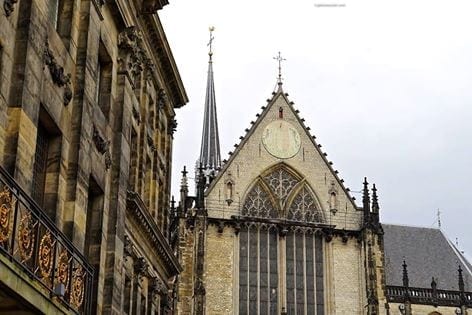 De Nieuwe Kerk Church
The De Nieuwe Kerk is a marvelous 15th Century church in the city of Amsterdam. You will find it on Dam Square. Of all the unique and ornate churches in Amsterdam, de Nieuwe Kerk is one of the most outstanding. It is the most important church in The Netherlands. Beginning in the year of 1814, all the Dutch monarchs have been inaugurated in De Nieuwe Kerk Church of Amsterdam. The last monarch to have been inaugurated in De Nieuwe Kerk Church is the current reigning King Willem – Alexander. King Willem-Alexander was inaugurated on April 30, 2013. King Willem-Alexander also married Princess Máxima, who was born in Argentina, South America. They were married in 2002 in this beautiful and historic church. She is today, Queen of The Netherlands.
De Nieuwe Kerk Church was built-in 1400 and was one of the few things in the area that did not burn to the ground in the fires of 1421 and 1452. These were two major fires in Amsterdam and though the church escaped damage at that time, it was burnt to the ground two centuries later. Plumbers who had been working on the building anciently started a fire and the church was totally lost. The church, however, was completely restored to all its former beauty. The New Church  was restored in the original early Renaissance style throughout.
In between the many inaugurations and other important celebrations, De Nieuwe Kerk Church is the venue for many art and historical exhibitions. The inside of the church is ornate with an amazing altar. Take time to see this very original  altar and the beautiful pipe organ. It is one of the great pipe organs in the world.
Nieuwe Kerk in Amsterdam (New Church)
Dam Square
mail@nieuwekerk.nl   Amsterdam
The Netherlands
+31 20 6268168
De Nieuwe Kerk is open daily from 10;00 am to 6:00 pm Friday-Wednesday. It is open from 10:00 am to 10:00 pm on Thursday. It is closed on the 25th of December and the 1st of January.
                           Oude Kerk
You can also visit the Old Church while in the area. It is located just a short distance from De Nieuwe Kerk.  Oude Kerk was built sometime before 1240 and has some of the most outstanding artwork in the world on display. It is also the burial-place of several important people. The Gothic architecture and the beautiful stained glass windows are spectacular. This is one of the most impressive buildings in Amsterdam.
Oude Kerk
Heilige Geestkerkhof 25
2611 HP DELFT
This church is in use and is open most days except Sunday. The hours vary and it is good to check upon arrival, as every month is different. There is a fee charged and tours are available.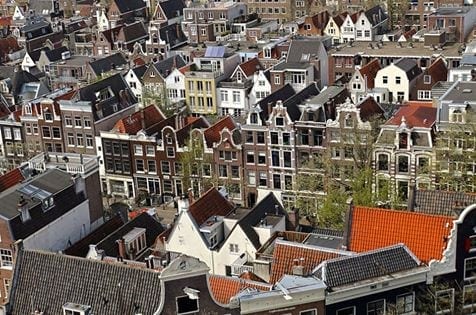 Uniquely Amsterdam
Amsterdam is the capital of The Kingdom Of The Netherlands. It is a beautiful and unique city. The buildings are colorful, with unique facades. Take time to stroll through the streets and see what you will discover. You will see houses of famous people, museums, bakeries, and more. This is a city where uniqueness is valued.
The houses in Amsterdam are tall, narrow, and artistic. Can you imagine all those stairs to climb? A house having several floors was common back when these homes were built, and it still is.Businesses shared space with homes. There were attics and basements for business storage. The Kingdom Of The Netherlands is a small country. Land is precious and in order to supply their needs, they built up. Once these were homes for the Dutch wealthy, now, many of these canal homes are  museums, offices and hotels.
Can you visualize living on the edge of the canal? Here you could see all the other facades on the neighbors homes. You could watch those who walked around the city and those who zoomed past on their bike. You could come out into the street and great your neighbor. Most houses were a business on the first floor. The morning would start with the butcher greeting the baker, and the shoe maker the tailor. What a unique and amazing life this must have been!
Even today, think about the thrill of having one of these beautiful homes. It is more than the architecture, and even the canal. Take time to discover the tiny alleys, the unique gardens and savor the stories hidden behind each home. These artistic canal houses today offer a perfect panoramic view of the old city. Here you can view the busy canal area, where bicyclists, boats, business owners,  and tourists hurry past. Take a little time and you will find the perfect motel and your favorite museum. Don't hurry too fast, or you may miss the most delightful cafe or cheese shop.
So how could you get your furniture up to where the family lived? Or your cotton out of the basement? This is the most amazing system on earth. There are large hooks attached to the top floor.  These hooks were used to hoist furniture and other household goods up and through the windows. What a simple convenience!  If you watch closely as you wander through the alleys, you will see this tradition is still in use today.
      Museums in the Canal Houses
A visit to the Museum of the Canals (Het Grachtenhuis) provides the perfect opportunity to learn the history of these unique houses. While you are here, you can plan out your personal itinerary for the time you will be in the Canal area. This is one of the favorite museums, as it will give you the depth of knowledge to make wise decisions about your time. After visiting this museum, you will see the canal area differently. Your eyes will be open to see the little things that you might have missed had you not been looking.
Het Grachtenhuis (Museum of the Canals)
Herengracht 386
AMSTERDAM
This museum is open from Tuesday through Sunday from 10:00 am till 5:00 pm. A free Audio Tour Guide is available in "English, German, French, Spanish, Italian, Japanese, Chinese (Mandarin), and Dutch."
Another delightful smaller museum is the Museum Van Loon. This is the former home of the Van Loon family. Willem van Loon co-founded the Dutch East India Company in 1602. Here you will find impressive furniture, beautiful paintings, and several centuries of silver and porcelain.
Museum Van Loon
Keizersgracht672
1017 ET AMSTERDAM
020 624 5255 (Telephone)
The museum is opened from Monday through Sunday from 10:00 am till 5:00 pm. Be sure to explore behind the home where you will see gardens, a coach house, and many authentic harnesses and liveries. Willem Van Loon loved to drive his coaches and could be seen in many local competitions. His love of horses is reflected throughout the home.
Museum Geelvinck is the third museum of our trio of spotlighted museum. This is the home of wealthy Albert Geelvinck who commissioned the home to be built-in 1687. This home was to celebrate his marriage to Sara Hinlopen. Here you will see one of the most magnificent homes of this time. This home is complete with a coach house and a beautiful lush private garden. Today, it is also used for many piano and violin concerts.
Museum Geelvinck
Keizersgracht 633
AMSTERDAM
020 639 0747 (Telephone)
The museum is currently closed due to renovation. It is expected to open in the next few months. It would be best to call ahead for the correct hours after reopening.
                    Accommodations
Can there be any better experience than staying in one of these canal home hotels. There are several that range from a one-star experience to all the grandeur of a five-star.
The Canal House Hotel is a four-star hotel that uses two 17th century canal houses on Keizersgracht Street. The hotel is near the home of Anne Frank. You are also only a short walk to Dam Square and Central Station. The house is furnished in lovely antiques throughout, with the exception of the bathrooms.
Canal House Hotel
Keizersgracht148
AMSTERDAM
020 622 5182 (Telephone)
The Pulitzer Amsterdam is a Dutch example of extreme elegance. The Pulitzer is made up of 25 canal houses. It provides a maze of excellence. It is a private community complete with restaurant , bar, and all the amenities you would expect from a resort hotel. Throughout this 5 star hotel you will find small lush gardens that help make it a tranquil experience. This is a quality hotel resort that will cater to all your expectations.
The Pulitzer Amsterdam
Keizersgracht 224
Amsterdam, The Netherlands
+31 (0) 20 5235235
The Hotel Orlando is a small private bed and breakfast in one of the finest 17th century homes. Though it is called a hotel, it is small and you can expect a more family approach to the hotel. It is near to a major art museum and only a short walk to several quality restaurants.
The Hotel Orlando
Prinsengracht 1099
Amsterdam, 1017 JH
The Netherlands
31 20 625 21 23 (Telephone)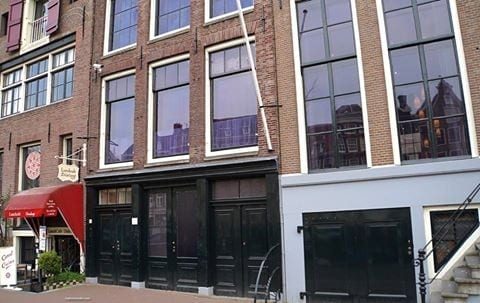 Anne Frank's House
The Anne Frank House is also another museum in the canal area. I separated it from the others due to its extraordinary history. It is here that a Jewish family lived during a time of extreme hate. To be a Jew during World War II, was to live with a death wish over your head.
The Anne Frank House celebrates the writing of this young Jewish girl. At 13 she was a gifted writer and her diary has been published in several languages. Many books have also been written based on the contents of the diary. This is a story of hope and faith. It is a story of love in a world of hate. Though the young author did not live through her horrendous experiences, her writings continue to inspire even to this day.
While visiting the home, you will not only see the location where the business was located, but also the secret annex where the Frank family hid together with 4 others. Anne describes the 500 square feet that these 8 people lived in as luxurious compared to where others were hiding. They successfully hid here for 2 years until someone turned them in with an anonymous tip.
If you have not read her diary or any of the books that are based on it, I would suggest that it would be a helpful preparation for viewing her home. This is more than a museum, it is a remarkable story of faith and love in a world of hate.
A famous quote from her writings during the Nazi Occupation shows her love and the dreams she had, even though she lived and died in a very dark hour of history……….
"It's utterly impossible for me to build my life on a foundation of chaos, suffering and death," she wrote on July 15, 1944. "I see the world being slowly transformed into a wilderness; I hear the approaching thunder that, one day, will destroy us too. I feel the suffering of millions. And yet, when I look up at the sky, I somehow feel that everything will change for the better, that this cruelty too shall end, that peace and tranquility will return once more."
The Anne Frank House
Prinsengracht 263-267
Amsterdam, The Netherlands
+31 (0) 20 5567105 (Telephone)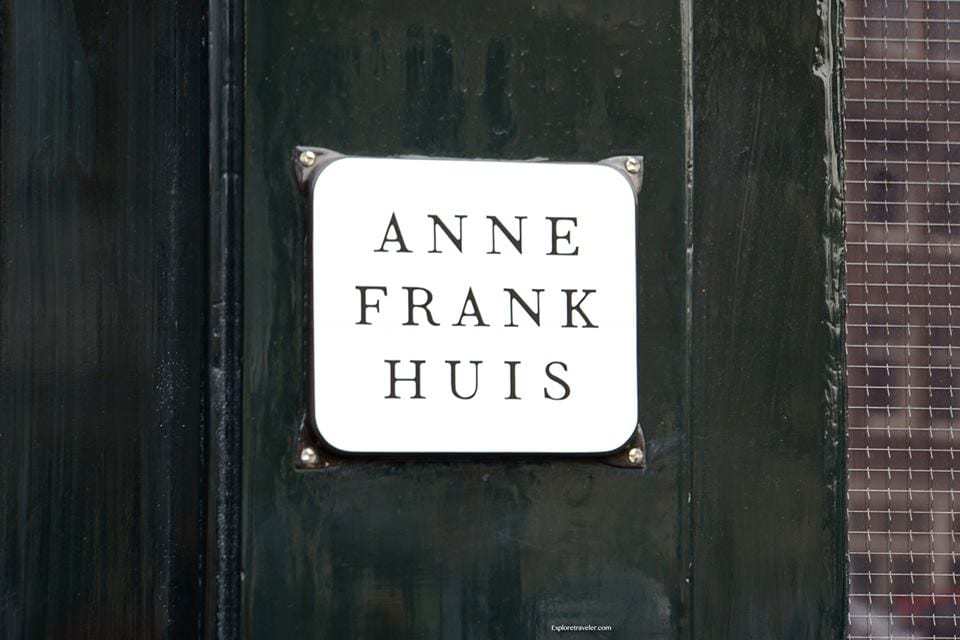 The Anne Frank Museum is open during the months of April to October from 9:00 am till 10:00 pm daily. During the months of November to March it is open from 9:00 am till 7:00 pm Sunday through Friday. Saturday the hours are 9:00 am till 9:00 pm. The museum does close for certain holidays. Also, during some peak times, tickets are best bought ahead. It is wise to call ahead.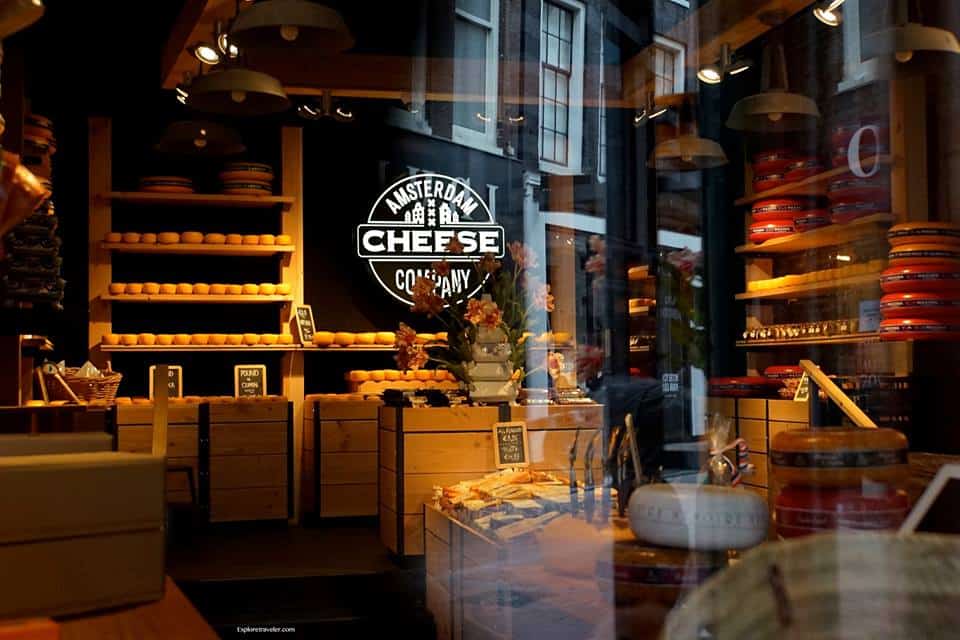 Cheese And More Cheese
As an added delight, check out the cheese shops while in Amsterdam. Delve into the Dutch heritage and visit the many cheese markets. The Netherlands is famous world-wide for their spectacular variety of cheeses. Here you will find some of the best cheese in the world.
The Amsterdam Cheese Company is more than a simple cheese shop. Here you can taste many different varieties of cheeses. It is a great way to know what you like before you buy. Also included is the tour of the old cheese presses. You can watch as the cheese is made. The churning of the milk is only one of the amazing steps to making a world-class cheese. There are many different demonstrations of different stages. This is living cheese history.
The Amsterdam Cheese Company
Leidsestraat 2
1017 PA Amsterdam
The Netherlands
020 422 70 28 (Telephone)
                            The Perfect Time
What a perfect time to pack you bag and grab your passport. Anytime is a delightful time to visit Amsterdam, but especially the spring and summer. The gardens are in full bloom and you can enjoy the many Dutch bulbs. So gather the family and set out on an Amsterdam adventure.
This is also an authorized post on seemit under @exploretraveler at:https://steemit.com/treanding/@exploretraveler