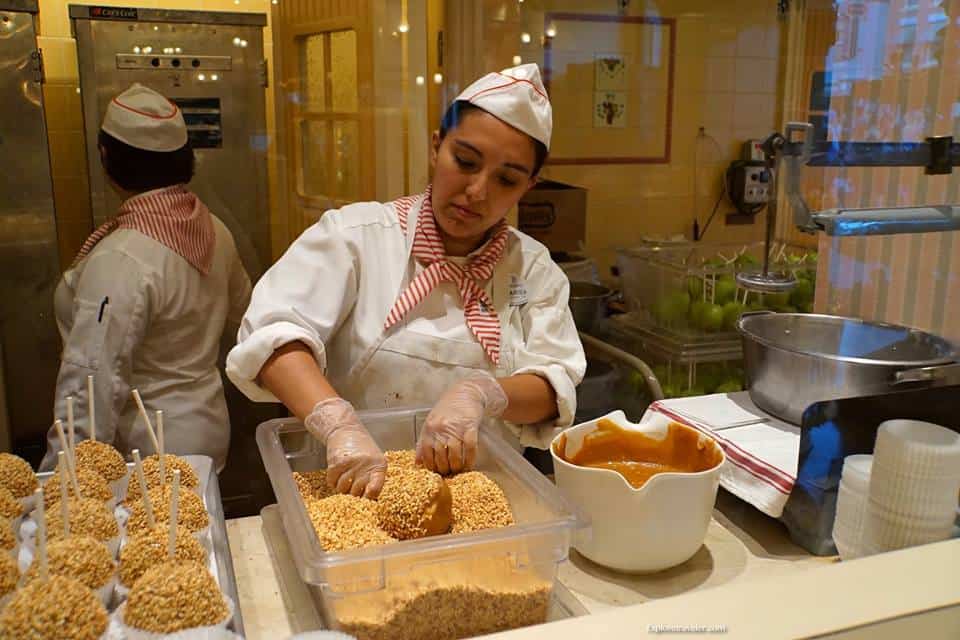 Marceline's Confectionery
Way down deep in Disneyland, you will find a place so special. A place where caramel apples are made the old-fashioned way……Welcome to Marceline's Confectionery. Marceline's Confectionery will care for your sweet tooth, the old-fashioned way. Lots of treats from the past. New treats join in the fun! This is the land of Candy Paradise!
Cotton Candy is spun just for you. How awesome to watch! Confectionaries are baked until they are ready for your plate. Fudges of every kind are  cooked just perfect! Delight yourself in the magic of the moment. The candy apples are spectacular! Have several different truffles, they will cause your mouth to water. All those colorful lollipops, are so huge and beautiful, like a rainbow.  What a delight is Marceline's Confectionery.
At Marceline's confectioner, you will find the best of all the sweet treats our country has to offer. Marceline's gathers her recipes from every section of our great land. And best of all, you can watch them being made. Now how cool is that?
You can even design your own special treat. Go bonkers over the chocolate almonds. They are the best! And what about those chocolate-covered marshmallows? Just when you thought there could be nothing more under the sun, the oven opens and ………more goodies are coming our way!
Have you ever had a chocolate-covered honeycomb?  Well, now you can, at Marceline's Confectionery. She bakes the honeycomb and then dips it in a hot chocolate to coat. Not even the bees make a better looking comb! Be careful though, they may want to haul them back to the hive. What a delightful treat!
Now what child would not want to make her own pixie stick? The pixie stick is a huge lollipop. Watch your sons and daughters swirl and twirl the stick. Watch as it begins to take shape. What a candy artist they are turning out to be. Marceline's Confectionery is unique in the world of sweets.
This special Confectionery has the honor of being named for Walt Disney's hometown. Can it get any more special than that?  For those who are ready to take the leap and head for Disneyland, California USA… Marceline's is easy to find.  But what about the armchair traveler who is thinking, but whose mouth is watering already? There is no need to worry. The Explore Traveler Team has discovered that there is a website. Now you can order up to two weeks ahead of your arrival. Not sure where to go in Disneyland?  No problem, there are several stores throughout the resort. You can even request them to be at the gate for pick-up. They are literally at your fingertips. Now that is special!
A special note to those living closer to Disney World in Orlando. Marceline's confectionery can be found there also. You will not be deprived!
                                                                 Marceline's Confectionery (Main location)
                                                             1580 Disneyland Dr #104, Anaheim, CA 92802
                                                    Other locations throughout the Disneyland® Resort
Disneyland® park
Candy Palace, Main Street, U.S.A.
Pooh's Corner, Critter Country
Downtown Disney® District
Marceline's Confectionery*
Disney California Adventure® park
Trolley Treats