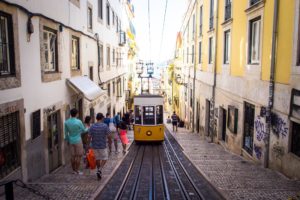 Lisbon is the jewel of Portugal. This capital city is one of the largest and most frequently visited cities in Southern Europe. "Lovely Lisbon" is famous for its amazing scenery, vibrant culture, and delectable cuisine. Lisbon is also famous for its striking white and red architecture, hence why people call Lisbon the "White City." There are many things to do in Lisbon.
But there's so much more to Lisbon than what you'll see at first glance. The White City has been around for centuries, which means that it has centuries of history that's just waiting to be explored. You can learn a lot of that history from speaking with Lisbon's citizens, and by stopping by the city's museums.
We're going to travel through time today! Pack your bags and strap on your good walking shoes, because we're about to go museum hopping in Lisbon. We'll stop by some of the city's most popular venues as well as a few museums that are a bit more exclusive. This trip is going to take us all around Lisbon. Before you embark on this journey, you might want to store your extra luggage somewhere safe.
The National Museum of Contemporary Art
The National Museum of Contemporary Art (or "Museu Nacional de Arte Contemporânea do Chiado" in Portuguese) is the first destination on our museum hopping adventure. This museum houses thousands of contemporary art pieces from all around Portugal. We're talking paintings, sculptures, still photographs – MNAC has art pieces from every medium that you could think of, and some that you might not even know about.
MNAC first opened in 1911. Its construction was paid for by funds from an 1850 project that didn't come to fruition. MNAC proved to be very popular with citizens almost immediately. In 1994, renowned architect Jean-Michel Wilmotte was commissioned to redesign the museum. What you see now is the fruit of Wilmotte's efforts, as well as the builders who diligently helped him renovate the museum.
More than a century after MNAC first opened, it's still one of the most popular museums in Lisbon. MNAC is a great place to learn about esteemed Portuguese contemporary artists like Carla Filipe and Pedro Cabrita Reis. It's also located near our next stop.
Carmo Archaeological Museum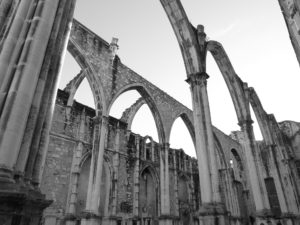 The next stop on our museum hopping extravaganza is actually a destination within a destination. The Carmo Convent was once a significant Catholic convent until an earthquake damaged it in 1755. Our destination, the Carmo Archaeological Museum, is located within the remains of the Carmo Church. The Carmo Archaeological Museum is a marvel of Medieval architecture. For context, construction first began on this building in 1389!
Very few modern touches have been added to the museum. The goal is to preserve this site's authenticity by leaving it in its post-earthquake state. Seriously, visiting the Carmo Archaeological Museum is like using a time machine! After you finish admiring this amazing venue, you won't be far from our next stop.
MUDE
The Carmo Archaeological Museum gives us a great look at the past. However, the Museum of Design and Fashion (or MUDE for short) grounds us back in the here and now. This venue is a hub for all things fashion and design, stretching back from the 19th century to modern-day trends. They've got outfits and art pieces galore! There are also several spaces dedicated to famous Portuguese architects.
One of the craziest things about MUDE is that this museum used to be a bank. At one point in time, Lisbon's citizens felt the need to commemorate their city's artists and designers. They repurposed the bank into one of the White City's most culturally important spaces for the arts and design. MUDE is without a doubt one of the most cherished museums in Portugal, let alone Lisbon.
It's worth noting that MUDE goes by another name – Change. You might bump into quite a few folks who use that name over MUDE. One thing's guaranteed though; you'll be absolutely inspired by the time you've finished visiting this place.
Museum of Aljube Resistance and Freedom
It's been said that what's done in the dark will eventually come out in the light. The Museum of Aljube Resistance and Freedom is dedicated to shining a light on the tyranny that countless experienced from 1926 to 1974. For those who don't know, many Portuguese citizens were oppressed by two major authoritarian regimes in the 20th century – Ditadura Nacional and Estado Novo.
The mission of the Museum of Aljube Resistance and Freedom is to ensure that the crimes of those regimes are brought to light. The exhibits at this venue can be very harrowing. However, everything that's on display here is done so with a purpose. As long as the Aljube Museum is around, the voices of the oppressed can never be suppressed. We encourage you to visit their website to learn more about the Museu do Aljube. Whenever you're ready, we can move on to the very last stop on our museum hopping experience.
Museu do Fado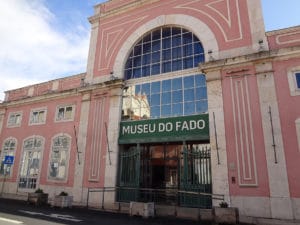 Anyone who's remotely familiar with Lisbon's museum scene probably expected to visit this venue at one point or another. Well, surprise! Museu do Fado is the very last stop of our museum hopping tour of Lisbon. How could it not be — the Museu do Fado is one of the most popular museums in the city. This place is dedicated to preserving and promoting Fado, a genre of music that's integral to Portugal and Lisbon's culture.
If you've never heard Fado music before, you'll be in for a treat. You see, the Museu do Fado isn't just a museum – it's also a live concert venue! Artists play at the museum all the time. Moreover, you can also sign up for Fado singing classes. Visual arts are also a core part of the Fado experience. You can look forward to seeing all kinds of amazon art pieces here. Stop by the Museu do Fado's website to see what's in store.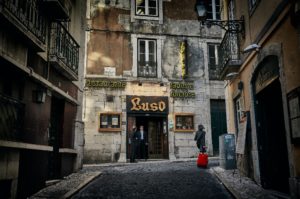 Sources
http://museuartecontemporanea.gov.pt/en
https://www.museuarqueologicodocarmo.pt/info_en.html
https://www.museudoaljube.pt/en/