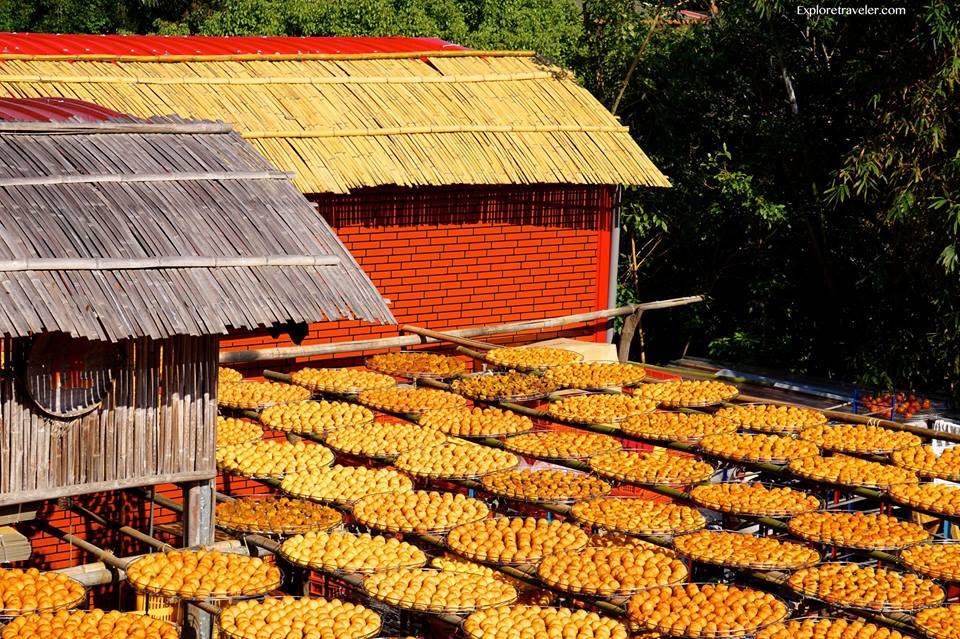 Persimmons Drying In Xinpu Township
Persimmons, a fruit rich in anti-oxidants, are drying in the hot sun of Taiwan. Xinpu Township is an urban township in Hsinchu County, Taiwan. It is the home of many large persimmon orchards. Weiweijia Persimmon Orchard is one of the major orchards in the township. What a delight it is to savor the fragrant persimmon orchards. What a delight a day at the orchard is!
Persimmon season has finished throughout much of the world. But in Taiwan, September to October is the peak drying season. It is then that the Northerly winds blow, acting like a giant food dryer. What a blessing the wind is! For those who have the foresight to dry some of this amazing fruit, here is a Korean recipe for punch or tea. It is delicious! It is packed full of potassium and other minerals. Persimmons have an abundance of vitamins.  Enjoy some of the best tea, and savor your vitamins. Persimmon tea is healthy! It is exquisite!  For those who choose not dry Persimmons while in season, you can find dried Persimmons at most Asian Markets year around. Perhaps you will find persimmons from Weweijia Persimmon Orchard. They are some of the best in Taiwan!
Sujeonggwa (Korean Persimmon Punch)
Serves 4
8 cups water
1/2 cup peeled and thinly sliced fresh ginger
8 cinnamon sticks, rinsed
1 cup sugar or honey
4 dried persimmons, stems removed
Pine nuts for garnish
Place water, ginger, and cinnamon sticks in a large pot and bring to a boil. Cover pot, lower heat, and simmer for 1 hour. Discard ginger and cinnamon sticks.
Add sugar, stir to dissolve, and simmer for 10 minutes.
Strain liquid into a pitcher or bowl and add the persimmons. Cool to room temperature and then refrigerate for at least two hours and up to a couple of days.
To serve, pour into cups or bowls and garnish with pine nuts. The softened persimmons may also be added whole or sliced.
(Taken from the website: thekitchen.com)
Another fun adventure is Persimmon folklore. Many feel that you can predict the winter weather by what  a cracked open Persimmon seed is shaped like. Believers in this world-wide folklore say that if the seed is shaped like a knife, then you are in for a bitter cold winter. If it is shaped like a nice spoon, get the snow shovel out! Snow, is on the way! And finally, if it is shaped like a fork, prepare for a nice mild winter. Enjoy!
Another favorite way to use fruit is to make Drinking Vinegar. Following  is a basic recipe and also some guidelines on what can be mixed.
BASIC RECIPE FOR DRINKING VINEGAR
2 cups fresh or frozen Persimmons, whole berries or other fruit (You can also used dried fruit that has been soaked)
2 cups vinegar (we like using Champagne or apple cider vinegar, though distilled white vinegar may be substituted in a pinch)
1 1/2 cups of Organic sugar
Combine the fruit and vinegar in a large jar, tightly screw on the lid and shake vigorously for 10 seconds. Let infuse for one week at room temperature, shaking daily. Strain the juice through a double layer of cheesecloth and funnel into a clean glass bottle. Add sugar and shake to combine. Refrigerate for one week before using, shaking daily until sugar has fully dissolved.
NOTE:  To dilute in a drink, add one ounce (or more, depending on taste) to five ounces of soda water. Serve over ice. Following the method outlined above, you can experiment with these other flavor combinations:
SOME OTHER POSSIBLE COMBINATIONS
Blackberry + fresh thyme
Cucumber + mint + honey
Cherry + vanilla bean + maple syrup
Ginger + Demerara sugar
Apple + agave
Strawberry + basil
Persimmons are also extremely good in puddings and cakes. I like to take a basic vanilla pudding recipe and add Persimmons! Now that is mouth-watering good! They are such a versatile fruit, that you can take almost any favorite recipe and adapt it for persimmons. Cakes, breads, and syrups are amazingly good. So step out of your comfort zone. Grab your apron and head for the kitchen! This is the adventure of cooking with Persimmons! Your combinations are endless!  So explore your options and enjoy your Persimmons from Taiwan. They are some of the world's best! See you in the kitchen!