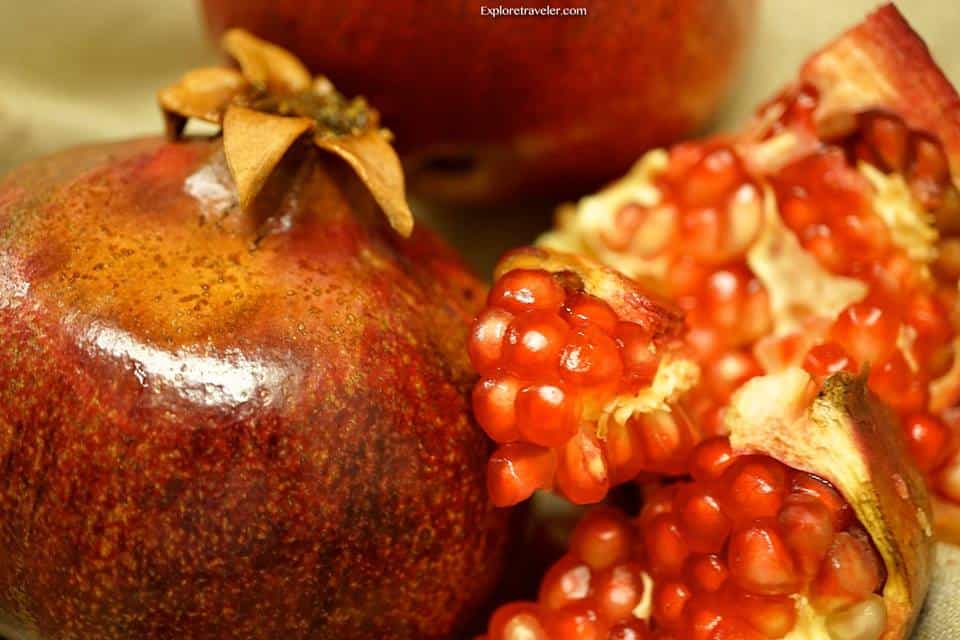 Pomegranates Are A Powerhouse Of Health
Pomegranates, a powerhouse of nutrition, are an American Treat. Travel through Southern California and you will see the many fields of this beautiful fruit. What amazing beauty! This is a fruit that is bright red and filled with many seeds. What a beautiful fruit! At first glance you wonder how to eat anything quite like this. The first question is always, "do I eat the seeds?"  Some people choose to eat the fruit off the seeds and then spit the seed out. Other people eat the seed and all. Both are correct, it is just personal preference. The seeds however, carry a powerhouse of nutrition in their own right.
As you are traveling through California, consider stopping at a fruit stand. Enjoy some of the countless fruits that you see growing on the side of the road. California has many different fruits that grow in it's warm Mediterranean climate. Some of them are the more familiar and then there are those surrounded with mystery. Here are just a few reasons to reach out for the mysterious Pomegranate. Pomegranates have a spectacular supply of health benefits. They help keep you well! They keep your skin young!  They balance your moods! The secrets of the California Pomegranate are far reaching.
The pomegranate is one of the oldest known fruits on earth. You can find pictures and stories of pomegranates in the writings and artifacts of many ancient cultures. It is a native of Persia! The Egyptians understood its many benefits in ancient times. This nutrient dense,  mysterious  fruit has often found itself as a symbol of health and fertility. Many cultures consider it a key to a long life. So what is so great about this funky-looking red fruit?
Pomegranates have a compound called punicalagin. It has been shown to benefit our heart and blood vessels. It is also the reason pomegranates have such  antioxidant and health benefits. It not only works to lower cholesterol, but also blood pressure. What an amazing benefit! They are also a secret weapon for melting away heart blockages.  In a country where Heart disease is a major problem, how is it that the pomegranates is still so mysterious?  Not only are pomegranates good for your heart and blood vessels but they have been shown to inhibit the growth of many cancers. They help to prevent vascular changes that promote tumor growth.
You do not have to travel to California to find the pomegranate. But while in California, lets embark on a pomegranate exploration. Today, as we are looking at all the beautiful fields of red pomegranates, it is time to uncover the mystery. This is the pomegranate adventure!
Fall is the time to harvest all those beautiful red fruits. You will find plenty of fresh pomegranates in the produce section of most markets. However, the freshest pomegranates will come from the small road-side stands on the highways of California. Here they are fresh, having just been picked. You will also often find fresh bottled Pomegranate Juice in these little stands. All Pomegranate Juice is delicious, but the fresh juices sold at the road-side markets are the best.
So other than sitting around and trying to get the fruit off a bunch of tiny seeds, what do you do with this fruit? My personal favorite is to use the fresh fruit and make fresh juice. For this though, you need a good juicer that will separate the seeds from the fruit. After that is done, here are a few ideas to get you going.
Antioxidant Rich Smoothie *
Serves: 2 Preparation Time: 5 minutes
Ingredients:
8 cups organic baby spinach or kale
1 cup pomegranate  juice  (fresh or bottled)
1 cup blueberries, frozen or fresh
1 cup strawberries, frozen or fresh
8 fresh dates, cut in half
2 tablespoons flax seeds, ground
1/2 avocado
Instructions:
Blend all ingredients together. This is delicious & very healthy!
*Taken from the library of Dr. Fuhrman with a few adaptions for my use
This smoothie is excellent to start your day with. I usually have enough that I use half for breakfast and the other part for lunch. It is delicious! It is filling! It is nutritious!
HIBISCUS-POMEGRANATE ICED TEA***
Makes: 8 servings, about 1 cup each
Active Time: 10 minutes
Total Time: 2 hours 10 minutes (including 2 hours chilling time)
INGREDIENTS
1/4 cup loose Hibiscus Tea leaves—I like the fresh leaves off my Hibiscus Tea Plant
4 cups boiling water
1 cup Pomegranate Juice
4 cups cold water
Lemon or lime wedges for garnish
*** This is also good with Fig leaves or Jasmine Leaves instead of Hibiscus Tea Leaves
This tea is one of my favorite thirst quenchers on a hot summer day. I also like to add a touch of Green Tea sometimes. This is a fun recipe! It is a marvelous tea. It is one that is very adaptable! Enjoy!
POMEGRANATE WATER
Take 8 cups of cold water
1 cup Pomegranate Juice
Mix and chill.
Fruit waters are a must have in my refrigerator! I usually keep two or three different flavors at a time. It is a marvelous way to stay hydrated. It has very little juice, so it is awesome for those watching their weight! It is a fun way to drink your water! What a splendid drink for a hot summer's day!
Now that you have a few ideas to start with, it is time for a pomegranate adventure. Now is the time to travel on down to Southern California. The pomegranates are being harvested! The juices are freshly made. The fields full of  ripe red fruits are everywhere! And those California sunsets, are magnificent!