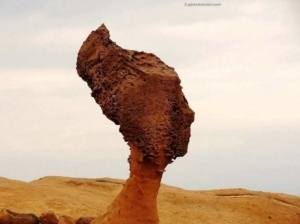 Taiwan's Eastern Coastline: A Fascinating Land
Taiwan's Eastern Coastline, where the water is so blue, the green dense forests are so green, and the cliffs are breathtaking. Eastern Taiwan was the least populated area on the island. We began our trip on the Taiwanese Express Train, a modern transportation dream. The express train goes all around the country and it is so fast and precise. I loved the bright colors and it was so clean. It had lots of leg room and local Taiwanese women came by with tea and cakes regularly. You could also buy other snacks if you so desired. While it moved across the countryside, Taiwan's eastern coastline provided outstanding views of mountains, tea farms, and rice paddies. The gorges were deep and wound through the mountains. Winding rivers made their way through these deep mountain gorges. Modern fish farms dotted the countryside. Every time we had a glimpse of the ocean, it was so blue. Not since my days in Hawaii, have I seen water this blue. The rustic beaches, filled with pebbles and unique rock formations ,were amazing. There were dense forests that seemed to carve their way through the gorges. Taiwan's eastern coastline had caves that had been home for many years to an earlier society . The rocky coast lines was wild with high cliffs and crashing surf. This was eastern Taiwan.
Like nomads we trekked and journeyed through Taiwan's eastern coastline. This is a land that is still untouched. We spent time with the Aboriginal Amis Tribe. We were delighted to be their guests for dinner. We had no language skills that night, as they did not speak the Mandarin Chinese that we were used to. Neither did they speak the local Taiwanese. They made all the dinner selections for us and what a delightful meal it was. Our time with the Amis Tribe was exhilarating and full of adventure.
So come journey with us down Taiwan's eastern coastline. It's not too early to book that perfect adventure for 2015. For more travel tips and information, check out our web sites:
https://www.pinterest.com/exploretraveler/i-love-taiwan/
Exploretraveler.com