Cafe to Visit in Penang – Are you visiting Penang in 2023 and looking for the best cafes in town? This article is here to guide you! We have handpicked ten of the top cafes in Penang that offer everything from quaint coffee shops to bustling breakfast cafes and hip spots that grind artisanal beans to delicious breakfast and lunch options. So, let's explore Penang's cafe scene together and help you choose your famous cafe in Penang, ensuring you visit it next time and take advantage of other mentioned gems.
Cafe to Visit in Penang
Trending Penang Cafes You Must Visit in 2023
1. Chine House
Starting off the list is none other than China House. This traditional compound of three heritage buildings is linked by an open-air courtyard and converted into 14 spaces comprising shops, cafes, restaurants, galleries, live music, and a bakery. It's very Australian style, with breakfast all day and brunch on Sunday serving one of the best foods. Salads and sandwiches are served for lunch, while mezze and simple fast mains are available for dinner. The chicken mushroom pie is a specialty, and remember the great milkshakes, mojitos, and wine by the glass. So come down to China House and enjoy all this famous cafe has to offer!
Ratings – 4.0 Google ratings
Address – 153, Beach St, Georgetown, 10300 George Town, Penang, Malaysia
2. Let's Meat
If you're ever in Penang looking for a great breakfast spot, check out Let's Meat! It's become a favorite Penang breakfast cafe among locals for its delicious food and great coffee. Some breakfast items on the menu include Triple Stack Pancakes, biscuits with gravy, Classic Ham & Cheese Omelette, and more. These are perfect options for a leisurely brunch with friends or family. Because the cafe sources its produce from small businesses, you can be sure that you're supporting local businesses when you dine here.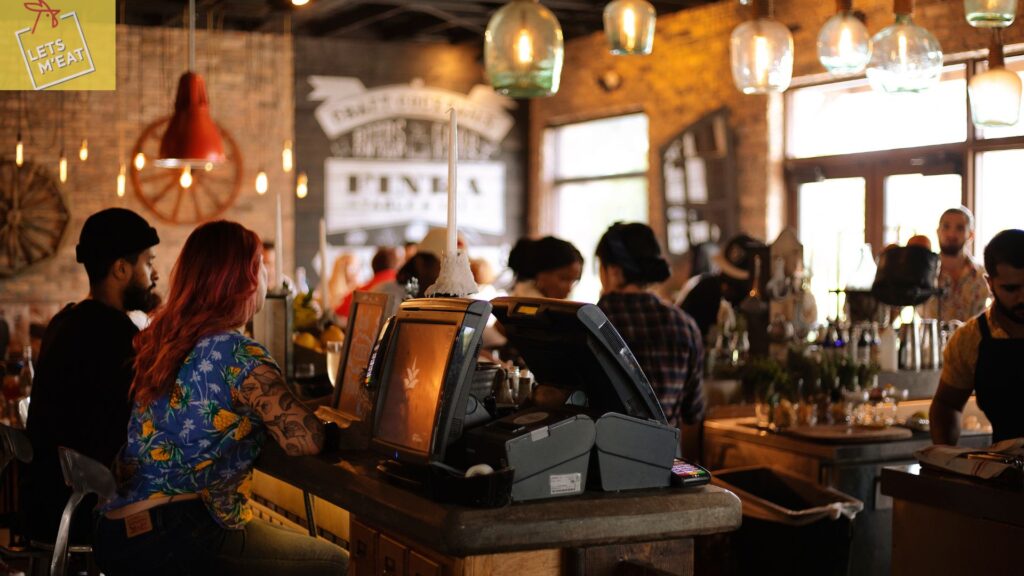 Ratings – 4.4 Google ratings
Address – 18, Lebuh Lembah Permai 4, Tanjung Tokong, 11200 Tanjung Bungah, Pulau Pinang, Malaysia
3. Narrow Marrow
Narrow Marrow is one of the best cafes in Penang, and their tiramisu is a must-try item. They use quality ingredients like mascarpone cheese, finger biscuits, chocolate powder, and others. The cake is vintage and aesthetically pleasing. They have relocated to a more spacious place along Beach Street. They are best known for its Tiramisu, Coconut Clitoria Cheesecake, and handcrafted coffee. With all those great ingredients, you are guaranteed to have a delicious piece of cake at Narrow Marrow.
Ratings – 4.5 Google Ratings
Address – 312, Lebuh Pantai, George Town, 10300 George Town, Pulau Pinang, Malaysia
4. Jio Cafe
This cafe in Penang offers a vibrant, fun-filled atmosphere, delicious food, and beautiful Instagram-worthy decor. From the moment you step inside, you'll be surrounded by colorful banana decorations and artifacts. The highlight of the cafe is the Lady in Red dessert, which comes complete with a table-side liquid nitrogen rose. The dish is prepared by dipping a rose into liquid nitrogen, crushing it, and letting the petals trickle down onto the cheesecake and macaroon.
Ratings – 4.0 Google Ratings
Address – 225, Lebuh Kimberley, George Town, 10100 George Town, Pulau Pinang, Malaysia
5. The Alley
The Alley has served coffee and homemade bakery to locals and tourists for eight years. What started as a humble cafe serving Churros with a side of sauces has since evolved into one of the pioneers of restaurants in Penang. Here, a good selection of homemade bakes can be paired with your choice of coffee, non-coffee, soda, or even iced beverages. If you're ever in Penang, Malaysia, drop by The Alley for a fantastic cup of coffee. Also called the best coffee shop in Penang, it should be your next stop for some delicious churros!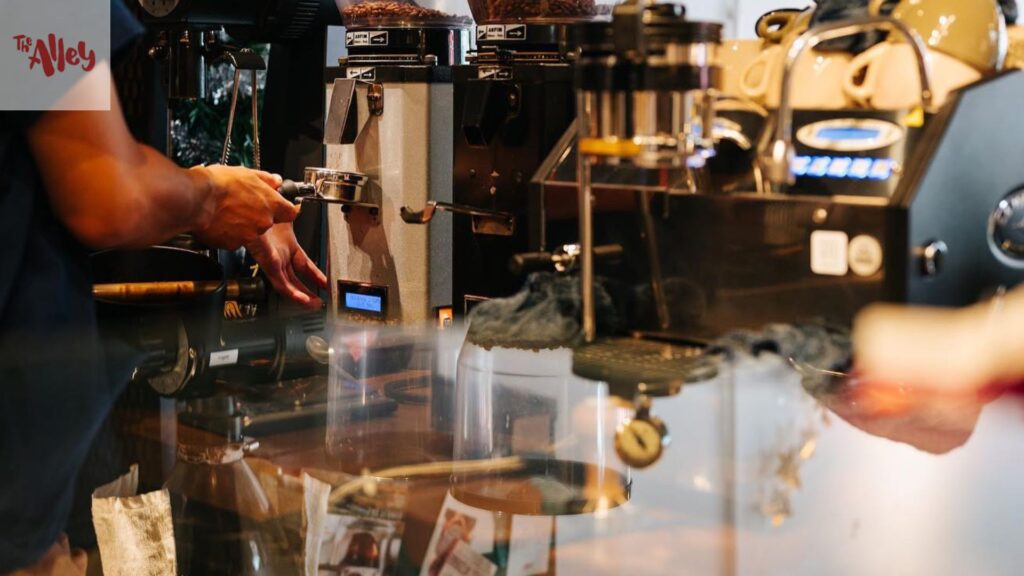 Ratings – 4.4 Google Ratings
Address – 5, Stewart Ln, Georgetown, 10200 George Town, Penang, Malaysia
6. Pitaya By Juice Code
Pitaya by Juice Code is a popular brunch destination in Penang. It is renowned for its delicious modern fusion cuisine and beautiful Balinese-themed interior design. From Fried Chicken Waffles and Tom Yum Squid Ink Pasta to Big Breakfasts and Pancakes, Pitaya has something for everyone to enjoy. And, of course, remember the cold-pressed juices – they're the perfect refresher on a hot day! So come on down and experience the best that Penang has to offer! If you're looking for a cafe that will transport you to a tropical paradise, then Pitaya by Juice Code is the place for you.
Ratings – 4.5 Google ratings
Address – 235, Chulia St, Georgetown, 10200 George Town, Penang, Malaysia
7. Kafka
Kafka is one of the newest cafes in Penang and has quickly become one of the most popular spots in town. The cafe is built inside a bungalow, and the space is green and minimalistic, with plants in every corner. When we talk about the cafe scene in Penang, Kafka is definitely on our must-visit list. Kafka @ Kelawai is a peaceful space for fantastic coffee and eatery.
They have a wide range of menus, from big breakfast to burgers and pasta. They offer different menus for breakfast, lunch, and dinner, so if you're craving something specific, make sure you visit at the right time. Some of the specialties from the menu include coffee and snacks such as calamari bites with garlic mayonnaise.
Ratings – 4.2 Google Ratings
Address – 15, Jalan Kelawai, George Town, 10250 George Town, Pulau Pinang, Malaysia
8. Wheeler's
Suppose you're ever strolling around George Town and looking for a great brunch spot, head over to Wheeler's! Established in 2014, Wheeler's is best known for their wide array of fusion modern dishes and a cozy yet stylish cafe in Georgetown Penang. Their signature dish is the Espresso Chicken, an unlikely but fantastic combo that complements each other perfectly. If you're feeling extra hungry, go for Wheeler's Big Breakfast – it definitely won't disappoint and don't forget to try their Egg Yolk Carbonara – it's simply delicious.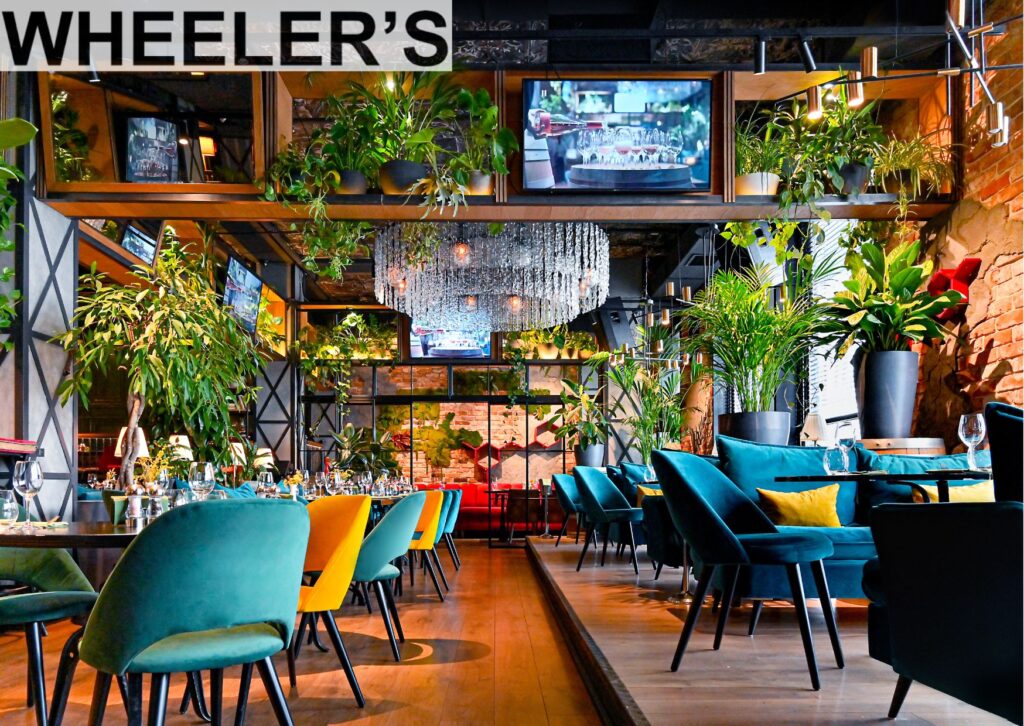 What sets Wheeler's apart from other cafes in Penang is their experienced baristas who brew quality coffee. So if you're a coffee addict, this is definitely the place for you.
Ratings – 4.4 Google Ratings
Address – 67, Lorong Love, George Town, 10200 George Town, Pulau Pinang, Malaysia
9. Norm Micro Roastery
Both a coffee roaster and a cafe, Norm Micro Roastery is full of relaxing Zen vibes. Eating and drinking at Norm Micro Roastery are comfortable because they have ample space and good air ventilation. At the same time, it's enjoyable to drink coffee here while smelling the coffee bean aroma as they are roastery by themselves. Besides, you can have some delicious meals over here along with your coffee. Donned with plenty of natural sunlight and gravel pathways, this is one of the best cafes in Penang to check out. While you're there, try out their roasted coffee, cakes, and main courses like Prawn & Pumpkin Risotto, Chicken Karaage Burger, and more.
Ratings – 4.3 Google Ratings
Address – 13, Gat Lebuh Gereja, George Town, 10300 George Town, Pulau Pinang, Malaysia
10. Acupaday
Looking for a unique and enchanting café experience in Penang? Then pay a visit to Acupaday, a Vespa-themed café located on Bishop Street (Lebuh Bishop). Although there used to be a Vespa at the front of the shop, it is nowhere to be seen today. Nevertheless, Acupaday remains a popular choice among locals and tourists, thanks to its relaxing ambiance and delicious fusion cuisine. If you're ever in Penang, drop by Acupaday for an unforgettable café experience.
Ratings – 4.3 Google Ratings
Address – ISantorini 8-G-11, Jalan, 1, Jalan Tanjong Tokong, Seri Tanjung Pinang, 10470 George Town, Pulau Pinang, Malaysia
Conclusion
Cafes in Penang are bursting with options to fit every taste. Whether you're looking for a quiet coffee shop to study or an exotic breakfast spot with friends – Penang has it all! Our list of top cafes in Penang should provide the perfect starting point for your exploration. So start planning your trip and take advantage of all the delicious brunch spots this exciting city offers. Happy exploring and bon appétit!
FAQ's
How do you chill in Penang?
Penang has plenty of chill options for visitors! Take a leisurely boat ride along George Town's harbor to explore the stunning city views and some of the area's most famous street art. Or, take a few days out of your trip to relax on the stunning Monkey Beach. It's the perfect place to catch the sun, swim in crystal-blue waters, and breathe fresh sea air.
Explore Penang National Park with its network of hiking trails for something more adventurous. You might even be lucky enough to spot some of the local wildlife! Of course, only a visit to Penang is complete with sampling as much delicious street food as possible. Imagine having your private tour guide who will introduce you to all of their favorite dishes!
How many cafes are in Penang?
Penang is a great place to explore in terms of food and drinks, and the number of cafes that are available keeps on growing. There are plenty more amazing cafes out there. You can see which ones best fit your particular taste.
Are there any vegan-friendly cafes in Penang?
There are many vegetarian cafes in Penang where you can have a satisfying meal. From international cuisine to home-grown favorites, there's something for everyone. We've rounded up the best cafes that offer vegetarian meals in Penang, such as Zen Xin, Falafel Penang, Pinxin Vegan Cuisine, SUPE – Georgetown Branch, Orinea by Farquhar Mansion, and Wholey Wonder. With their diverse menu of tasty vegetarian dishes, you will need to try a fantastic range of food to leave Penang.
Can you suggest any budget-friendly cafes in Penang?
Absolutely! Penang is known for its affordable and delicious food, and the cafes here are no exception. Penang has plenty of budget-friendly eateries, such as Knife and Fork Restaurant, Laksalicious, Awesome Canteen, Pik Nik, Andrew's Kampung, My Cafe, and Dan. You can find something to please your palate, from local delights to international fare. Enjoy a meal amongst friends or treat yourself alone – there's something for everyone at any of these beautiful cafes.
What are some popular local dishes available at cafes in Penang?
Penang is known for its local specialties, such as Penang Laksa, Wan Tan Mee, Curry Mee, Nasi Kandar, Rojak, Satay, and Tandoori Chicken. These can be found in most eateries across the island. Numerous hawker stalls are also known for their quick and delicious local delicacies. Be sure to sample various dishes when you visit Penang to get the best out of your experience here!