Thailand is a country that is very rich in culture, traditions, history, and many other things such as Beaches and islands. It is also one of the most visited Destinations in Southeast Asia and the world due to many reasons. The Country has many destinations that can be visited throughout a Trip, However, due to the vast size of the kingdom, you will not be able to visit all of these destinations and attractions in just one Trip. Therefore, you need to do proper research to check what are destinations meeting your preferences and the ones that you like the most based on your taste and style. In this article we will be listing 4 of the must-visit destinations in Thailand, especially for first-timers, to help you plan your next unforgettable trip to the land of smiles.
Bangkok
Bangkok is one of the must-visit destinations not only in Thailand but worldwide. It has been ranked as the most visited city in the years 2018 and 2019 with approximately more than 20 million visitors from all around the world. There are many reasons that make this city very attractive for tourists, among those reasons is the number of activities that a Tourist can do while staying in Bangkok.
No Matter what kind of activity you are looking for, you will definitely find it in Bangkok. Bangkok has something for everyone. If you are interested in Culture, Traditions, and architecture, You will not find a better than Visiting the Temples in Bangkok and the Grand Palace. You can also Visit the nearby City of Ayutthaya which used to be the Capital of Thailand before the Invasion of Burma in the 19th Century.
If you are a Nature lover, you will find many places to explore too, including Khao Yai National Park, which is around 2 and half hour drive from Bangkok. This National Park has many animals that you can spot, beautiful waterfalls, and amazing scenery that you can enjoy watching. Some people visit this National Park for only a one-day trip from Bangkok, and some others prefer to stay overnight in one of the amazing Hotels located around the National Park to have more time to explore and watch the wildlife at this amazing Place.
Another Great Place for nature lovers is Kanchanaburi. Kanchanaburi is located 3 hour drive from Bangkok and is rich in natural resources including rainforests and waterfalls. One of the most beautiful waterfalls located in Kanchanaburi is the Erawan waterfall which consists of 7 different levels where tourists can enjoy swimming and relaxing in the middle of nature.
For Nightlife Seekers, Bangkok is a great place too. Bangkok is a very vibrant city and some people call it the city that never sleeps. You can find a lot of Bars and Pubs in Bangkok that are operating until very late Hours, as well as Night clubs all around the City. Most of the Backpackers and Tourists looking for Nightlife experiences stay in the Khao San Road area.
If you are traveling with your family and the kids, Bangkok is a great place to visit too. The city is home to many theme parks and attractions that Children love to visit. Among the best and top-rated attractions in Bangkok that you should consider visiting if you will be traveling with your family, we can recommend the following: Safari World, Dream World, Asiatique the Riverfront, Madame Tussauds, and Sea Life Ocean Aquarium.
Bangkok is a big city, and it's highly recommended to plan your trip and your itinerary ahead of before arriving in the Capital. One of the great ways to do that is by arranging your trip with a reputable tour operator in Bangkok that will take care of you while you are in the country.
Chiang Mai
Chiang Mai is one of the most recommended destinations to visit when traveling to Thailand. Some people say that in order to explore the cultural and Historical side of Thailand, you must visit Chiang Mai. It's located in the northern part of Thailand, and it's easy to reach as it has its own International Airport. The City is home to many sacred and beautiful temples. The most visited Temples in Chiang Mai is Doi Suthep and Doi Inthanon. Doi Inthanon is a National Park and is considered the Highest Point in Thailand. Visitors can take a one-day tour from Chiang Mai to Doi Inthanon and Spend one full day in this amazing Place. Aside from the Temple, this area is also rich in natural resources such as Waterfalls.
Another great thing to do from Chiang Mai is to visit its nearby province "Chiang Rai" Which is located around 3 hour drive from Chiang Mai. This City has 2 of the most beautiful temples in Thailand " The White Temple" and "The Blue Temple". In addition to the temples and the cultural exploration, you can also take a longtail boat in the Mekong River while surrounded by the borders of 3 Different Countries: Thailand, Laos, and Myanmar.
Chiang Mai has great activities and things to do for children and teenagers too. Visitors can go to the Chiang Mai Zoo and see the animals closely, Do a night Safari, or Enjoy one of the best Ziplines and roller coaster experiences in Thailand and in Southeast Asia.
In summary, It's highly recommended to include Chiang Mai in your itinerary when visiting Thailand at least for a couple of nights to explore the northern side of Thailand.
Phuket
Phuket is the most popular island and most popular beach destination in Thailand. The island has its own international Airport receiving both international and domestic flights on a daily basis, making it easy for tourists to reach it. There are many things that can be done in Phuket, and the island has something for everyone. If you are looking for island trips and island Hopping experiences, Staying in Phuket will be ideal for you.
Phuket is surrounded by many beautiful islands that you can visit during your stay. Some of the best islands that you can visit in Phuket are Phi Phi Island, Similan Island, Racha Island, Coral Island (Koh Hae), Koh Yao Yai, Koh Yao Noi, and many others.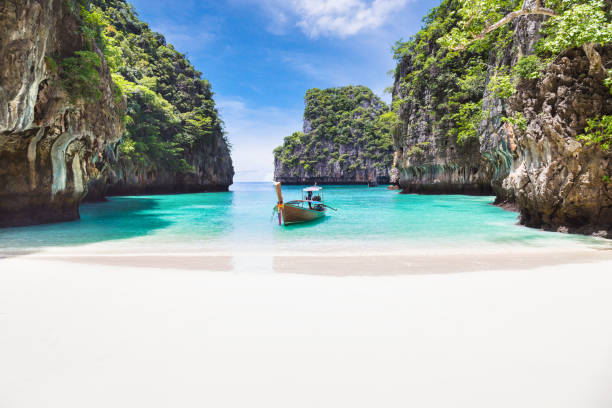 Most of these islands can be visited on a day trip from Phuket either by longtail boat or Speed Boat. Some people like to split their accommodation between Phuket and one of its nearby islands to combine both experiences during their Stay: Privacy and Vibrant life.
Other than the islands and the beaches, you can also enjoy some amazing adventures while you are in Phuket such as white water rafting, or Ziplining in Flying Hanuman or Hanuman World.
There are also many amazing experiences that children can enjoy when staying in Phuket. For example, they can visit the Tiger Kingdom and take some amazing Photos with the Big Cats. They can also go and watch an amazing Dolphin show performance at Dolphins Bay.
Krabi
Krabi is another amazing destination that you should consider visiting. You can arrive in Krabi by 2 Ways. First you can fly directly to Krabi as it has its own international Airport or you can drive from Phuket to Krabi in around 3 hours.
Krabi is a beautiful destination and is a perfect place for nature and beach lovers. Visitors can visit nearby islands from Krabi on a day trip. Among the most popular island trips that you can visit are Hong island and the 4 islands tour. Those islands can be visited either by Longtail boat and speed boat.
Conclusion
Thailand is a destination that is rich in culture, tradition, and history. It is also a destination that offers something for every traveler, whether you are looking for stunning beaches, beautiful temples, or delicious food. If you are planning a trip to Thailand, be sure to check out these five destinations – Bangkok, Chiang Mai, Phuket, Krabi, and Koh Samui. It's also recommended to combine your stay between 3 Destinations, 1 in the northern side such as Chiang Mai, One beach destination such as Phuket or Krabi, and of Course include the Capital Bangkok in any trip plan that you create.