You may have heard of the Philippines for its enchanting white sand beaches and for being the second-largest archipelago in the world. Millions of tourists from all around the globe go on tours to Philippines to experience a tropical island vacation on its popular destinations like Boracay, Palawan, Cebu, etc. But the Philippines has so much more to offer aside from its picturesque beaches and crystal-clear turquoise waters.  
Travel to the Philippines
With over 7,000 islands, the Philippines. It is home to more than hundreds of different ethnolinguistic groups, thereby making it among the most culturally diverse countries in the world. And while it would be impossible to get to know them all, you can still try to discover the richness of the different Filipino cultures while journeying through its diverse, stunning landscapes. From unspoiled white sand beaches to tropical rainforests, mountains, volcanoes, and coral reefs, the Philippines has no shortage of wonders that will amaze you. In this guide, we have compiled the best places to visit in the Philippines for you to experience immersing yourself in the Pearl of the Orient Island blend of diverse cultures and natural beauty.
Sagada, the Mountain Province of the Philippines
If you have a deep admiration for breathtaking mountain views, then Sagada in Mountain Province should be at the top of your bucket list. The region is known for its stunning rice terraces, lush thickets of pine trees, jaw-dropping rock formations, abundant fresh produce, picturesque valleys, and cool climate that makes it among the most relaxing tourist destinations in the country. Its landscape is also ideal for hiking, trekking, and nature photography. In fact, many tourists—both local and foreign—hike the peaks of mountains at the crack of dawn just to witness the breathtaking sight of the sun rising from the horizon and above the sea of clouds.
Sagada offers numerous hiking and trekking opportunities, including the famous trek to the Bomod-Ok (Big) and Fidelisan (Echo Valley) rice terraces. These trails will take you through scenic landscapes and beautiful waterfalls, like Bomod-Ok Falls and Bokong Falls. However, these trails are not for the faint of heart because the terrain here can be quite challenging as they are often steep, narrow, and winding. During the rainy season, these trails tend to be muddy and slippery, which makes it all the more difficult to hike. That said, the intense hiking experience in Sagada needs some preparation with the right gear and supplies, as well as a good dose of physical strength and stamina.
Once you ascend the mountains of Sagada, you should head over to settlement areas where they allow cultural immersion. Sagada is home to the Igorot people, an indigenous group with rich traditions and customs. You can learn more about their culture and way of life by attending community events and participating in cultural exchanges.
You will also find it fascinating that in Sagada, the Igorot people practice unique burial rites for their deceased. Instead of burying them in the ground, they hang their loved one's coffins up on mountain cliffs or in caves, as doing so is said to bring their souls closer to heaven. Visiting the hanging coffins is an engaging cultural experience like no other.
Experience the Sinulog Festival in Cebu
Yet another popular tourist hotspot is Cebu City—thanks to its vibrant cultural festivals, historic landmarks, beautiful beaches, picturesque landscapes, delicious cuisine, and friendly locals.
For one, Cebu is famed for its pristine beaches featuring bone-white sand and crystal-clear turquoise waters. There are plenty of popular beach destinations to choose from, like Mactan Island, Bantayan Island, and Malapascua Island. Here, you can swim, snorkel, deep dive, and engage in adrenaline-pumping water sports. On the same note, Cebu is one of the top diving destinations in the Philippines—thanks to its diverse marine ecosystems. In exploring its underwater wonders, you will see colorful coral reefs, shipwrecks, and diverse marine species like whale sharks and sea turtles. When in Oslob, you can even swim with gentle giants—the whale sharks—and see them live their lives in their natural habitat.
But if you are more of a festival kind of guy, you shouldn't miss out on witnessing Cebu's vibrant festivals, including the Sinulog Festival—a grand celebration that features street dancing, parades, and cultural performances to honor the Santo Niño, a revered religious icon.
You can also visit its historical sites to learn about its opulent historical heritage, such as the Magellan's Cross, Fort San Pedro, and Basilica del Santo Niño—all of which are landmarks associated with the Spanish colonial period.
Visit Batad for its Cultural Diversity
Batad is a very primitive town with no road access, so you should expect a lot of hiking. This town is in the middle of an amphitheater-shaped rice terrace, and it is one of the five UNESCO World Heritage sites in the Cordillera region. Not only are these rice terraces visually stunning, but they are also a testament to the ingenuity of the indigenous Ifugao people. Take a moment to breathe in the fresh air and appreciate the idyllic surroundings.
And when time permits, make sure to make time to meet Rita—a kind, 70-year-old woman who is the last living practitioner of the traditional Ifugao weaving process called Tapis. Fascinatingly, Rita takes plants from the jungle and separates their leaves into fibers to create some thread that she would then weave into clothes, all by hand. Rita is a living piece of history that must not be protected at all costs.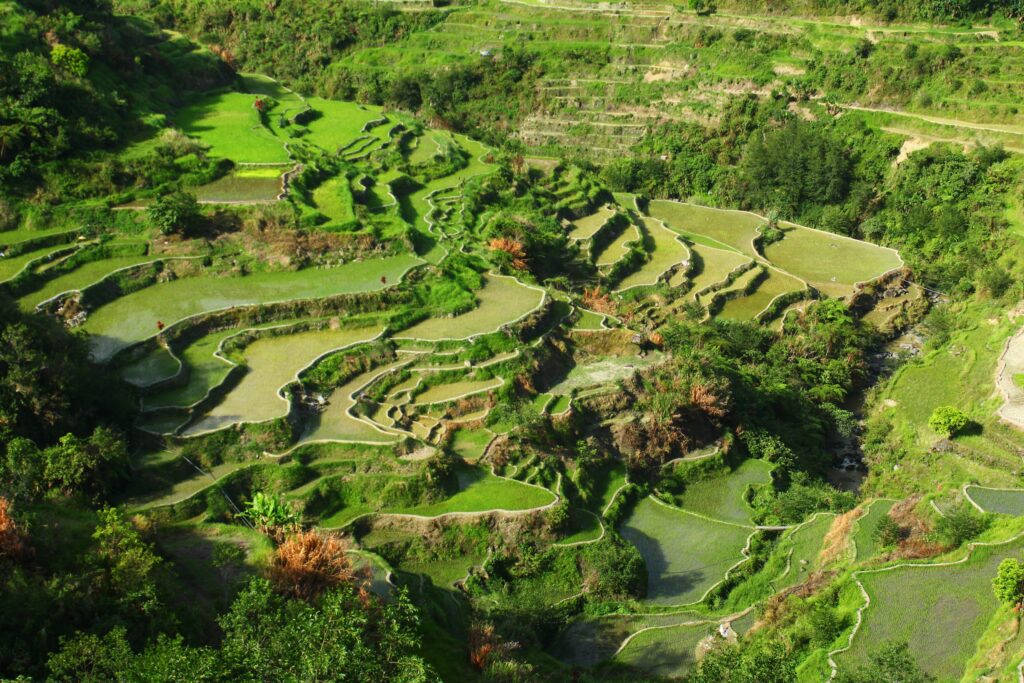 Catch the Sight of the Grand Architecture of the Ilocos Region
One of the best places to explore is the region of Ilocos, which offers a glimpse into the Spanish colonial heritage of the Philippines. Be sure to visit Vigan, a UNESCO World Heritage City with well-preserved Spanish-era architecture. You will definitely feel like you stepped into a time-traveling machine because its charming cobbled streets, vintage ancestral houses, and horse-drawn carriages will make you think you are in year 1900s. Also, head over to Paoay Church, which is a beautiful example of Baroque architecture.