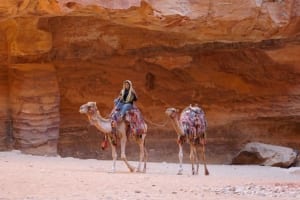 Bedouin And His Camel In Petra
The young Bedouins are still nomadic in nature, though many have been relocated to permanent housing built just for them. Many of these desert-thriving peoples of Jordan still live traditionally in their traditional tents of goat hair skins, moving with their herds throughout this vast desert region. The hot desert is very arid, and they are constantly on the move looking for new grazing areas.
The Bedouins have often been the object of romance for young Jordanians. To the young they seem so romantic and free. But in reality, the life of the Bedouin has been far from easy or romantic. Their life is filled with hard days at the hands of a merciless desert.  While many of the Bedouins of the Petra area continue to live in the desert with their camels, goats, sheep, and horses, many no longer need to rely on the animals as their main source of income. With the influx of tourists coming to the Wadi Rum, Petra, and Little Petra, they have become tour guides, providers of transportation, and other jobs involved with the tourists. They are a natural in the tourist industry due to their friendliness and hospitality. Their hospitality is amazing, they are honest to deal with, and are fiercely independent.
While Bedouins continued to move their herds of camels and goats several times a year to new pastures, they no longer depend on their animals alone for survival.  The modern day Bedouin of Petra has found his nitch in the tourist industry. They are delightful to do business with and their many stories are captivating. They seem to be natural story tellers.  They now have plenty of food and can enjoy sharing their desert life.
The Bedouins of the desert are a patrimonial society.  Bedouins are usually organized into nations or tribes. Families are united by a common ancestor or living relative.  The most important thing in their society is honor. Great effort is made by the men to restore any lost honor.
When traveling in the country of Jordan, be sure to spend some time to get to know the Bedouin families. If you want to know them, they will go out of their way to know you. Language can be an issue, but a simple smile goes a long way.  So as you travel throughout the Wadi Rum Desert and Petra, take some time to enjoy the peoples of the desert.
https://exploretraveler.com/
Published on steemit.com@exploretraveler May 17, 2017 at:
https://steemit.com/travel/@exploretraveler/young-bedouins-and-the-culture-of-the-desert