Welcme to Denali National Park Alaska and Reserve In Alaska
Denali State Park Alaska is a small piece of Alaskan Paradise. It's the tallest peak is Mt.McKinley. Mt. McKinley is revered by the Tanaina Indians. "Kesugi" is an Indian word in the Tanaina dialect which means "The Ancient One." It is interesting that Denali in the Tanana dialect means "The High One." Denali is the original name for Mt. McKinley. Mt. McKinley is 20,320 feet high and is the highest mountain peak in North America.
"HISTORY

Although generations of Athabascans had wandered through what is now the park, the first permanent settlement was established in 1905, when a gold miners' rush gave birth to the town of Kantishna. A year later, naturalist and noted hunter Charles Sheldon was stunned by the beauty of the land and horrified at the reckless abandon of the miners and big-game hunters. Sheldon returned in 1907 and traveled the area with guide Harry Karstens in an effort to set up boundaries for a proposed national park. Sheldon was successful as the area was established as Mount McKinley National Park in 1917 with Karstens serving as the park's first superintendent. It was designated an international biosphere reserve in 1976. As a result of the 1980 Alaska National Interest Lands Conservation Act, the park was enlarged to more than 6 million acres and renamed Denali National Park and Preserve. In 2015 President Barack Obama officially renamed Mt. McKinley to Denali, its Athabascan given name meaning "the Tall One." Denali now comprises an area slightly larger than the state of Massachusetts and is ranked as one of Alaska's top attractions." (8. Travel Alaska)
Denali State Park Alaska is over 325 acres of State Park. It is located in Alaska, America's most northern state. On one side it borders the Matanuska-Susitna Borough. The borough is on the east side of the Denali (Old Name Mckinley National Reserve)Park and does allow people to see the Denali mountain from several viewpoints.
There are three of Alaska's finest log cabins available for nightly rental. The park is open all during the year. It can be reserved and paid for through the Matanuska-Susitna Area Headquarters in Wasilla. It can also be reserved at The  Information Center in Anchorage, Alaska.
Denali National Park Map
All of these photographs and videos are from our numerous excursions to the park and we encourage you the reader to share and to use them. We only ask that you give us a link back to this site so we can continue to share our stories and adventures about this wonderful place for many years to come.
All of these photographs and videos are from our numerous excursions to the park and we encourage you the reader to share and to use them. We only ask that you give us a link back to this site so we can continue to share our stories and adventures about this wonderful place for many years to come.
Denali State Park Information and Reservations
"The towering granite spires and snowy summits of Denali National Park and Preserve straddles 160 miles of the Alaska Range and display so much elevation they are often lost in the clouds. Dominating this skyline is North America's highest peak; Denali ascends majestically to 20,310 feet and is one of the most awe-inspiring sights in Alaska. Approximately 400,000 intrepid travelers journey to Denali National Park and Preserve each year, primarily between late May and early September."(8. Travel Alaska)
There are several ways to contact the park or to arrange reservations if your planning on using the facilities. Remember the park does have an entry fee but if you have one of the access passes make sure to let them know so they can record your visit. This helps them to estimate the number of visitors and money is allocated to improve different areas of the park based on this information.
Mat-Su Area Headquarters in Wasilla at 907-745-3975

Public Information Center in Anchorage at 907-269-8400

Denali National Park and Preserve (On the Parks Highway)

Address: Trapper Creek, AK 99683 Phone: (907) 745-3975

Denali Southside River Guides at 907-733-7238
Located along Alaska Route 3, it is approximately 240 miles north of Anchorage. It is approximately 187 miles south of Fairbanks, Healy is 74 miles to the north. Denali State Park Alaska is waiting for the outdoor enthusiast and adventurists in spirit. If you travel through Canada on the Alaska Highway, a passport is required. Come enjoy Alaska's Denali and all she has to offer and be prepared for the weather and wildlife. Come prepared and plan well for this awesome experience and vacation for those who love nature.
Alaska Railroad Denali Star Station
Another mode of transportation used by people from around the world is the Alaska railroad. Visitors can embark from Wittier, Anchorage airport or from Fairbanks and stip right inside the park. Various resorts, hotels, and others have the ability to pick you up and to take you where you need to go.
Directly from the Alaska Railroad website, we have this piece of useful information. and links to various information you the reader might need."Given the long history of the Alaska Railroad and Denali National Park, it's no wonder that Denali is so accessible for train travelers. Upon arrival to the Denali Depot, passengers are met by shuttle buses from Denali hotels and lodges (see our recommendations below). The many activities on offer to explore the Park – Denali flightseeing, river rafting, tundra golf and more – also provide complimentary shuttle services."(11. Alaska Railroad Denali Station)
The DENALI STAR TRAIN has a route from Anchorage > Wasilla > Talkeetna > Denali > Fairbanks and then goes back in reverse order, has Daily service mid-May to mid-September. If you can afford the upgrade we recommend the Gold Star upgrade where you have special seating and viewing arrangements along with food and beverages available at an extra charge.
The Denali Highway
The Alaska Denali highways provide a unique opportunity to view Alaska's nature in it's prime with little interference from Man. The highway is maintained but if you are coming by rental car you should also take some precautions. First, make sure the tires look good and have your windshield wiper fluid full because you're going to have a lot of window dust. Second Alaska can be unforgiving and roads being damaged, washout or closed for construction can happen. So with this being said it's a good idea to have food, water, and some basic camping gear on hand. Also if your planning to go up into the farthest points of the road or the preserve make sure your gas take is topped off. Also, consider having some emergency gas on hand just in case. As you drive along you will see many different types of animals and it's critical that you never feed these animals or touch them in any way. By doing so they will associate humans with food and for bears, this means the Rangers will have to put them down.
"This sparsely-traveled, mostly gravel highway offers a taste of wild Alaska and wide-open vistas of mountains, glaciers, tundra, forests, lakes, and rivers. The 133-mile road connects Paxson Lodge on the Richardson Highway with the Cantwell junction on the Parks Highway. Only the first 21 miles west of the Richardson Highway and 3 miles east of Cantwell Junction is paved. The road climbs to elevations over 4000 feet offering birders relatively easy access to alpine habitats. Posted trailheads on the eastern portion of the road mark good starting points for off-road travel and wildlife viewing. Several canoe routes are also accessible from the highway. Tangle Lakes at the headwaters of the Delta River is a popular launching area for canoeists. Most of the land along the highway is publicly owned. The federal Bureau of Land Management (BLM) maintains some trails and camping facilities along the way. The highway is generally open from mid-May to October 1. Do not take a vehicle on the road outside of these dates as snowdrifts can block your way and leave you stranded. Carry extra food, water, and camping equipment as well as a spare tire and jack while driving on this road. Be prepared as help may not be readily available." (1 Alaska Department ofFish and Game)
Very few people who visit Alaska fully grasp the size and diversity the state has to offer and this guide will help you to be better prepared and to travel the Denali highway. It is road trips such as these help to bind us together and to bring us closer to nature.
Touches Of Yesterday In The High Tundra At Denali National Public Grounds and Preserve
One of the marvelous delights is to just wander throughout the park.  On one such trek, the team came upon this old and well-used outhouse of days gone by. Even though many outhouses are still in use, this one had seen better days. For those in need of its services, it is a blessing in the middle of nowhere. Before this park was monitored people still used it for hunting and trapping even if it might not have been legal at the time. Today the park is very monitored and controlled by the federal national park system and employees. Also, the University of Alaska system has a close relationship with the park and the employees you maintain it all year.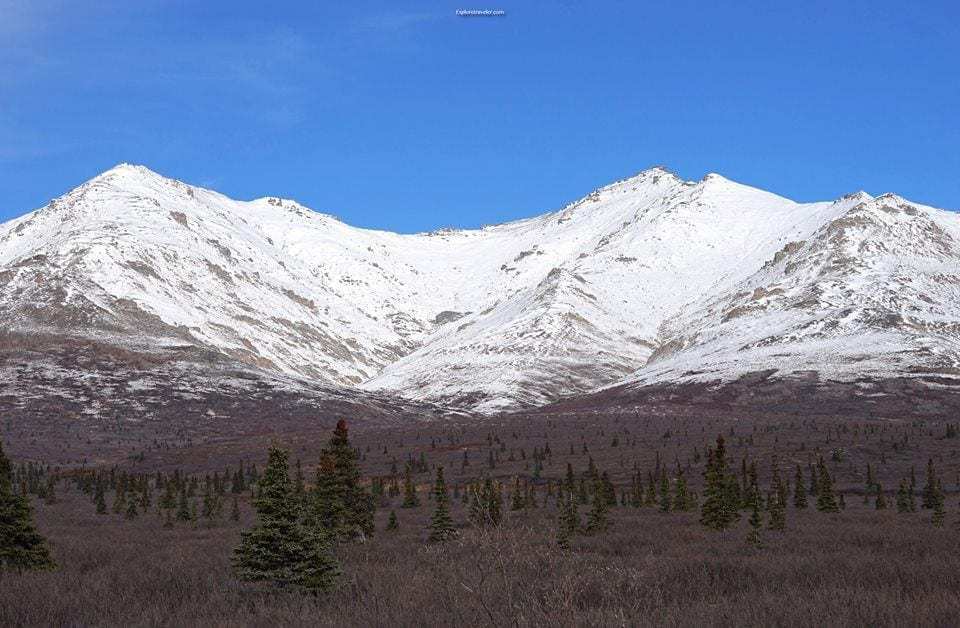 Autumn in Denali National Park and Reserve in Alaska has a tremendous amount to offer and just driving down the main road can give you almost 100 miles of nature to see. We have gone here many different times of the year and the animal activity changes with the seasons. Lately, we have been seeing many more caribou and the bird wildlife seems to be much more active as well. Autumn is a special time for Alaska as the animals prepare for winter and become very active.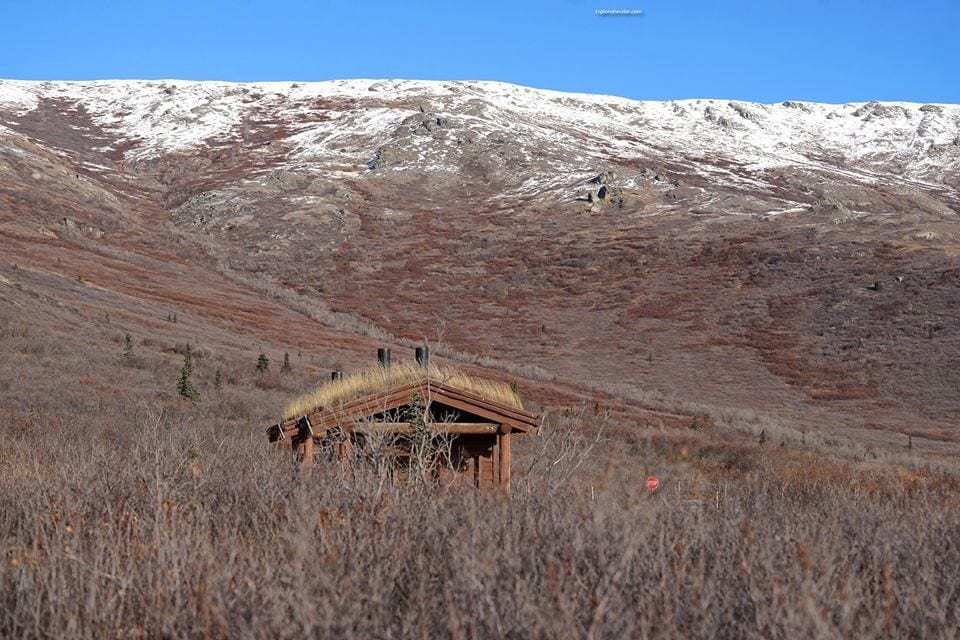 While traveling through the park on an autumn day, this beautiful view presented itself. The surrounding hills had a fresh layer of snow. Snow begins to fall in the early to mid-autumn, as much of the park is very high. Once the first snowfall arrives, it is only a matter of time till the hills will be completely covered by this magnificent white stuff. Every corner and around each and every hill is a special treat for nature lovers like and for those who are looking for another photo opportunity.
The caribou you see at the end of the above video was found on the main park road going into the park at about mile 15. There was one main male who seemed to be looking out for this small group and he kept raising his head to smell us upwind of him. We waiting for some time until we started moving the vehicle forward so we could pass. What you cannot see from this small video is that we encountered three separate groups just along the main road alone and another out on the old ice by a hiking trail. They are active at different times of the year and will move around the park into different areas at different seasons. In the fall they will all group together and begin a migration to where they can eat in their winter grasslands.
The Denali National Park Food Experience
Come early and have your appetite ready, as this is a great place to eat Salmon. There are many kinds of local fish and other meats served, but the salmon is out of this world. While in Denali, a stop at this restaurant is a must and there are several others to choose from as well. Also, there a big lodge just in front of the park that has a more upscale restaurant if that is something you want. Healy also has a few "hole in the walls" and Roses (currently Open 2019) has a hardy breakfast and good coffee.
Along the main road of the park, there are numerous parking areas, and this allows you to get off the beaten path and to explore the many other small walking trails. In the spring the wildlife comes alive and the plants and trees have a fresh green look to them that is very beautiful. Pull off areas are along the main road for various photo opportunities so make sure to park off the road safely.
Springtime in Alaska is called the spring break up and that is when the ice within the numerous rivers melt and becoming raging rivers again. Many different springs shoot out of the ground and nature activity rises as the park is a crisp green.
Animals of Denali
The park is home to birds and various mammals to include a Caribou herd who roam the plains of the National Park free from hunting.
"Denali's abundant and diverse wildlife are just as famous as its tallest mountain, Denali, which towers above the landscape at 20,310' tall. In truth, although the park's namesake is a mountain, Denali was the first national park created to protect wildlife. Now, this park is home to 39 species of mammals, 169 species of birds, and 1 lonely species of amphibian." (5 National Park Service Denali)
Caribou
The Denali Caribou weigh in between 175–400 lbs, these caribou are much smaller than moose, and their brown cream coats can be a very rich color during the summer. The racks of these caribou are very distinctive and oversized as compared to the rest of their bodies. Both the male and female caribou grow antlers with the males' antlers being larger Pregnant females keep their antlers, with males and other females shedding theirs in the winter or early spring. (4 Alaska Department of Fish and Game)
Spruce Grouse
Spruce grouse, or (Chanachites canadensis), is often known as the spruce hens or the spruce chickens. They live in the forest as lower level dwellers and are throughout the Denali area park and surrounding areas of the state. Here in Denali Park, they can be identified with their brown-tipped tail.  They are dark, fatter looking birds and can be hard to spot unless they moving around.  Many times you could be walking beside them so always make sure to look carefully as you hike around the park. (3 Denali Education Center)
Willow Ptarmigan
Alaska's state bird is the willow ptarmigan or (Lagopus lagopus), a very sociable bird that is common in the grasslands across Alaska's regions statewide. In 1955 Alaska leadership of the Territory were drafting the constitution for statehood asked Alaska school children and they chose the willow ptarmigan as a symbol or state bird of the future Great State. It became the official state bird of the state when Alaska was made the 49th state in 1960. (2)
The willow ptarmigan has built-in camouflage as protection against predators and changes its plumage from light brown in the summer, and to snow white in winter. Another distinctive feature, its feathered feet, helps this sedentary bird negotiate the frozen ground. The willow ptarmigan is the largest of three "Arctic grouse" found in Alaska, which also includes the rock and the white-tailed ptarmigan.(2)

"Ptarmigan are sociable in winter and usually feed and roost close together in the snow. In spring, they travel to their breeding grounds in flocks of several thousand. These flocks disperse in summer as the male's elbow for foraging room on the tundra. Unlike other grouse, the male willow ptarmigan often takes responsibility for the young, defending them against predators." (1 Alaska Department of Fish and Game)

"The willow ptarmigan occupies a broad range throughout Canada, Scandinavia, Finland, and Russia and is closely related to the famous red grouse of Scotland." (2)
The Alaska Moose is a very large animal and is unique in its size to Alaska and some of the Yukon territory.
"Moose (Alces alces) are the largest members of the deer family, and Alaska moose is the largest of all. They may appear gangly and awkward, but these imposing creatures can run at speeds of up to 35 mph and swim at 6 mph for up to two hours. A large bull can weigh up to 1,600 pounds and stand over seven feet tall at the shoulder. During the breeding season or "rut," males joust with one another by bringing their massive antlers together and pushing. Cows with calves can be fiercely protective." (7. Alaska Department of Fish and Game)
The park with its rich resources has many Grizzly bears that will roam around the park looking for food. Normally they are safe to look at from a distance but it's important to not feed them and do not have food for them to smell.
"Brown bears (also known as grizzlies) and black bears are common across many areas of Alaska. They are closely related to each other and to the polar bear, which is classified as a marine mammal. A brown bear (Ursus arctos) is usually larger than a black bear (Ursus americanus), has a more prominent hump on its shoulder, less prominent ears, and longer, straighter front claws. Longer claws are useful for digging roots or excavating small burrowing animals. Black bears' shorter claws are more efficient for climbing trees." (6. Alaska Department of Fish and Game)
The Denali Park and Preserve aim to preserve this piece of Alaska for people around the world to enjoy and to remain a safe habitat for the animals to roam free. Alaska is by far the last frontier of the United States and it's National Parks help to keep our footprint here within the country in better balance. How we preserve and use these lands will speak volumes to the following generation to come.
Murie Science and Learning Center
Adventures and education can go well together at this center for excellence have a lot to offer both young and old. Information about the park, it's animals and the people who work in the animal sciences are there to educate and inform you. As stated by the center in their own words "each summer the Murie Science and Learning Center becomes a springboard for unique and intimate park experiences in Denali. These multi-day field courses are coordinated by Alaska Geographic and led by distinguished scientists, authors, and naturalists." (9. Murie Science and Learning Center)
"Research and discovery in the subarctic and arctic
The Murie Science and Learning Center promotes science and stewardship on behalf of national parks in Alaska. Murie is part of a national effort to increase scientific literacy by showcasing research from living laboratories like Denali National Park and Preserve.

The center also serves as Denali's winter visitor center. The center is run by the National Park Service in partnership with Alaska Geographic and other organizations. It is open from 9:30 am—5 pm in winter (from late September through May 14th, closed for major holidays); and for advertised events only from May 15 through late September 2018." (9. Murie Science and Learning Center)
Inside there are employees of the park available to assist you with information and to direct you to various exhibits or materials. There is a very nice seating area to stay warm after or before your next hike within this family-friendly environment. If needed there are also restrooms inside for your convenience as well.
Trace Fossils
Even though today it is our focus to be on the current animal population it's important to not lose focus on the distant past and to learn everything the remote past of the park has to offer. Ichnofossils, also known as trace fossils are on display here at the center and can educate yourself on this unique science about the park that few even realize have been found there. Here is an excerpt below directly from the center in reference to this photograph.
"First fossil footprint
During a geology field camp in 2005, Dr. Paul McCarthy from the University of Alaska Fairbanks Department of Geology and Geophysics rested his hand on an outcrop of the Cantwell Formation and spoke to a small group of students about how similar-aged rocks commonly preserve dinosaur tracks in other places. When he suggested that the group should keep an eye out for fossils, student Susi Tomsich pointed near the professor's hand and asked, "Like that one?" That original theropod track is now on display at the Murie Science and Learning Center in Denali. " (10. First fossil footprint)
National Park Service Denali

If important to understand more about the National Park Serve here at the park and we are going to take a few minutes here to tell you about what they are doing here at the park.

In conclusion if you still need additional look at the bottom of this article and you will find a list of keywords and search terms that will lead you to additional information. Also they are lited in the order of importance and by the amount information available per term.
Some of this content is displayed via Google Local Connect here – > Denali
References:
Alaska Fish and Game Denali Highway http://www.adfg.alaska.gov/index.cfm%3Fadfg%3Dviewinglocations.denalihighway
Alaska Fish and Game Ptarmigan https://www.adfg.alaska.gov/index.cfm?adfg=birdviewing.iconicbirds&species=willowptarmigan
https://www.denali.org/denalis-natural-history/spruce-grouse/
ADFG Denali Caribou https://www.adfg.alaska.gov/index.cfm?adfg=viewing.landmammals&species=caribou#anchor
National Park Service Denali https://www.nps.gov/dena/learn/nature/wildlife.htm
ADFG Brown Bears http://www.adfg.alaska.gov/index.cfm?adfg=viewing.landmammals&species=bears#anchor
ADFG Moose http://www.adfg.alaska.gov/index.cfm?adfg=viewing.landmammals&species=moose#anchor
Travel Alaska https://www.travelalaska.com/Destinations/Parks-and-Public-Lands/Denali-National-Park-and-Preserve.aspx
Murie Science and Learning Center https://www.nps.gov/rlc/murie/index.htm
First fossil footprint https://www.nps.gov/dena/learn/nature/trace-fossils.htm
Alaska Railroad Denali Station https://www.alaskarailroad.com/travel-planning/destinations/denali-national-park
  If you have come from our website, ExploreTraveler.com
Twitter Page, ExploreTraveler
Facebook Page, ExploreTraveler
   "Helping bring the world together one friend at a time. So travel
and discover that the world is full of wonderful people." – ExploreTraveler
We have a travel tip audiobook that you can purchase at Audible –> Here
Happy Travels,
© 2017 ExploreTraveler. All Rights Reserved
For those who would like to conduct additional research here are the keywords, we used to research this article in detail. Some of these are hyperlinked to our other content and others goto other websites we found useful. Additionally, they are also major search term for the subject matter and will ensure you have every detail necessary to plan and execute a great adventure.
national park
national park service
denali train
denali state park
national parks service
national park reservations
denali park
denali national park and preserve
denali park village
denali national park alaska
denali hotels
mount mckinley
things to do in denali
denali national park tours
camp denali
denali national park jobs
denali package
denali national park hotels
denali national park lodging
alaska park
denali bluffs hotel
denali park hotel
denali location
denali park alaska
denali lodge
where to stay in denali
danali
denali bus tours
mt denali
denali national park map
denali national
alaska national parks
national park system
mckinley denali
places to stay in denali
denali park map
mount denali
denali park bus tours
denali park lodge
denali national park facts
national parks and recreation
what to do in denali
denali national park weather
denali national park bus tours
where is denali
denali weather
denali resort
things to do in denali national park
best denali tours
denali travel
denali national park train
places to stay in denali national park
denali national park visitor center
denali national park hiking
denali national park animals
denali campgrounds
denali state park camping
denali national park entrance
denali national park campgrounds
denali rv park and motel
visiting denali
denali national park location
denali national park cabins
denali national park winter
denali national park camping
visiting denali national park
denali np
weather in denali alaska
denali alaska map
mckinley park alaska
denali national park restaurants
fairbanks to denali national park
denali lodge alaska
nps denali
campgrounds near denali national park
temperature in denali national park
denali rv park
where is denali national park
how big is denali national park
closest airport to denali national park
best hikes in denali national park
best time to visit denali
where to stay in denali national park
anchorage to denali national park
weather in denali national park alaska
how high is denali
mount denali alaska
where is mount denali
lodging near denali
what to do in denali national park
denali national park to anchorage
denali park visitor center
places to stay near denali national park
denali national park bus
denali national park elevation
denali national park size
camping near denali national park
what is denali
restaurants near denali national park
reserve denali
denali park entrance
denali park weather
denali national park weather averages
best time to visit denali national park