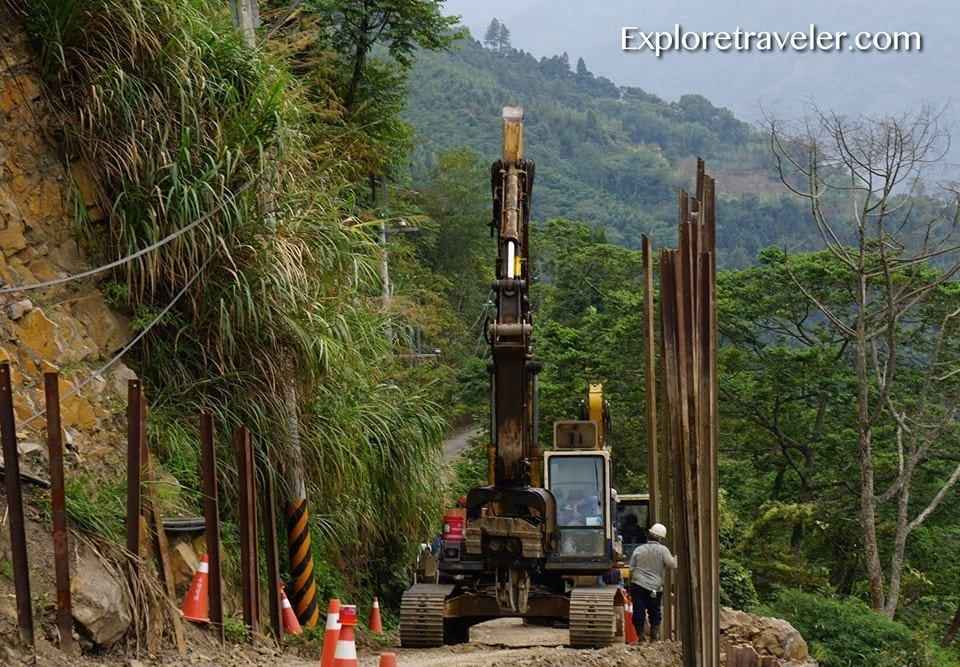 Road Construction in Taiwan
Road construction all over the world is a pain, but imagine driving your rental car and coming upon this? What would you do? Where would you go? This is a mountainous road! It is narrow and steep! Do you really want to go around?
This is perhaps one of the best reasons for leaving the driving to the tour bus drivers, the taxis, and the train. They know how to avoid such situations and you do not need to waste a whole day trying to get somewhere and finding at that you should have taken the train. There is much wisdom in doing your research ahead of time. For the most part, leaving the driving to the professionals saves time and frustration. I am sure it is easier on your blood pressure.
Taiwan's two largest cities have a mass transit system called the MRT. Together with the local buses, it provides a reliable system of movement. When wanting to visit areas outside of this framework, there are tour buses and taxis. There is little need to hassle with a car in Taiwan.
Now that the Taiwan High Speed Rail is open, it is easy to do day trips on Taiwan's western side. Want to go into the interior of the island, there are commuter transports and buses. THSR stops at the cities of Taipei, Banqiao, Taoyuan, Hsinchu, Taichung, Chiayi, Tainan, and Kaohsiung or Zuoying. The THSR runs often, so take time to explore each of the eight communities and take the commuter buses into the mountains or use a local taxi. Remember too, that each community has tour buses to see those places near them.
Another way to get around is by ferry. The different ferry systems connect the main island with each of the offshore islands. Check out the different links provided by each of the ports where ferry service is offered. Each of these tiny islands have their own transportation systems once you get there.
So why worry about road construction? There is no need to be looking at that! Leave the driving to the professionals and they will steer you around these impossible situations. An ounce of prevention is worth more than a mile of cure. Make this the year you enjoy Taiwan. The adventure of a life time is waiting. Grab your passport and pack your bag. See you in Taiwan on the THSR. That is traveling in comfort.

ExploreTraveler has been creating travel articles, books, videos, and podcasts for several years now. It is our intention to bring our older material for others here to enjoy here, and to create new material here as well. We invite you to click on our links to the original content, and to also follow us there as well.  This post was originally posted on February 28, 2015 at:
https://exploretraveler.com/road-construction-in-taiwan/
Twitter Page, ExploreTraveler
Facebook Page, ExploreTraveler
"Helping bring the world together one friend at a time. So travel
and discover that the world is full of wonderful people." – ExploreTraveler
We have a travel tip audio book that you can purchase at Audible –> Here
 Happy Travels,
 ExploreTraveler.com
  © 2018 ExploreTraveler. All Rights Reserved