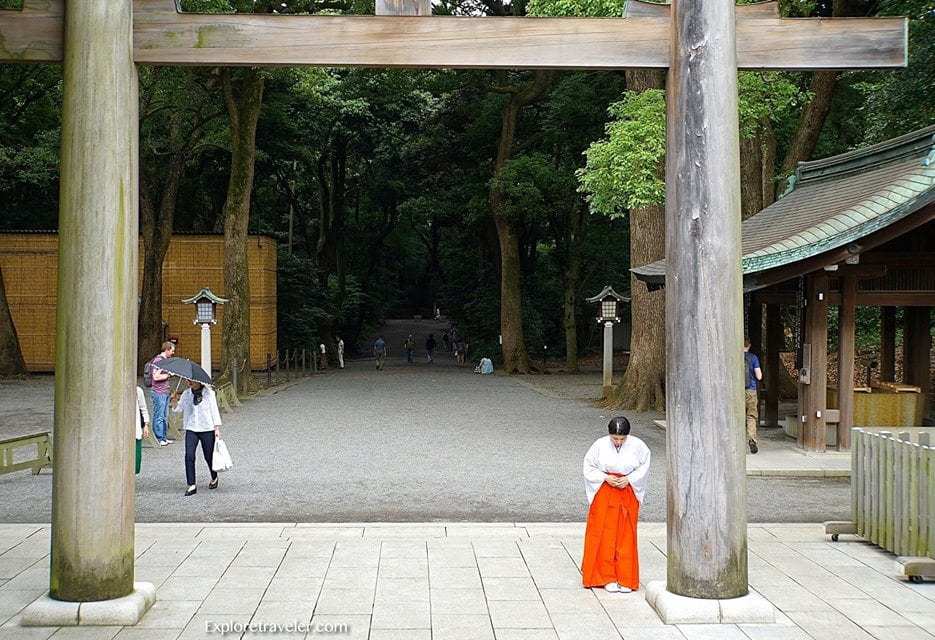 Meiji Jingu Shrine: Tokyo, Japan
Meiji Jingu Shrine, located in Shibuya, Tokyo, is the Shinto shrine that is dedicated to the deified spirits of Emperor Meiji and his wife, Empress Shōken. This is a beautiful shrine and the believers come to pay their respects and homage. You will notice the attitude of prayer on the maiden in front. The shrine is open to the public and tourists are welcome, but please keep it quiet and calm. This is one of their places of prayer. For the believers, it is not just a beautiful shrine, it is a place to pray to one of their many gods.  This is another oasis in Tokyo! It is calm and peaceful! It is breath taking beauty! It is Meiji Jingu Shrine. It is a place of worship for those who follow the Shinto faith.
Meiji Jingu Shrine  is dedicated to the late 19th-century emperor, Emperor Meiji. He is given credit for opening  Japan to the Western World. This is  Tokyo's most famous Shinto shrine! It  is extremely serene and peaceful. It's simplicity is beautiful! It is a house of prayer! Meiji Jingu Shrine is  not colorful or flashy. Many of the Asian places of worship are both extremely colorful and very flashy. Meiji Jingu Shrine is austere!  The shrine radiates with peace and good-will. Unlike many other Asian places of worship, it has not become a tourist trap. One such example is Senso-Ji. It is a large Buddhist Temple on the other side of the city in Asakusa. It has sadly became a well-known tourist trap.
If you are there to worship, stop at the cleansing station where you can dip into a communal water tank. This will purify your hands and mouth before offering up a prayer. If you are not there to pray, then please be reverent and respect those who are not tourists. You can write wishes on little pieces of paper and tie them onto the prayer wall.  You may also do as the believers do, and  toss some yen into the offering box. You will find a box for offering near the very enormous taiko drum. If you choose to worship this god, then bow your head twice. Then you should clap twice, and bow once more. For those of other faiths, just enjoy the beauty that the shrine has to offer all. Remember to respect those who are in prayer.  Please refrain from loud talking. This shrine is a shrine of peace. It is a refuge of prayer for many. It is an oasis from the busy world of the city. It is nature's treat to mankind. Enjoy it's quiet beauty and leave no trace that you that you were there.
Meiji Jingu Shrine has inconceivable beauty! It's majestic trees of old growth forest are amazing. Nature has given a helping-hand to preserving this amazing shrine. Meiji Jingu Shrine seems to radiant peace and tranquility to all who enter. Whether you are a visiting tourist or a prayerful pilgrim, you can not help but be touched by Nature's most beautiful shrine. Meiji Jingu Shrine is one of the amazing places to visit while in Japan.
Information
It would be advisable to call ahead to make sure the shrine was open, as often they are closed on Monday and Friday. Typically they are also closed on national holidays. The number is included below.
Address : 1-1 Yoyogikamizonocho, Shibuya, Tokyo 151-8557, Japan   
Entrance Fee: Free
Hours: Open to the public…  5:45 am – 4:30 pm   
https://www.exploretraveler.net